Join us as Scitech opens its doors exclusively to our school community!
About this event
Come and join your school community as Scitech opens its doors for our school only!
The kids will have endless access to all their favourite Scitech activities and shows at the Science Theatre while having fun with their friends. The parents can socialise and meet some new faces in a relaxed, uncrowded outing to Scitech at a really great price.
Once again we will have fresh, hot pizzas from a local pizzaria delivered to Scitech for you to enjoy for your dinner, these are available for preorder when you buy your ticket. Alternatively you can pack your own picnic dinner.
In the dining hall you will find a sumptuous bakesale with a variety of snacks and cold drinks available for a gold coin donation
This is a really fun annual event with the school that you won't want to miss! The kids, parents and teachers will all be talking about it and counting the sleeps until the next one.
All funds raised at this event will go towards our our playground upgrade project.
We look forward to seeing you there!
FAQs
Tickets
Family Ticket- includes up to 2 adults , and 2 or more children. Family tickets include
immediate family only.
Child ticket- Applies to all children 3yrs and older
Children under 3yrs are free.
Staff tickets- Apply to all staff of The Montessori School Kingsley
Friends, ex-students and extended family are most welcome to attend.
Pizzas
Please pre-order your pizza via Eventbrite prior to 12noon, WEDNESDAY 11th AUGUST. There will be no late orders accepted and no pizza sales on the night. You can always buy your Scitech ticket now, and return to Eventbrite at a later date to purchase your pizzas separately if you wish.
Pizzas will be delivered to Scitech between 6:15- 630pm. An announcement will be made when they are ready to collect from the foyer. Please have your order confirmation ready upon collection.
If you order multiple pizzas and include a gluten free base please ensure you email communityevents@themontessorischool.wa.edu.au to clarify which pizza you would like the GF base for.
Crust Pizza will be supplying the pizzas again this year however this time we are working with head office, not Subiaco store directly as we have done in the past, so if you have any questions regarding your pizza order please email communityevents@themontessorischool.wa.edu.au, not Crust.
Due to the high volume of orders we can not offer custom pizzas or changes to the orders.
For a full list of Pizza ingredients, nutritional information and allergens please visit the Crust Pizza Website- https://www.crust.com.au/#pizza
Science Theatre Show:
There will be an opportunity to attend live science shows with fire, spectacular effects and wow moments. Listen out for the announcements on the night for the show times.
Feature Exhibition:
"Earth Matters"
Rethink the future. Be inspired by innovations that will help us adapt our way of living for a more sustainable future.
Parking:
No ticket is required for parking after 5pm
Can I buy my ticket on the night?
No tickets will be sold at the door on the night, you will however be able to purchase a ticket online up until 5pm on the night of the event.
Please ensure you have a copy of your ticket (printed or on your phone) to be scanned upon entry on the night.
What can/can't I bring to the event?
If you choose, you may bring your own food and drinks for a picnic dinner. You'll be able to purchase snacks, drinks and dessert from the bake sale. There are tables available, or you can set up a picnic area for yourselves amongst the exhibits!
You can leave your bags and food in the dining area if you want to do some exploring before you eat.
*please note, there are not enough tables and chairs for our entire group, so it is appreciated that after you finish eating please move your items away from the table so another family can use it.
Bring cash for the bake sale. There are no ATMs at Scitech.
Please bring your own water bottle, this can be refilled at the water station. Due to our commitment to the environment we will not be selling bottled water.
Feel free to bring your own keep cup/plate/container if you plan on enjoying items from the bake sale or a hot beverage. We will have disposable options available also.
This is an alcohol and smoke-free event.
Volunteers
This event would not be possible without the generous support of our school community. If you are able to help out by volunteering on the night or making something to contribute to the bakesale, please contact one of the friendly class reps below.
Bake sale volunteer enquiries:
PP1- Kate Tait : johnson.kate@live.com.au
LP2- Clare and George Eskander : clare.esk@gmail.com
Who can I contact if I have any questions?
General event enquiries:
Annette Advani : communityevents@themontessorischool.wa.edu.au
Scitech is on Whadjuk Noongar Boodja. We pay our respects to the traditional custodians of this land; to elders past, present and emerging, and extend our respects to all Aboriginal and Torres Strait Islander people.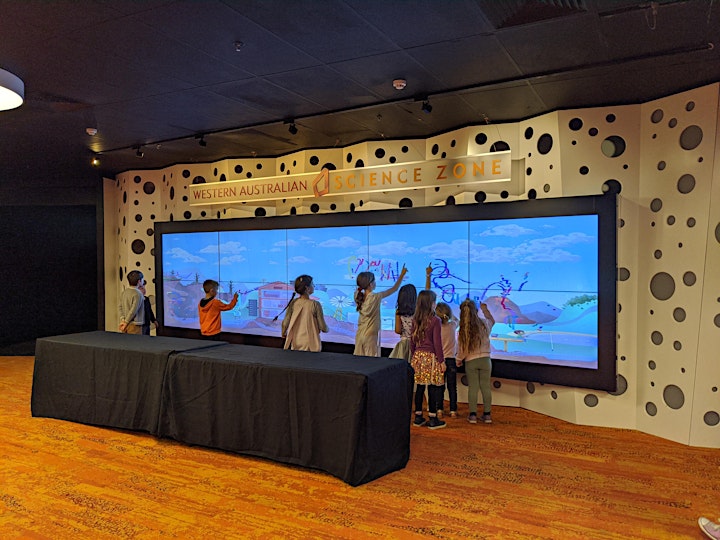 Organiser of The Montessori School Kingsley Scitech Family Night