To register directly via Zoom please follow this link: https://us02web.zoom.us/webinar/register/WN_1uNjEyY2Rd6Kk09ve8_SFA
About this event
Beyond Zero Emissions is working with communities and partners around Australia to finalise our post-COVID economic recovery roadmap, the Million Jobs Plan. We invite you to join us for the launch.
The event will feature special guests including:
Christiana Figueres - Architect of The Paris Climate Agreement and Founding Partner at Global Optimism
Mike Cannon Brookes - Renewable energy investor, co-Founder and co-CEO of Atlassian.
John Durie, Senior Business columnist for The Australian
Deanne Stewart, CEO at First State Super
Kevin McCann, ex-Chair Macquarie Group and Origin Energy
Aunty Ruby Sims - Mununjali and Wangerriburra Elder - acknowledgement of country
The Million Jobs Plan is a framework for a national discussion and a nation-building platform to restore our economy.
The public launch will highlight opportunities in the Million Jobs Plan across each sector of our economy and feature an inspiring panel discussion to delve into how we can get it done.
Please join us as we seize this moment to reboot our economy for the next 50 years of growth.
Register to attend the launch of The Million Jobs Plan now.
To register directly via Zoom please follow this link:
https://us02web.zoom.us/webinar/register/WN_1uNjEyY2Rd6Kk09ve8_SFA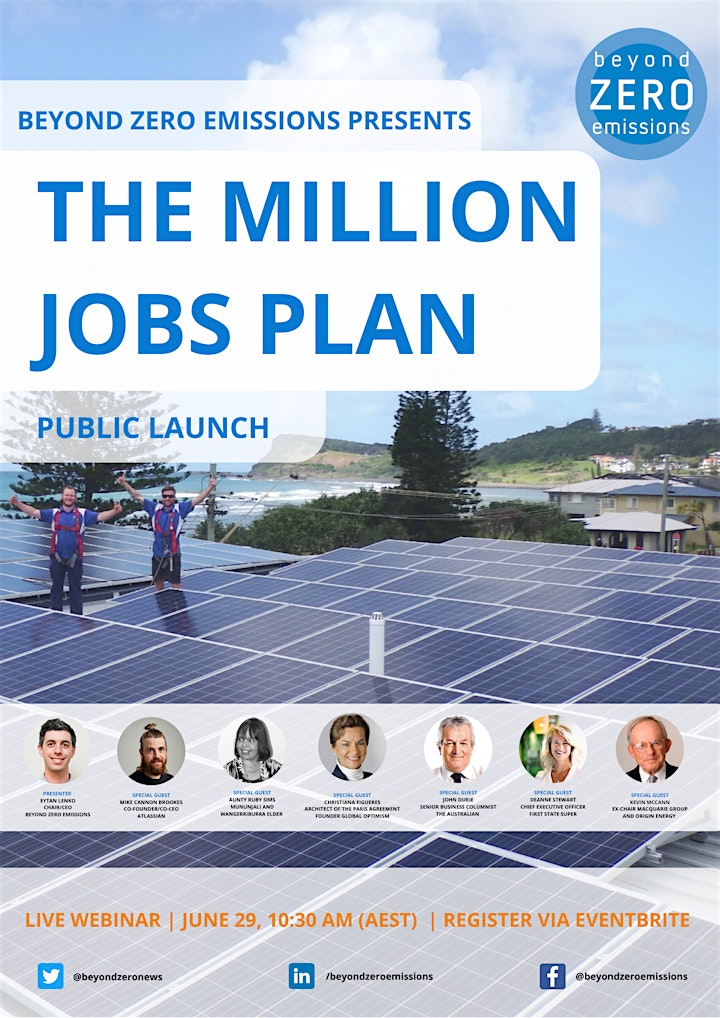 Organiser of The Million Jobs Plan - Public Launch