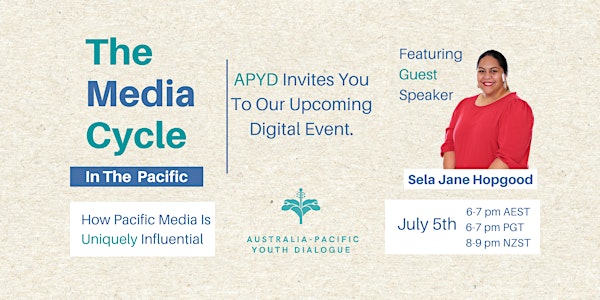 The Media Cycle in the Pacific: How Pacific Media is uniquely influential
Join the Australia-Pacific Youth Dialogue and guest Sela Jane Hopgood from The Spinoff (NZ) to discuss the landscape of Pacific Media!
About this event
This year has already proven pivotal in Pacific affairs with the inking of the China-Solomon Islands security pact, the Hunga Tonga–Hunga Ha'apai eruption, the gradual reopening from COVID closures, failed constitutional changes and the ever-present threat of climate change.
Across such a diverse region, it can be hard to keep up with all that is happening and be conscious of the lingering impact these events have after they fade from the news cycle.
Join Spinoff Pacific Communities Editor Sela Jane Hopgood to discuss the impact of the news cycle on the visibility of issues and formation of views in the Pacific.
When: 6-7pm AEST / 6-7pm PGT / 8-9pm NZST July 5, 2022
This digital event is FREE but be sure to reserve your place.
Join Sela Jane Hopgood Pacific Communities Editor at The Spinoff (NZ) as we discuss the impact of the news cycle on the visibility of major issues in the Pacific and how media has and will influence the Pacific and our views into the future.
About the Speaker:
Sela Jane Hopgood
Sela Jane Hopgood is a Tongan New-Zealand born journalist who is passionate about writing about Pacific communities across Aotearoa. Jane grew up in South Auckland, and graduated from The University of Auckland with a Bachelor of Arts with a double major in Film, Television and Media Studies and English. Previously a journalist for Radio New Zealand Pacific, Jane was a Host of Pacific Waves, Champions of the Pacific radio show, a daily current affairs radio show on RNZ. Jane now works at The Spinoff where she is Pacific Communities Editor: writing about anything from politics to culture to food.
https://thespinoff.co.nz/authors/selajanehopgood
Organised and Facilitated by the Australia-Pacific Youth Dialogue