Description
Business Models Inc and Innovation & Collaboration Centre at UniSA invite you to "The Marshmallow Challenge" as part of Open State 2017.
The Marshmallow Challenge is a game for learning about innovation, creativity, teams, collaboration, as well as the value of early prototyping and incremental delivery. Part of the real power of the game is in helping people to identify the hidden assumptions that every project has, and to recognize the value in diversity.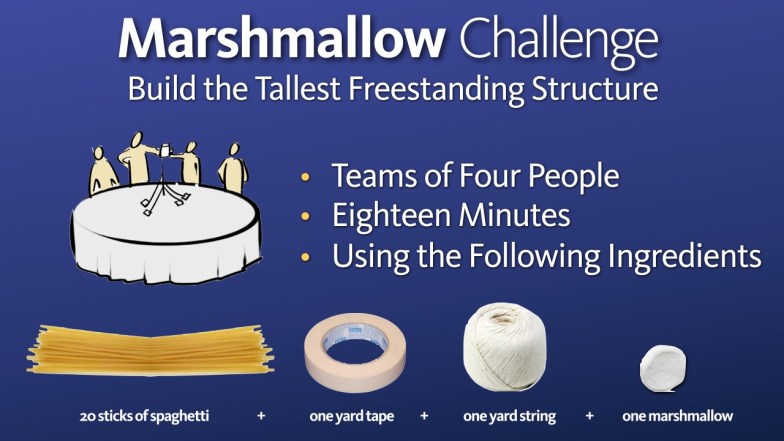 The Spaghetti Marshmallow Challenge is fast-paced and fun activity in design thinking to practice prototyping and testing. It helps to move teams design thinking to design doing.
The task is simple: in eighteen minutes, teams must build the tallest free-standing structure out of 20 sticks of spaghetti, one yard of tape, one yard of string, and one marshmallow. The marshmallow needs to be on top
What can you learn about innovation & collaboration?
1. The value of iteration and testing
2. What kind of skills are important for innovation?
3. Does incentives help?
4. Shared Experience
5. And many more….
Business Models Inc
Business Models Inc are a global innovation consultancy headquartered in Amsterdam. We help people and their organisations unlock the existing knowledge adding our tools, inspiration, experience and knowledge. We apply design thinking in business, government, NFPs, startups and systems challenges. We help from ideation to validation. To learn from building prototypes and set up experiments. We can deliver results through various formats starting from 48hr to 100 days challenges.
Innovation & Collaboration Centre:
The Innovation & Collaboration Centre (ICC) is a strategic partnership between the University of South Australia (UniSA), the South Australian Government and Hewlett Packard Enterprise (HPE), supporting technology-based incubation and business growth.
By leveraging world class technology through HPE and UniSA's expertise in business growth, creative thinking, commercialisation and technology, the ICC supports the lifecycle from idea generation to growth and expansion for students, businesses and industry. The Centre provides a multidisciplinary environment where SME's, students and entrepreneurs can access a wide range of expertise to help them develop their products and grow their business.
Through the various stakeholders, the ICC provides a unique environment that offers services and expertise in business growth (Centre for Business Growth), business management, strategy and marketing (UniSA Business School), commercialisation (UniSA Ventures), design (matchstudio), and technology (HPE and UniSA IT).
With a combination of co-working spaces, hot desks, meeting or teaching rooms and a flexible seminar area, the ICC is well equipped to deliver industry focused education, workshops and events.