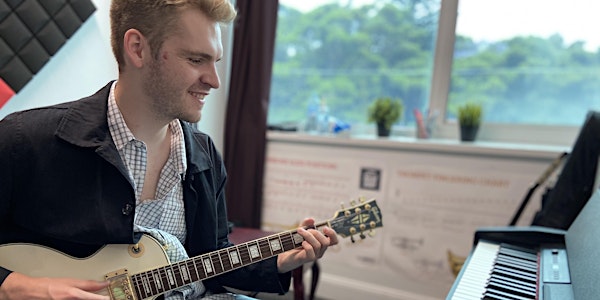 The Magic of Chords for Guitar and piano with Solomon Steele. Part 1
In this workshop, you'll learn the magic of chords and how they're the foundation of every song ever written.
About this event
"THE BASIC FOUR CHORDS TO EVERY POP SONG" … we've all heard that before and wondered how it could be possible.
Whether you've only started learning your instrument or been playing for a while, or perhaps you're just curious about chords for producing your own music, then this is a great place to start.
On Sunday 13 February, you'll first learn chord names, chord shapes, how they function, and most importantly - how to create and play them on the guitar or piano. The workshop will also explore how to read chord charts and how to understand them when you're googling for 'chords and lyrics' to a song you're wanting to play. We'll also explore different types of chords that go beyond major and minor and uncover what augmented, diminished and diatonic chord sequences mean. You'll better understand chord harmonisation and how particular chord progressions are used in different genres of music, and you'll discover how to create your own chord progression backing track using existing easy to use programs.
This workshop is suitable for anyone 12 years and over.
ABOUT THE FACILITATOR
This online workshop will be run by professional guitarist and multi-instrumentalist Solomon Steele. A local resident of the Inner West, Solomon majored in guitar at the Australian Institute of Music and has since become All Age Music School's leading guitar and music educator. He is a prolific singer songwriter and session guitarist who performs regularly in the Sydney live music scene and can often be found recording guitar parts in the studio for various artists.
Please ensure that your email is correct as we will send you a Zoom link a few days prior to the workshop.