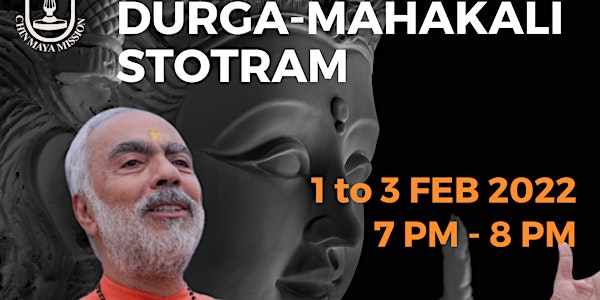 The Love & Power of Divine Mother (Durga - Maha Kali Stotram) - Free Talks
Location
Chinmaya Mission Australia
38 Carrington Road
Castle Hill, NSW 2154
Australia
Delve deep and revel in Love, Compassion, Beauty and Glory of Divine Mother Kali !
About this event
Durga-Maha Kali Stotram - The Love & Power of Divine Mother
Chinmaya Mission Sydney welcomes you all to a revelling and inspiring 3 Days of Free Talks by Pujya Swami Swaroopananda (Global Head, Chinmaya Mission Worldwide) on "The Love & Power of Divine Mother" based on "Durga-Mahakali Stotram"
When: 6:30 PM - 8.15 PM (daily from Tuesday 1st to Thursday 3rd February)*
* 6.30pm Bhajans, Talks will commence 7 PM sharp each day, so we request all attendees to be seated by 6.30 pm.
Where: Chinmaya Sannidihi Ashram, 38 Carrington Rd, Castle Hill (Special Marquee in Open Backyard Area)
Note: A special option is available now to join the this event Online via Zoom for those who are not able to physically attend in the Ashram. However the availability & quality of this online streaming service will depend on the Internet Wi-Fi working.
About the Talk / Yagna:
During the 3 days, you will delve deep and revel the in Love, Compassion, Beauty and Glory of Divine Mother Kali. You will come to experience a wonderful stotram like no other and realise the blessings of Divine Mother.
Sponsors (Yagna Yajmans) are welcome.
Please contact Kaushal on 0418 836 133 or Nandu on 0408 445 941 for further details.
About the Speaker:
In an era rife with scepticism and confusion about matters spiritual, Pujya Swami Swaroopananda is a rare voice that blends authenticity with accessibility; theory with self-practice; logic with heart.
Formerly the Regional Head of Chinmaya Mission Australia, United Kingdom, Middle East, Africa and Far East, and presently Chancellor of the Chinmaya Vishwavidyapeeth Trust (University for Sanskrit and Indic Traditions) and Chairman of the Chinmaya International Residential School in Coimbatore, South India, Pujya Swami Swaroopananda has now been bestowed by Guruji, Swami Tejomayananda the privilege to also serve as the Head of Chinmaya Mission Worldwide.
Pujya ​Swamiji has authored several commentaries on such important spiritual classics as Ik Onkar, Maha Mrityunjaya Mantra and Sankat Mochan, besides numerous books on contemporary lifestyle subjects such as Simplicity and Meditation, Storm to Perform, Avatar, Managing the Manager and Journey into Health.
Pujya Swamiji is equally adept at conducting 'wholistic management' seminars for senior corporate executives. Among the well-known institutes, he has been invited to speak at are The Ford, London Business School and Harvard University, to name a few. In fact, a proprietary self-development course he conceived and initially conducted, Make It Happen™, has been adapted and integrated into the human resource training programs of various corporate organisations in India and beyond.
https://www.chinmaya.com.au/pages/swami-swaroopanandaji
Car Parking: As there will be NO CAR PARKING facility at Chinmaya Sannidhi Ashram car park at 38 Carrington Road, Castle Hill for this event, all participants are requested to park at the FREE PUBLIC CAR PARK at the HILLS SHOWGROUND METRO STATION located opposite Sannidhi Ashram, in DeClambe Drive or at 36 Carrington Rd (Child Care centre) or 40 Carrington Road (parking closest to the ashram side).
Due to COVID restrictions, entry for this event will be strictly limited to ONLY registered participants. REGISTER NOW & RESERVE YOUR SPOT FOR 3 DAYS!
All participants must QR-Code Check-in, Wear Mask, Sanitise and Socially Distance.