Image Description: The Lives We Lead logo of a geode, with text 'You're invited to attend The Lives We Lead gala ball!'
About this Event
We're bringing the community together to celebrate stories of achievement and contribution for the culmination of The Lives We Lead project.
This is an opportunity for the broader community to meet and hear from people with disability who have shared their story as part of the project. We can assure you of delicious food, bespoke entertainment and good conversation, all with a beautiful view of the Swan River. Otherwise known as food, fun and friendship.
Be prepared for your assumptions to be redefined in the best possible way!
'The more diverse we are when we gather, the more we stimulate, challenge and goad one another to greater heights of imagination and creativity.' Prof Ian Harper, Melbourne Business School
Let's stimulate imagination and creativity on this International Day of People with Disability.
You'll get to hear behind-the-scenes insights from the people who envisioned and mobilised this project.
This is an exemplary opportunity for organisations committed to:
building your networks with stakeholders
demonstrating your corporate social responsibility and
building your capacity for diversity and inclusion.
In the interests of connecting all gala ball guests with a diverse group of people on the night, we will have mixed seating. If you want to sit with specific people (story tellers, friends or associates), please let us know.
Let's all join together to showcase and celebrate The Lives We Lead!
Click here for more information on The Lives We Lead project.

(Image Description: A horizontal 'slice' of a graphic showing curved lines in orange and aqua tones, with text 'Tickets are $125, this includes a two-course gourmet meal, drinks package and all entertainment!)
Frequently Asked Questions
Are there ID or minimum age requirements for this event?
This is an18+ event. Adults welcome.
Is there a dress code?
Yes, it's Formal/Cocktail. There'll be a photographer in attendance.
Do I have to bring my printed ticket to the event?
You need to bring a printed or digital copy of your ticket with you for entry.
You need to bring your Companion Card if you have booked a free ticket for a support person.
What are my transport/parking options for getting to and from the event?
The venue is easily accessible via public transport. Plan your journey here
There is ample City of Perth car parking available with a $5 flat fee from 6pm to 6am.
There are five accessible parking bays.
Where do I enter the building from?
Enter the building through the car park entrance on the north side. (See car park map image below). There will be signs for the event and hosts to welcome you.
How can I contact the organiser with any questions?
Email: thelivesweleadstories@waindividualisedservices.org.au
Phone: Jordyn on 9481 0101
What can I do if I can no longer attend?
Contact us via the options above.
Can I transfer my ticket to someone else?
Yes, but you need to contact us to confirm the name of the new ticketholder.
See contact options above.
What about my access and dietary requirements?
We're working hard to make this event accessible for everyone. Please contact us if you have any questions about access. See contact options above.
You can specify your dietary and access options when you purchase your ticket.
Who will I sit with?
We're keen to connect story tellers and their supporters with guests from business and community groups, especially those who share their achievement interest. Let us know who you would like to sit with.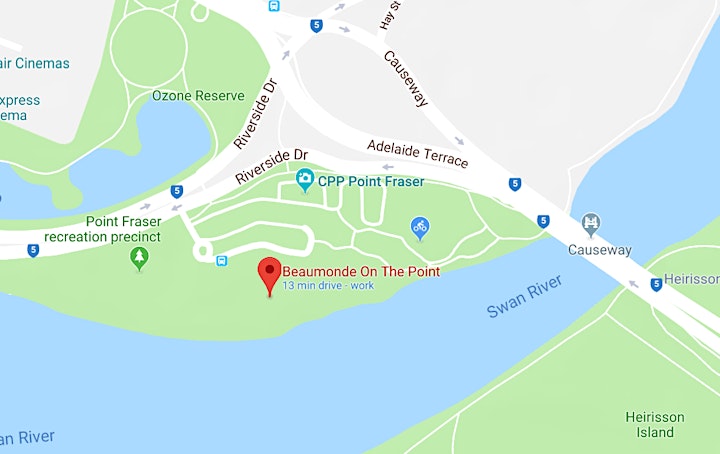 (Image Description: A map of the venue and parking on the north side close to Riverside Drive.)