Attention Forbes and beyond! Welcome to the travelling Drag Circus! Join us for a night of fun, laughs, and most importantly... Drag!
About this event
The circus is coming to town!! But this is not your regular circus… IT'S A DRAG CIRCUS!!
The legendary Liquor Sisters, Jackie Daniels & Amber Rosé along with their stunning friends Kara Devine and Dominique Topp are bringing you a circus experience like no other. There will be all your favourite circus characters brought to life by this group of wild girls.
You'll laugh the night away in this variety show style production. You can expect stunning costumes, questionable dance moves and surprises galore from our amazing group of Drag Queens.
Jackie Daniels is originally a country girl so will feel right at home. Standing at a whopping 7ft in heels and with boobs that rival the likes of Ms Anderson Jackie is a real feast for the eyes. Don't let her beard fool you, this gal is a whole lot of woman.
Amber Rosé is another country gal who doesn't mind getting her hands dirty. She can shear sheep so she's tough as nails with a beauty as soft as a white rose. Amber loves a drink so don't feed the drag queens any shots (or do hehe). This gal will have you laughing the night away and as our ring master you are in for some surprises!
Kara Devine is definitely the beauty of the group. This queen gives a whole new meaning to female illusion and will make all the bitches jealous with her stunning face. But don't think this beauty is just a pretty face – Kara is one talented bitch and loves making a fool of herself. The prettiest clown you'll ever see!
Dominique Topp rounds out our cast as one hell of a queen. Dom is always dripping in sequins and really knows how to work a crowd, so lookout for those audience participation rounds – she'll come right for ya.
This is one circus you won't want to miss! Grab tickets now to Forbes' most glittery night of tomfoolery!
A ticket gets you entry into the event of the year as well as a cocktail on arrival!
Tickets available through our "What's on" section on website www.forbesinnhotel.com.au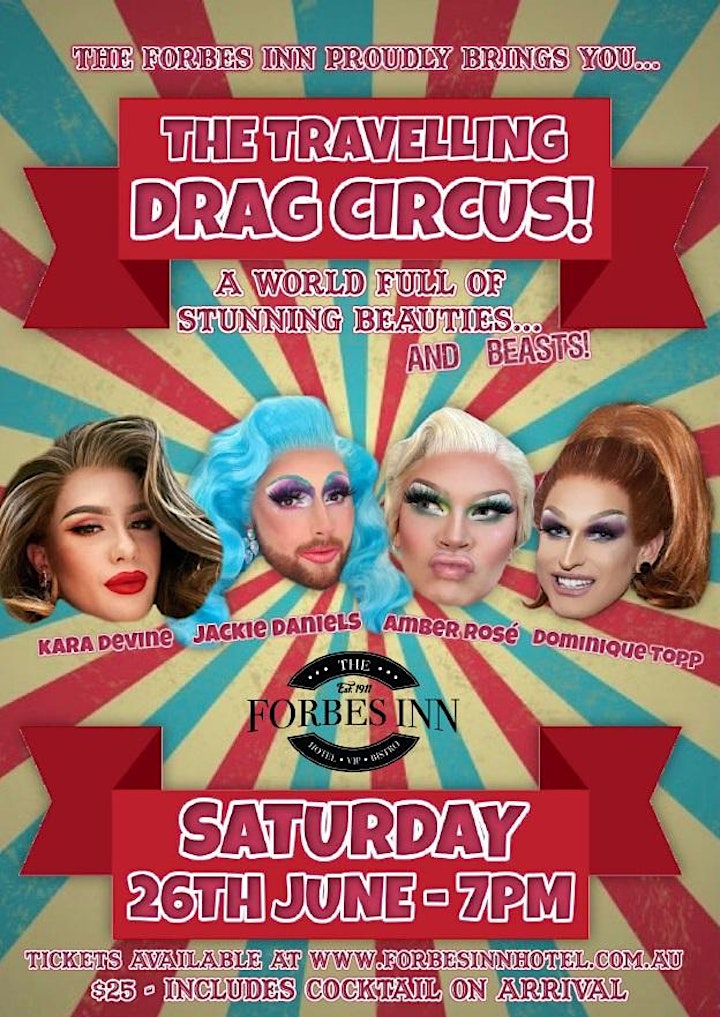 Organiser of The Liquor Sisters travelling Drag Circus at the Forbes Inn