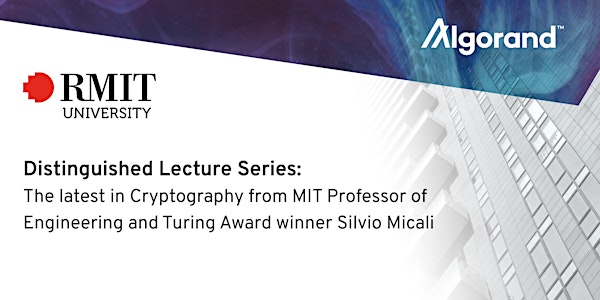 The Latest in Cryptography: MIT Professor in Engineering Silvio Micali
Event Information
Location
RMIT University (Building 008 Level 11, Lecture Theatre 068)
360 Swanston Street
Melbourne, VIC 3000
Australia
Join RMIT and Algorand to a lecture on the latest in Cryptography from MIT Professor of Engineering and Turing Award winner Silvio Micali
About this event
Silvio Micali will share with us the latest challenges and innovations he and his team have been working on in the world of Cryptography as well as an insight into how Algorand is approaching the Blockchain Trilemma with a Pure Proof-of-Stake Protocol. Algorand is a Boston-based open-source software company working towards building a borderless economy. They've developed a decentralised, permissionless, pure Proof-of-Stake (PoS) protocol with open participation, scalability, security and transaction finality. Algorand has been designed with an internationally recognized team of researchers, mathematicians, cryptographers, and economists—from first principles—to guarantee true decentralization, scale and security. Algorand reduces the probability of network forks to near-zero. It uses novel mechanisms to select validators for blocks and enabling them to come to consensus on them. The Algorand consensus mechanism ensures full participation, protection, and speed within a truly decentralized network. In this talk, Silvio Micali will present the latest research achievements in Algorand.
Speakers:
Silvio Micali, Founder: Silvio has been on the faculty at MIT, Electrical Engineering and Computer Science Department, since 1983. Silvio's research interests are cryptography, zero knowledge, pseudorandom generation, secure protocols, and mechanism design and blockchain. In particular, Silvio is the co-inventor of probabilistic encryption, Zero-Knowledge Proofs, Verifiable Random Functions and many of the protocols that are the foundations of modern cryptography.
In 2017, Silvio founded Algorand, a fully decentralized, secure, and scalable blockchain which provides a common platform for building products and services for a borderless economy. Silvio is the recipient of the Turing Award (in computer science), of the Gödel Prize (in theoretical computer science) and the RSA prize (in cryptography). Silvio has received his Laurea in Mathematics from the University of Rome, and his PhD in Computer Science from the University of California at Berkeley.
Steven Kokinos, CEO: Steve is the CEO of Algorand and is responsible for overall business vision and strategy. Steve is a serial entrepreneur, most recently co-founder and Executive Chairman of Fuze, where he was responsible for corporate strategy. Under his direction, the company transformed the way enterprises view collaboration as a key driver of business visibility, process improvement, and results. Today, Fuze has over 700 employees servicing over 1500 enterprise customers around the world.
Please note this event will be video recorded.
Date and time
Location
RMIT University (Building 008 Level 11, Lecture Theatre 068)
360 Swanston Street
Melbourne, VIC 3000
Australia