About this Event
"You have located the hideout of that shiny-toothed half-orc pirate Korugk Gold-Tusk, thanks to the capture of one of his men. It is in a cove, on a small island near the Isle of Dread.
Gold-Tusk is to blame for your shipwreck on the Isle of Dread. He wants the great black 'pearl of the gods' for himself, but you won't let that lice-infested scallywag have it! By all rights it should go to you, after all, your uncle Rory Barbarosa discovered the Isle of Dread and willed his treasure map to you.
Your prisoner also noticed the behavior of some of his fellow pirates had changed over the last few months: instead of just taking booty from the vessels they attack, Captain Gold-Tusk and his pirates are capturing crew members and taking them away. He suspects that Captain Gold-Tusk has become involved in the slaving business.
You goal is to kill Captain Gold-Tusk and take his ship, the Inheritor.
This 5th level D&D 5e adventure will last about 4 hours and pregens will be provided.". You will need a Web Browser, Microphone, Discord.com and Roll20.net accounts.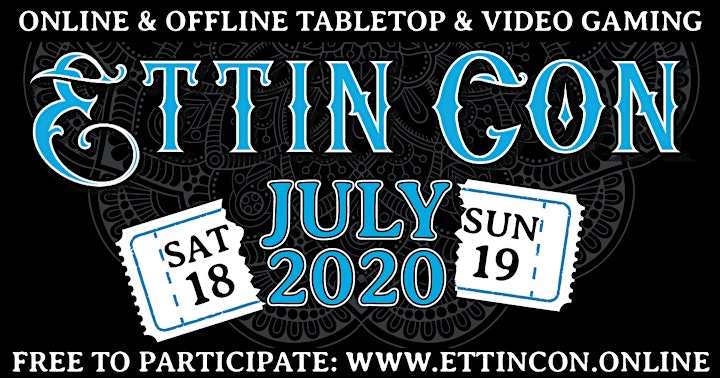 #EttinCon2020 is completely free and virtual due to pandemic.
For full event details, game listing and timetables, visit EttinCon.online!
For more about our non-profit conventions, visit EttinCon.org.