Professional Networking for anyone wanting to find out more about the Organising Industry and the Professional Organisers Conference.
About this Event
The Institute of Professional Organisers Connection 
Professional Networking to connect with the Organising Industry and discover more about the Professional Organisers Conference in March 2021.
Do you want to know more about becoming a Professional Organiser? Want to know if the IOPO Conference is for you?
Are you a PO and have been thinking about coming to the IOPO Conference? Sitting on the fence wondering about the value for your business?
This past year we've seen significant growth in the Organising Industry. Now is a great time to investigate a new career, business or simply follow your passion.
Let's connect and re-connect!
Join us for the IOPO Connection Event – Conference Q&A
Whether you are registered for the Live Stream IOPO Conference or not, join in the excitement as we take you on a tour of what's in store. Plus we'll give you tips and tricks on presenting your best self on any virtual arena.
Bring your list of questions about the Conference and the Organising Industry.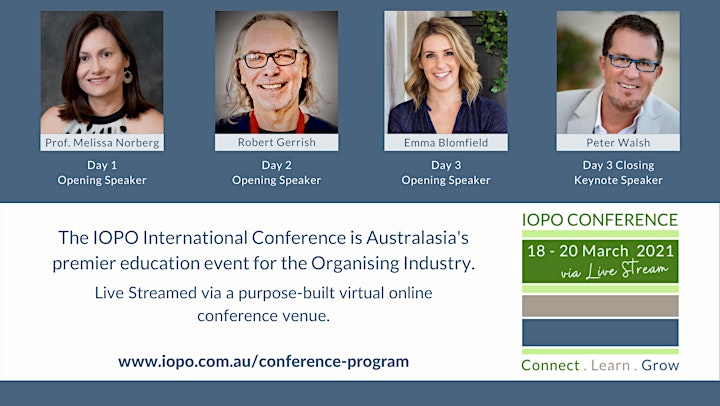 We invite anyone curious about what a conference can teach them, how an online conference works and what to expect!
At this ZOOM meeting you will:
Meet those who work as an Organising Professional
Expand your network in associated industries
Take the opportunity to ask questions about the Conference and Professional Organising
Have some fun and make meaningful connections
Please Register to attend this free virtual event.
Find out more by contacting Susanne Thiebe at membership@iopo.com.au.
In the meantime, to find out more about the IOPO visit our website www.iopo.com.au.