Description
Integrating Faith & Work
'The Hebrew root for work (avad) is also the root for service, particularly serving God in worship. I believe the two activities are meant to be integrated. Our work should be done in a way that honours God, which serves God and others, that worships God. By combining the two English words: work and worship, I hope to challenge people to integrate their faith and work.' - Kara Martin
We are excited to welcome Kara Martin as the Keynote speaker at this year's Integral Project Dinner. Kara will explore the topic of Integrating Faith and work, and how all work is God's work when our orientation is toward knowing God and serving others.
When we teach from a perspective of knowing God, rather than merely knowing about God, work becomes a heart exercise, rather than a cognitive one. Work is a gift from God of which we are stewards over and we have a responsibility to love that work, do the best we can at it, and offer it back to God as a form of worship. Kara will help us to understand the spiritual disciplines and practical wisdom required to assist us to rise to the challenge of integrating faith with our everyday work.
Guests will also be addressed by the Right Reverend Chris Edwards, as well as members of three schools who will be demonstrating how they are actively integrating faith in their unique school contexts:
- Rouse Hill Anglican College,
- Meriden – An Anglican School for Girls, and
- Trades Norwest Anglican Senior College.
The Integral Project

The Integral Project was launched by EdComm in 2009 to promote the integration of faith and learning within schools. It was inspired by the very influential Charis Project that had been conducted by the Stapleford Centre in Nottingham for over a decade. Through that Project teachers in Britain acquired access to a plethora of booklets on how to teach the mandated curriculum Christianly.
The Integral Project promotes biblically-shaped education and is about translating a biblical worldview into every aspect of school life – whether it is an Indonesian lesson, a History lesson, a pastoral care program or an assessment task. Its focus has been on encouraging individual schools to initiate their own projects through which a biblically-based approach to education can be embedded within the culture of their schools.
It is called Integral for many reasons: it's integral because it is indispensable to something being complete. Integral is about being whole, wholistic, not piecemeal or fragmented. The logo of The Integral Project reminds us that for education to flourish it must be rooted firmly in good soil.
The Integral Project does not offer simple, slick solutions. It provides a network of like-minded Christian educators, supporting one another to 'light lots of little fires' through which education can be a transformative force in Anglican schools.
The Integral Project provides encouragement to schools, Stage and faculty groups as well as individual teachers to initiate school-based projects which integrate Christian faith in an authentic manner with educational practice.
The high point for The Integral Project each year is the annual dinner at which schools have the opportunity to showcase the progress they have achieved. The Dinner quite rightly has been characterised as an occasion at which lots of little fires have been started.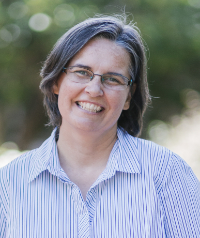 Keynote Speaker
Kara Martin is the author of Workship: How to use your work to worship God (shortlisted Australian Christian Book of the Year 2017), and Workship 2: How to flourish at work. She is also Project Leader with Seed, and lecturer with Mary Andrews College. She was formerly Associate Dean of the Marketplace Institute at Ridley College in Melbourne. Kara has worked in media and communications, human resources, business analysis and policy development roles, in a variety of organisations, and as a consultant. She was Director of the School of Christian Studies for three years and has lectured with the Brisbane School of Theology, Macquarie Christian Studies Institute and Wesley Institute. Kara has a particular passion for integrating our Christian faith and work, as well as helping churches connect with the workers in their congregations.