Description

You are Invited to Attend the 2016 Integral Project Dinner
Speaker: Dr Michael Spence
BA LLB (Sydney) DPhil PGDipTHeol (Oxford)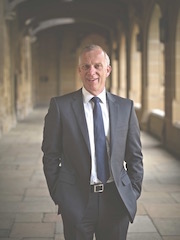 Dr Michael Spence has been the Vice Chancellor of the University of Sydney since 2008. He graduated from the University with a Bachelor of Arts degree with first class Honours in English and Italian and a Bachelor of Law degree with Honours in 1987. He went to Oxford University where he gained his doctorate in law and lectured for a number of years. He also obtained a post-graduate diploma in Theology from Oxford.
Dr Spence is not only an outstanding educational leader, an ordained clergyman and a family man but an international authority on intellectual property.
By any standard, the University of Sydney is a large, complex secular institution. It requires a special person to lead it. We are honoured to have Dr Spence share with us how his deep faith in Christ shapes the winsome way he leads such a secular institution.
Join us and be inspired.
About The Integral Project
The Integral Project was launched by EdComm in 2009 to promote the integration of faith and learning within schools. It was inspired by the very influential Charis Project that had been conducted by the Stapleford Centre in Nottingham for over a decade. Through that Project teachers in Britain acquired access to a plethora of booklets on how to teach the mandated curriculum Christianly.
The Integral Project promotes biblically-shaped education and is about translating a biblical worldview into every aspect of school life – whether it is an Indonesian lesson, a History lesson, a pastoral care program or an assessment task. Its focus has been on encouraging individual schools to initiate their own projects through which a biblically-based approach to education can be embedded within the culture of their schools.
It is called Integral for many reasons: it's integral because it is indispensable to something being complete. Integral is about being whole, wholistic, not piecemeal or fragmented. The logo of The Integral Project reminds us that for education to flourish it must be rooted firmly in good soil.
The Integral Project does not offer simple, slick solutions. It provides a network of like-minded Christian educators, supporting one another to 'light lots of little fires' through which education can be a transformative force in Anglican schools.
The Integral Project provides encouragement to schools, Stage and faculty groups as well as individual teachers to initiate school-based projects which integrate Christian faith in an authentic manner with educational practice.
The high point for The Integral Project each year is the annual dinner at which schools have the opportunity to showcase the progress they have achieved. The Dinner quite rightly has been characterised as an occasion at which lots of little fires have been started.
We look forward to seeing you on the evening.
The EdComm Team.