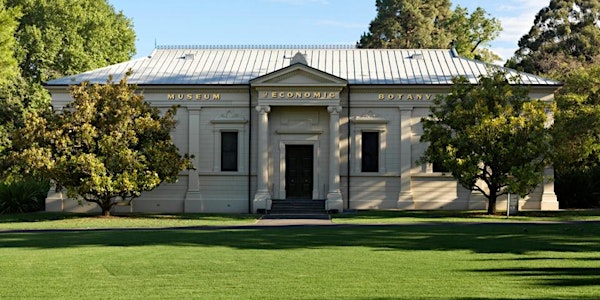 The importance of plants in our lives... | History Festival, 2022
Location
Museum of Economic Botany
North Terrace
Adelaide, SA 5000
Australia
Sales Have Ended
Ticket sales have ended
Sales have now finished, please visit our website https://www.botanicgardens.sa.gov.au/whats-on to see other events in the Gardens.
Adelaide's Santos Museum of Economic Botany is the last museum of its type in the world. Step back in time to 1881 on a guided tour.
About this event
The last of its kind in the world, the Museum of Economic Botany is home to a fascinating collection, much of which dates back to the original Museum which opened over 130 years ago.
This guided tour will take you back in time to 1881 where you will delve into the importance of plants in our lives; past, present and future.
Learn how plants have been used by communities across the world for food, fabrics, medicine and a plethora of other fascinating reasons.
Event information
What to bring:
Mask wearing is mandatory inside all buildings
Parking/Facilities:
Ticketed parking is available on Plane Tree Drive (off Hackney Road) and nearby on Rundle Road or the East End. Alternatively, catch the tram to the Botanic Garden stop which is 150m from the Main Gate.
Toilets are available in the Garden.
Weather Policy:
The event will go ahead in wet weather and will only be cancelled in extreme weather conditions (ie. storms, hail). We will notify you prior to the event if it is cancelled and to reschedule the event. Refunds will only apply if the event is cancelled or you are not available to attend the rescheduled event.
Accessibility:
Wheelchair and limited mobility accessible
COVID-safety:
Please remember to:
• Maintain 1.5m physical distance between others, where possible
• Practice good hygiene, wash your hands regularly
• Masks are not required, but encouraged where you are unable to physically distance from other visitors
• If you have any COVID-19 symptoms (fever, cough, shortness of breath), please stay at home and contact our staff to discuss options
More information can be found here http://www.covid-19.sa.gov.au
Refund policy:
Please choose carefully, as refunds are not available. If you are no longer able to attend, please notify us, as tours often sell out and we try our best to accommodate the wait list.
We look forward to seeing you there.