Roll-outs of industrial renewable energy developments are occurring over our country. Are wildlife and wilderness are paying the price?
About this event
You're invited to our Public Emergency Meeting.
This is a free event . Cocktail snacks, canapes and refreshments are provided.
Are green energy renewable developments destroying the precious habitat they're supposed to be saving?
Large scale wind and solar farms are rolling out across our state. Already we are seeing habitats of threatened species being demolished, and we're concerned at what's to come.
Join us for an educational evening as we share the impacts of large scale renewable wind and solar projects upon our wilderness and farmlands.
Hear about our campaign to Keep Chalumbin Wild. Chalumbin is a 78,000 acre parcel of land near Ravenshoe currently slated to be developed into a wind farm containing 95 turbines.
Learn about the importance of preserving delicate ecosystems to conserve flora and fauna, the water cycle and the biodiversity it supports.
Find out about the principles of syntropic farming and regenerative agriculture.
Become informed about future industrial energy development plans and what you can do about them.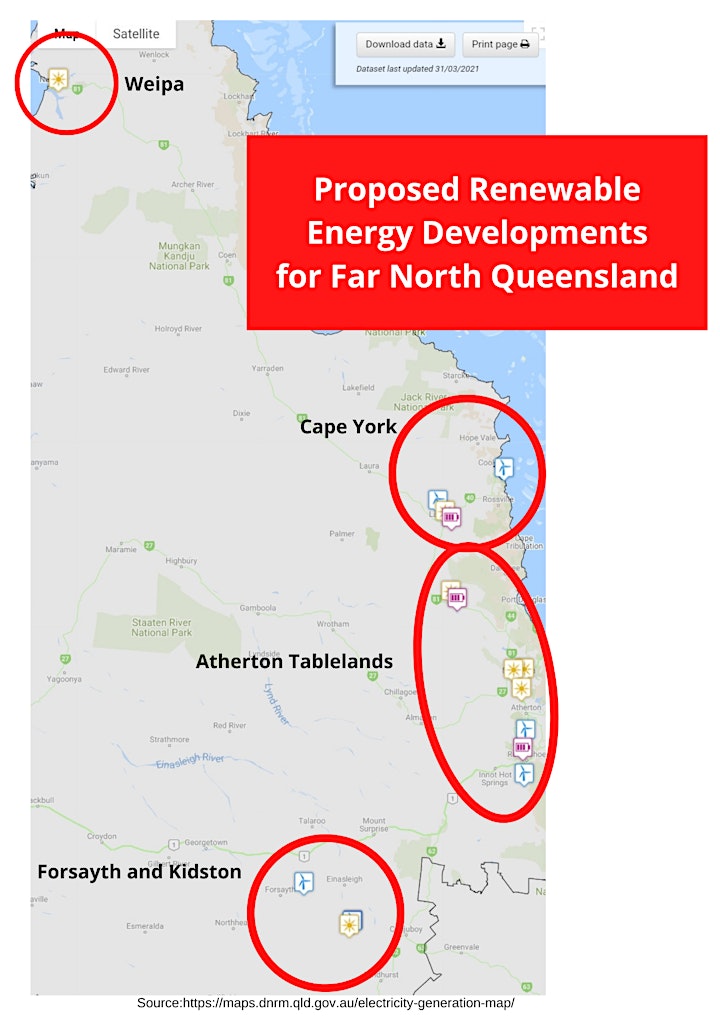 Cape York region
Cape York has 4 industrial renewable energy developments in the wings: Cape York Solar, Cape York Storage, Lakeland Wind Farm and Archer Point Wind Farm. These developments will border the Daintree Rainforest in the World Heritage Wet Tropics. This is madness. Make no mistake, these developments represent an unprecedented change of land use which will impact local ecosystems, wildlife, water tables and water cycling perhaps irreparably. Shouldn't we be preserving this precious wilderness at all cost?
Atherton Tablelands
There are 8 new industrial energy developments being planned for the Tablelands region: Chewko Solar Farm, Atherton Solar Farm, Chalumbin Wind Farm, Mareeba Solar Farm, Kaban Green Power Hub Storage, High Road Wind Farm, Desailly Renewable Energy Park Solar and Desailly Renewable Energy Park Storage.
This area has already been extensively developed for renewable energy purposes with Kaban Green Power Hub wind farm currently in construction and Mt Emerald and Windy Hill wind farms in operation. These future developments will see yet more extensive land clearing with thousands of acres of remnant wilderness, vegetation and habitat being degraded and destroyed. Loss of flora and fauna diversity and species extinction may ensue after human interference and habitat loss.
Forsayth, Kidston and Weipa regions
Forsayth and Kidston have 4 renewable energy developments slated: Kidston Pumped Storage Project, Kidston Wind Farm, Kidston Solar Project and Forsayth Wind Farm. Weipa has one development - Weipa Solar Farm.
These projects will clear thousands of acres of grasslands, farmlands and remnant wilderness thus impacting local wildlife (some endangered), scenic vistas and town character. We think regenerative agriculture is the best way to restore economic and ecological prosperity to remote regions like these.
Please come to our event to find out more.
Although tickets to this event are free, we would be thankful if you could give a donation towards our work preserving wilderness.
All welcome.
Event bought to you by Rainforest Reserves Australia.
Organiser of The impacts of renewable developments on wildlife and wilderness