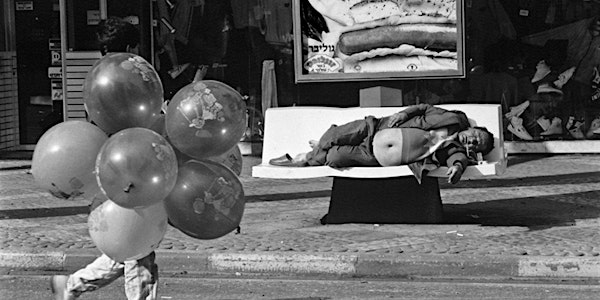 The Image Makers Seminar Series 2016: 6 The rise of documentary photography...
Event Information
Location
Photography Studies College
65 City Road
Southbank, Victoria 3006
Australia
Description
In an age when anyone can be a journalist by snapping a photo and sharing it in the public media, how do photojournalists differentiate?
Alex, Gilad and Danny are in Australia as guests of Partnership2gether Australia Arava. A division of the Jewish Agency which aims to create meaningful engagement between Israelis living in the Arava and Jews living in Australia.

ALEX LEVAC, photojournalist for Ha'aretz for over 33 years discusses what the uniqueness is of documentary photography over every other individual with a cellphone and access to social media. Hear how an industry veteran develops his own personal unique language and makes us question whether there is such a thing as a truly objective image when every photojournalist has his own agenda. Alex will be joined by two colleagues, GILAD LIVNI and DANNY HADAS. They form part of the Arava in Focus Photography Delegation 2016.
ALEX LEVAC
Alex is one of Israel's most well-known photojournalist and street photographers. He has a very interesting personal story, he has spent many years working and capturing moments in Brazil, London and Los Angeles. He recently moved to the Arava, Moshav Tzofar, as he fell in love with the landscape, weather and its unique atmosphere. Alex has worked for Ha'aretz newspaper for 33 years, and has his own column. He is internationally recognized and has won the Israel prize. His passion lies with street photography, "I see paparazzi of the anonymous," he said. "I do not want to call myself a historian, but I want myself as anthropologist of the street or a people to look at the pictures in 50 years and see something about Israeli society".
GILAD LIVNI
Gilad is the CEO of Moshav Paran, a community that is heavily involved with agriculture. He has been instrumental in creating something from nothing by maintaining agriculture in an area where it's hard to imagine anything surviving. He was involved in establishing a new arrangement which allows Israeli farmers to farm land that was handed back to Jordan under a peace treaty with Israel. "As residents, we took part in peacemaking. We sat down with the Jordanians and decided together how this would work..."
Livni has practiced photography for over 40 years. Photography plays a pivotal role in Gilad's work as a farmer of the land. It provides the ability to capture agriculture changes from a birds' eye view, allowing the farmers a different perspective and making the job easier and more effective. His main areas of interest in photography are capturing aviation, landscape and community life.
DANNY HADAS
Danny lives in Moshav Paran, photographing nature and the landscape is a large part of his work. He finds the small sights hidden among the mountains, the wadis and the huge boulders. Each year Hadas creates a calendar that has become a household name, with spectacular images of the Arava. Danny has participated in many photographic exhibitions in Israel across the country and he holds regular workshops with some of the leading photographers from Israel and around the world. His workshops are suitable for both beginners and the experienced.
A unique opportunity to view the work of three internationally acclaimed photographers from the Arava, Israel and participate in individually tailored workshops with them. For the first time in Australia, be inspired and learn from the stories and images of celebrated photographers Alex Levac, Gilad Livni and Danny Hadas and marvel at their breathtaking work.
'Arava in Focus' photography exhibition is a unique collection of images of the Central Arava in Israel.
Exhibition will be open 19 June - 24 June, 2016
Gallery hours: Wednesday to Sunday, 11am - 5pm
We invite you to be part of this exciting delegation. Please click through to book for the opening night as well a range of workshops. Workshop spaces are limited - book your spot now!
Contact: For more info please contact Rachelli ArberE: aravaprojects@zfa.com.au T: 03 9272 5531 www.facebook.com/AUSTRALIAARAVA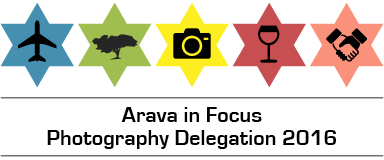 Date and time
Location
Photography Studies College
65 City Road
Southbank, Victoria 3006
Australia