Multiple Dates
The High-Performance Workplace training workshop
Description
The High-Performance Workplace
Workplace Productivity & Effectiveness training program

As the world becomes increasingly busy and complex, effective time management skills and productivity practices are now more relevant than ever before. Many productivity books and programs try to teach you how to get it all done. But, as you have already experienced, it is impossible to get it all done. And it can be counter-productive to try!
This 5 module High-Performance Workplace program features one 90-minute workshop per month. Join any single workshop or sign up for the whole program. These workshops show you a range of time-proven skills, techniques and strategies for managing overload and maximising your workplace productivity and effectiveness.
Programs includes coaching sessions between each workshop to help you take what you learn in a training environment and implement it back in your workplace.
"Just letting you know I received wonderful feedback from the team during our team meeting this morning in relation to yesterday's workshop. Some comments were:
"Best training I've done in a very long time"
"Exceeded my expectations"
"I really truly thought it was great - thank you for bringing this to our team"
I can see that everyone is very keen and intent on implementing the strategies you provided to us. Thanks again - very much appreciated."

MARIA MARTELLO - Senior Manager, Alumni Engagement, Monash University (Feb 2017)
---
3 Keys to Managing Information & E-mail Overload
Tuesday 14 February (8:30am-10:30am)
Introduction to the 3 Phases of Work
The Impact of overload on time, money, staff morale, IQ and quality of life
3 key strategies - the WWW of Mastering Email & Information Overload
Managing Interruptions & Distractions
Wednesday 22 March (8:30am-10:00am)
The incredibly negative cumulative effect of interruptions
Keys to controlling & prioritising interruptions and distractions
Exploring the myth of multi-tasking
Managing Workload & Commitments
Thursday 20 April (8:30am-10:00am)
The 3 requirements for managing commitments effectively
Brainstorm your biggest challenge, right now!
Scheduling time to 'get your stuff done'
Managing Work Priorities
Tuesday 16 May (8:30am-10:00am)
The Triage Model
Exploring Covey's Urgent/Important Matrix
Identifying your key Areas of Focus
Managing Workplace Focus, Attention & Energy
Thursday 22 June (8:30am-10:00am)
Identifying & harnessing your Peak Energy Time
When you should and should NOT perform certain tasks
How (and when) to handle all the conversations and other 'stuff' that just pops up every day
---
Key Outcomes & Benefits:
The aim of this workshop is to cost-effectively deliver highly practical and easily-implemented skills and strategies that will enable you to gain the following outcomes and benefits;
Deal with the interruptions and unexpected events
Recognise and respond appropriately to what's important versus what's urgent
Set and negotiate changing priorities
Use planning tools and strategies to save time
Understand and implement a more strategic approach to email
Integration of e-mail into workflow and communication processes
Eliminate email as a disruption to work
Control of information overload – manage higher volumes at increased pace
Improved decision-making 'at the front end' of new inputs
Improved e-mail communications and effectiveness
Better manage tasks and activities with consistent focus on higher priorities
---
Program results
Here is a typical sample of evaluations we receive for this program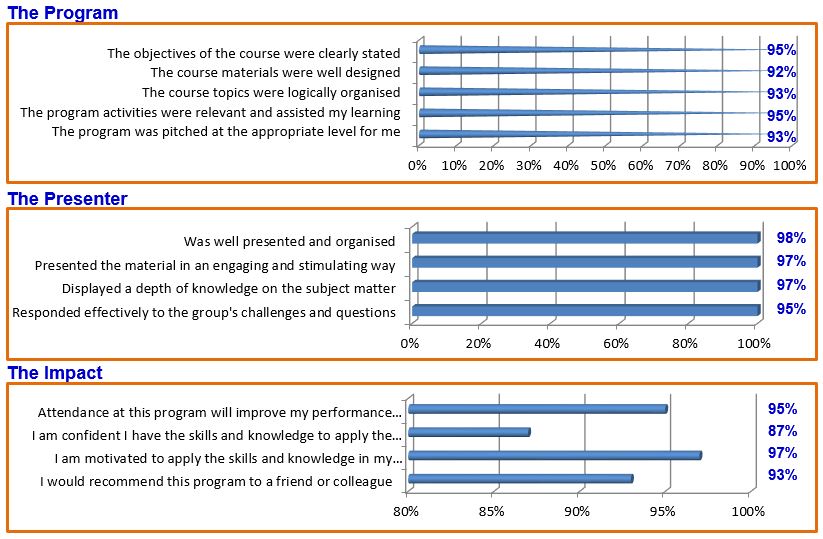 ---
Program Presenter: Steuart Snooks

---

---
What participants say:
Here is a sample of the feedback and evaluation these workshops receive;
"Down-to-earth speaker, straight to the point; very informative, coming out of workshop with better time & email management."
"Of interest to me is that you scored the 5s from two of the hardest and most demanding members I have!"
"Got more out of this course than any other. Practical tips I can put to use straight away."
"I wish to confirm my statement re your presentation on Mastering Email Overload was the best presentation I have attended in the past 20 years." Andy Forster, Finance Consulting & Accounting
"Excellent – picked up a few tips and tricks that I think will make a big difference and will result in work being done properly as opposed to in a 'patchy' fashion."
"I received some excellent tips and techniques that will be simple to implement and save time. A good level of information was imparted during the session."
"Extremely eye opening. I cannot remember the last time I gained this much awareness from a CPA session."
"I think that I'm pretty good at this but I still wrote down a number of ideas that I can use."
"I have been fortunate enough to be part of this exercise a couple of years ago. Definitely not one to miss out on. I know other companies that have had Steuart present the training and all say it was fantastic– it is simple yet it makes huge sense. The cost saving and time saving side will astonish you as he simplifies the use of email." Grattan Fitzgerald, Director, Electrical Distribution & Transmission
---
Bob's Story – the ongoing impact of a HPW workshop from 2011
"Gidday Steuart. During yesterday's meeting at the Significant Events stage, Anthony, one of our members talked about being overseas for 5 weeks and coming back to a fairly large inbox. He then said, 'Thank goodness we had Steuart speak on his one touch email process. It saved me heaps of time.' True value from our speakers means permanent impact and your name keeps on coming up in our regular meetings. Well done and keep up the good work." Bob Kerr, Coach to CEOs/Chairman of TEC 48 – Newcastle (Oct 2013)
"Yesterday at our monthly TEC 48 meeting, I asked each member to tell the group what they have implemented as a result of their TEC journey. One said that 'for the first time in a few years his inbox was less than a page long.' And then he mentioned the value of your session with us a few years back. I must also add that if my inbox ever gets to more than a page, 'I Snook it.' The true test of a valuable speaker is not the entertainment value on the day but the lasting effect that their presentation has on the members. Well done and thank you Stuart from us here in the Hunter. Bob Kerr, Coach to CEOs/Chairman of TEC 48 – Newcastle (Oct 2014)
Gidday Steuart, trust you are well. We are encouraged as chairs to give immediate feedback to our presenters, but this unfortunately does not let our presenters know how effective they are over a longer period of time. At the last meeting of TEC 48 I presented one of our members, Anthony Kerr with his 5 year membership plaque and gift and I then asked him to share with the group some highlights of his membership. You were one of five best speakers out of at least 50 that have presented to our group. Not only that, there are a few other members that remember your presentation and said that to this day they are practicing the skills that you taught us. That includes this old bloke as well. Bob Kerr, Coach to CEOs/Chairman of TEC 48 – Newcastle (May 2016)
---
"The sales team really took something out of your session. We were talking about the training all evening. Clearly the topic hit a nerve with the team. One of the most common conversations we had was why, as an organisation, is it that we train our team on sales skills and time management etc but yet we've never offered any training on the tool they use the most, all day everyday (Outlook). Great course and excellent results for us already. All this mornings' emails already have your suggested adaptations. Looks like Taming the TIGER was a winner. Thanks again." Mark McInnes, National Sales & Marketing Manager, Show Technology
"Good program. Practical tips provided which are easily integrated into day-to-day working."
"Very good content that has provided much to consider and implement at work."
"Well prepared session, professional resources and delivery."
"Well done. Tips on mastering e-mail are highly relevant."
"Very engaging. Great tips. Practical solutions."
"The program highlighted how poorly my day was managed and how email managed my time. The workshop showed me how to regain control of my day and operate more efficiently" Sab Ambrosino, National Merchandise Manager, Symbion Health
"Useful tips for managing e-mails, managing commitments and peak times for meetings"
"There were some great ideas for my time management processes"
"Many, many practical takeaways for personal time management"
"Thanks for a brilliant training session yesterday. I have been wanting to do your training course for the past 6 months as I heard about it though a previous staff member who raved about it! Thanks once again, great information and very well executed!" Olivia Millman, Customer Service Administrator, The Gordon
"Excellent presentation, excellent notes, good take home actions."
"Very topical. Many take-home ideas for aspects of life beyond business"
"Useful, easy-to-implement tips about how to use Outlook more productively"
"Fantastic"
---
Got any questions?
Just contact me direct if you have any questions about these workshops - whatever I can do, I'm here to help!
Steuart Snooks | Mobile: 0413 830 772 | Email: steuart@solutions4success.com.au