Heart-Leadership is a digitally-savvy, human-centred design approach to the three pillars of a thriving modern enterprise
About this Event
1) Hear Your Heart (People leadership) is the art of seeing, sometimes unearthing, mostly magnifying and enhancing people's essence including your own.
2) Ask Your Head (Process innovation) is the collaborative work of ensuring processes make it simple for people to bring their essence to their work. (NB processes include policies, procedures, practices, philosophies, principles, structures and systems).
3) Engage Your Hands (Progress sustainability) is the joyful craft of ensuring progress towards possibility (desired new reality, shared goal/objective/aim) is kept visible.
In this special launch of the Heart-Leadership book I will be exploring these three , the bookends of Harmony and Happenstance and the flow from heart qualities to head catalysts to hand actions. Your registration for this experience also means that you can participate in the to be scheduled February 2021 follow-up sessions after you have read the book and begun to take action.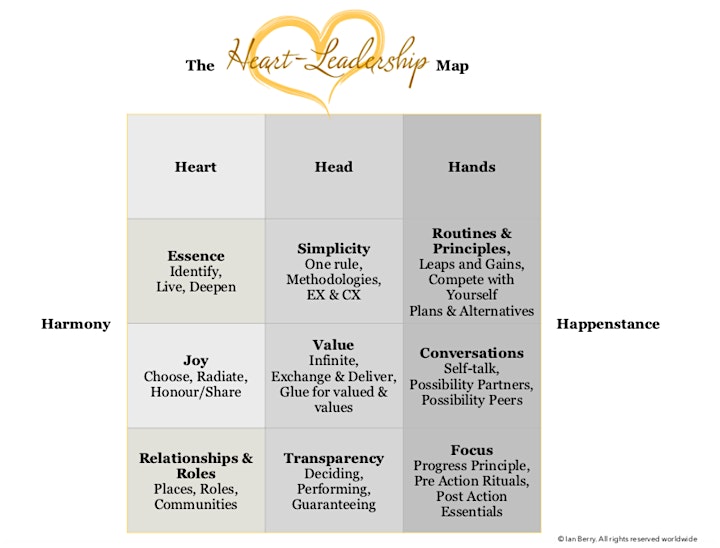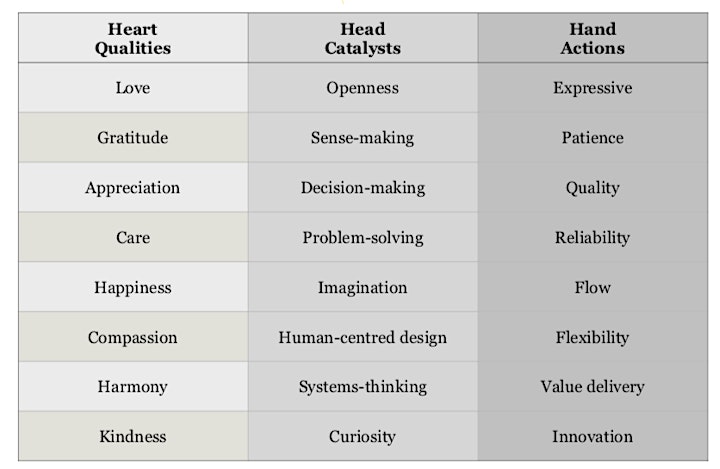 Learn more about Heart-Leadership here.
All participants receive a signed copy of the Heart-Leadership book. One of only 100.
For over 30 years I've been working with leaders to stay ahead of the curve in the world of work. Leaders in privately owned and family businesses, proven purpose driven organisations and corporations, professional service firms, and solo professional service providers.
I've had the privilege of working with more than 1000 leaders, women and men, in over 40 countries. One thing has stood out - the very best leaders lead from their hearts.
What I sense, say and shine a light on in this program is important yet nowhere near as important as what you hear your heart say, ask your head to work out, and then engage your hands to do your one-of-a-kind work.
"Ian Berry has produced an important and ground-breaking work which is a crucial addition to our knowledge of leadership and how better leadership can improve all our communities.
This is a transformational work and I cannot recommend it highly enough for leaders wishing to shape a better future. "
John F. Kennedy, BSc FIDM, CMO/Chief Strategist/Digital & Data Science Marketing
"I loved every page of what you have written."
Rosemary McKenzie-Ferguson, Founder Craig's Table
"I've been privileged to be a member of the peer groups that have workshopped Ian's last three books including this one. I've learned that leading from my heart, speaking from my heart, and then letting my head and hands drive the outcomes is an awesome way to live and to lead. "
Jamie Wilson, Victorian Regional Sales Manager, Haymes Paint