Sales Have Ended
Registrations are closed
Hope to see you NEXT week!
Sales Have Ended
Registrations are closed
Hope to see you NEXT week!
30 minutes of playful healthful laughter exercises for physical, psychological and social wellbeing with HeatherJoy Campbell
About this event
Laughter is great medicine.
With laughter yoga, we can laugh without jokes, exercising our 'laughter muscles', getting a light cardio workout and boosting our outlook all in one. Join HeatherJoy from The Happydemic for 30 minutes of playful laughter exercises and mindful breathwork.
You can do the exercises seated or standing.
There are no 'yoga poses'.
In Sunday's 30-minute session, you'll have the opportunity to banish your cares and worries, and prime yourself for the week ahead, as you gently stretch and run through a series of fun and playful activities that help you laugh with intention. Choosing to laugh freely and heartily, without needing jokes or comedy to prompt you, actually builds your mental health and resilience while also boosting your immune system.
What others have said about HeatherJoy's Online Playroom sessions
I so look forward to Sunday online LY with HeatherJoy. The session always ends with me feeling a lot lighter - like a whole weight had been lifted off my shoulders! - E, Melbourne, online, 2020
It's great exercise for the lungs, I feel recharged inside and have a fresher outlook. It's also assisted to build my resilience. - B, North Queensland, online 2020
E, North Qld, online,2020
You can read more about what others said in this blog.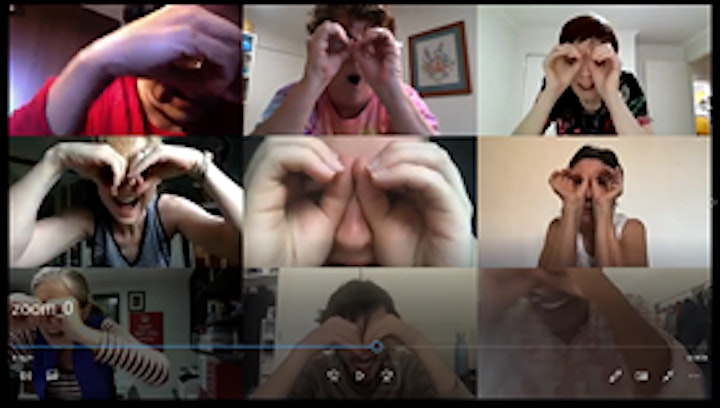 Organiser of The Happydemic's Laughter Yoga Playroom - April, MAY, June 2021
 Heather Joy Campbell is a Certified Laughter Yoga Teacher, trained by the Giggling Guru himself, Dr Madan Kataria, and appointed a Laughter Yoga International Ambassador for her regional and community work. And yes, Heather Joy is her real given name!
Her working life in media and the government was ruled by deadlines and headlines. Stress was ever-present: through Laughter Yoga, she learned to deal with it differently. Laughter Yoga has also helped Heather Joy get through extended periods as the carer of terminally ill loved ones, and the subsequent grief and dark days.
She lives in Brisbane, Queensland, 'gives back' through weekly laughter clubs (she is the founder/coordinator of The Gap Laughter Club), is sought-after as an engaging speaker on the subject of laughter wellbeing and facilitates Laughter Yoga workshops and training far beyond city limits -- in workplaces, aged care and community welfare support organisations.