Event Information
Refund Policy
Refunds up to 30 days before event
Description

Join Grant Abbott as he introduces you to SMSF v2.0 and launches his new, and highly anticipated book - The Guru's Guide to SMSFs - suitable for SMSF Professionals, SMSF Members & Trustees, Product Development Teams, and anyone with a thirst for additional SMSF knowledge or capital.
*** All attendees receive a hard copy version of "The Guru's Guide to SMSFs"***
Over a year in the writing and editing, Grant states that "this is without a doubt, the best book I have ever written!"
With over 1,500 SMSF presentations, 1.5million words and having trained more than 1,000 financial planners and accountants to become specialist SMSF advisers ... this is a BIG CLAIM!
The launch of the Guru's Guide to SMSFs is a special half day event where Grant will discuss the following strategies and provide all attendees with an autographed hard copy version of his book:
The New Super Paradigm – SMSFs Version 2.1;

Creating the new Family Super Fund – what it means, looks like and why it differs from a SMSF;

How to maximise the Pension Transfer Balance Limit for when the equities and properties shake out comes;

The means and use of investment and pension reserves for Family Super Funds;

The new passing control rules in a SMSF;

Case studies on multi-investment strategies – moving offshore with an Australian super fund – using the CGT small business exemption for business real property – family farm transfer with a family super fund, and

Estate planning – here and now
Plus... have first access to apply for the I Love SMSF Mentorship Program as a Gold or Silver member.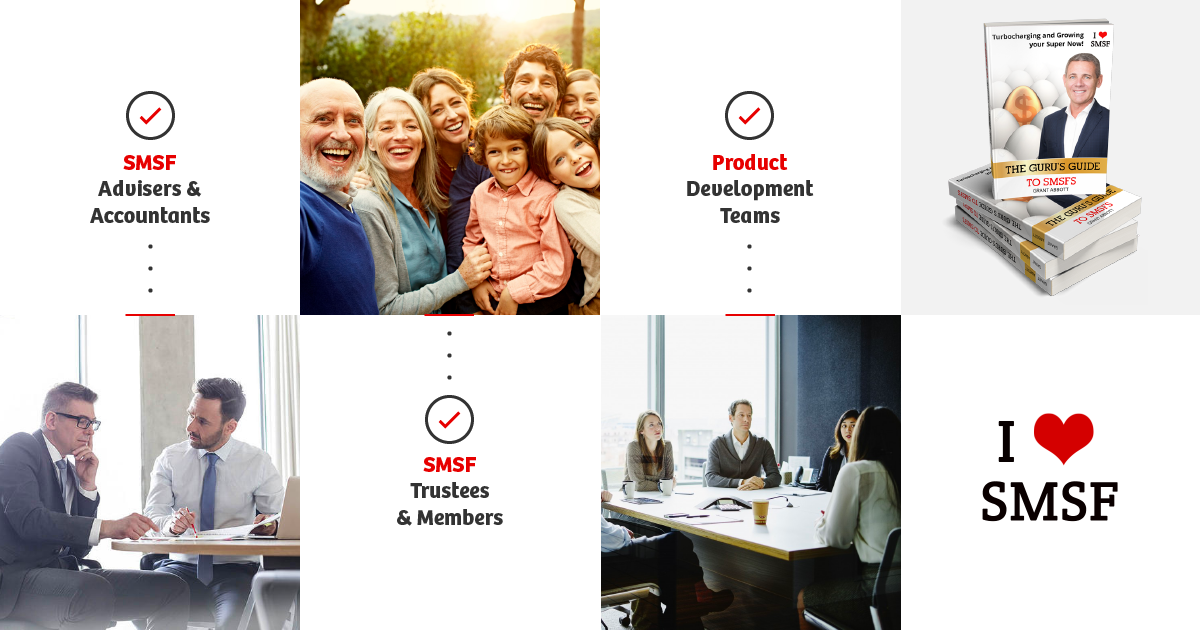 FAQs
Is lunch included?
Yes, both morning tea and lunch will be provided to all attendees
How many tickets are available?
To achieve an optimum level of "intimacy" at the event, Grant has limited numbers to 100 only. We encourage anyone interested in the event to purchase tickets as soon as possible to avoid missing out - and also to take advantage of our early bird pricing.
Will the event be live streamed?
In Grant's opinion, most of us crave interaction and tend to learn better in a face-to-face environment. As such, this event will not be streamed and will only be held in Sydney. This will also enable all attendees to receive a hard copy edition of Grant's book.
Is co-branding of Grant's book still available?
Yes, details about co-branding "The Guru's Guide to SMSFs" will be provided at, and following, the event.
What is I Love SMSF?
I Love SMSF is an opportunity for SMSF Trustees and Members, Advisers, Accountants, Financial Planners and Auditors to get together and increase their knowledge and understanding. With more than $700 billion in over 600,000 SMSFs, it is important to have a collective university to bounce ideas, learn from the best and increase the wealth in our SMSFs. I Love SMSF also offers exclusive membership programs where individuals and businesses have the oppurtunity to be mentored ongoing by the guru himself. Please visit www.ilovesmsf.com for more information, or contact support@ilovesmsf.com
How can I contact the organiser with any questions?
Email support@ilovesmsf.com or visit www.ilovesmsf.com
I Love SMSF and Grant Abbott are proudly supported by:

Date and Time
Location
Refund Policy
Refunds up to 30 days before event