Description
THE GREAT WIZARD POST QUEST - QUICK QUILLS!
Team Race Adventure Game!
Hunt for Things.
Follow Clues.
Solve Puzzles.
Win the Game!
A magical explosion of mail has occurred high over the streets of Melbourne!
A parcel containing an energetic Quick Quill has burst open and run amok in the Owl post bag, scribbling on letters and causing envelopes to fall everywhere!
You have two hours to find all the fallen envelopes and collect all the clues.
Each Team must reassemble the letter the Quick Quill was writing and hand it in to WIN THE GAME!
FASTEST TEAM: Awarded a box of Four Fancy Quick Quills
TOP 10 TEAMS: Awarded a Commemorative Huge Fridge Magnet for each player
BEST PHOTO: Awarded $100 cash prize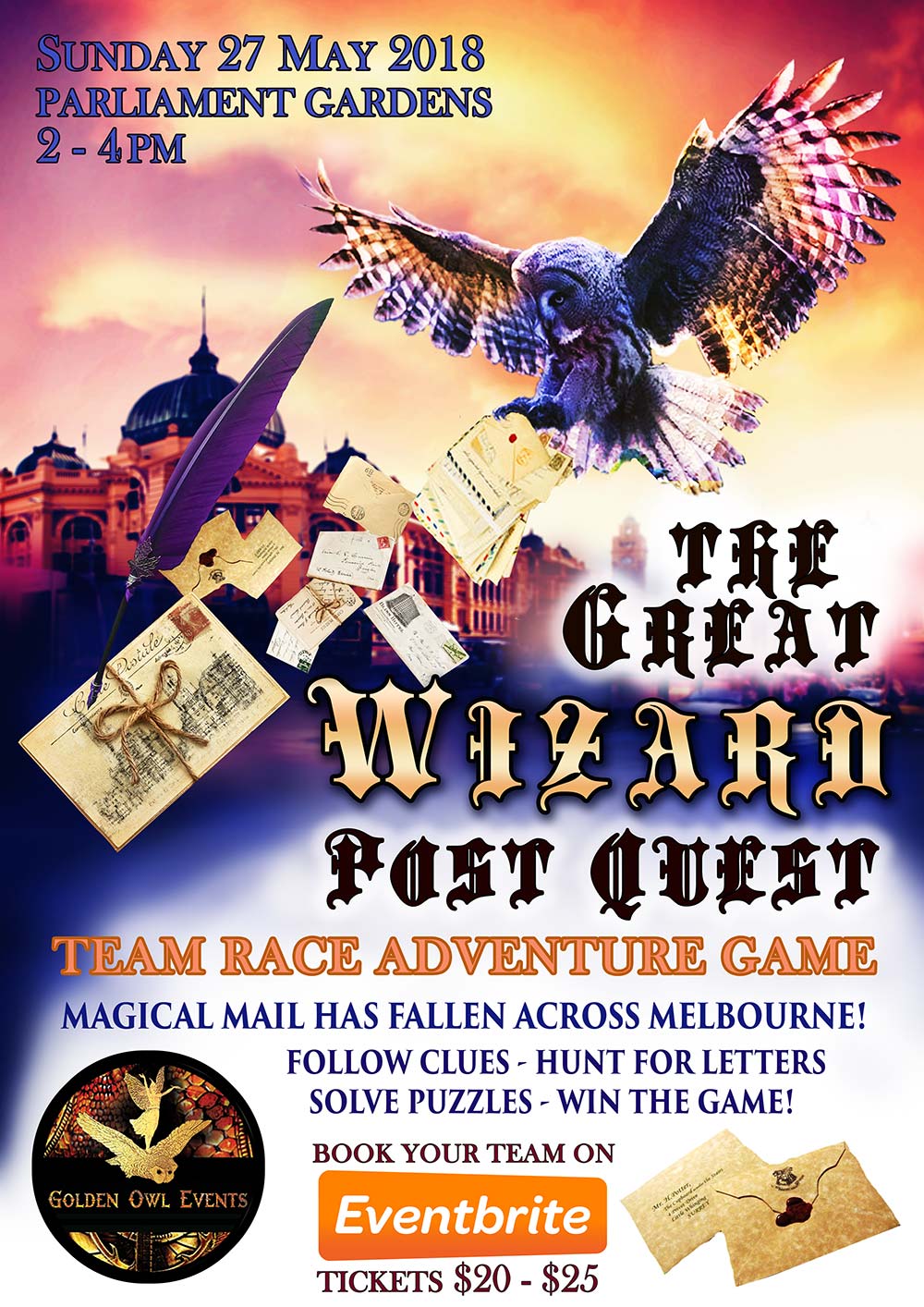 THE STORY SO FAR
World-renown Magi-Zoologist and Adventurer Sage Sinclair has been exploring the furthest jungles and roughest terrains in order to study rare magical creatures.
Sinclair has discovered and documented a variety of exciting new species with magical properties, each time recording their finds with the help of their trusty and hard-working Quick Quill, affectionately called 'Whipper'. Sinclair and Whipper have built their reputations by exploring remote areas and going where few would dare to tread in order to carefully study fantastic beasts in their natural environments.
Sage Sinclair was recently invited to Melbourne to be an honoured guest lecturer at Varinor Academy of Magical Arts and Sciences.
Before appearing in public, Sinclair decided Whipper deserved a much-needed dose of Tender Loving Care, since storms, sun and all manner of weather had taken their toll on poor little Whipper.
Sinclair carefully packaged up Whipper and sent it via Owl Post to the very best professional wands and quills repair workshop in Melbourne, Aardvark & Artemis.
Just before reaching its destination, Whipper burst free of its packaging, giving the Owl carrying it such a fright it flew off course and straight into another post Owl carrying a large bunch of mail. Magical mail fluttered out of the sky.
In a panic Whipper started writing on every piece of paper it touched as it fell, reciting from memory one of Sinclair's adventures.
Fortunately two local witches, Crystal Wellington and Plum Madrid, witnessed the crash and were able to immediately recover both the two owls and Whipper. However, several envelopes were scattered by the wind are still lost and unaccounted for.
It's up to you to find them all!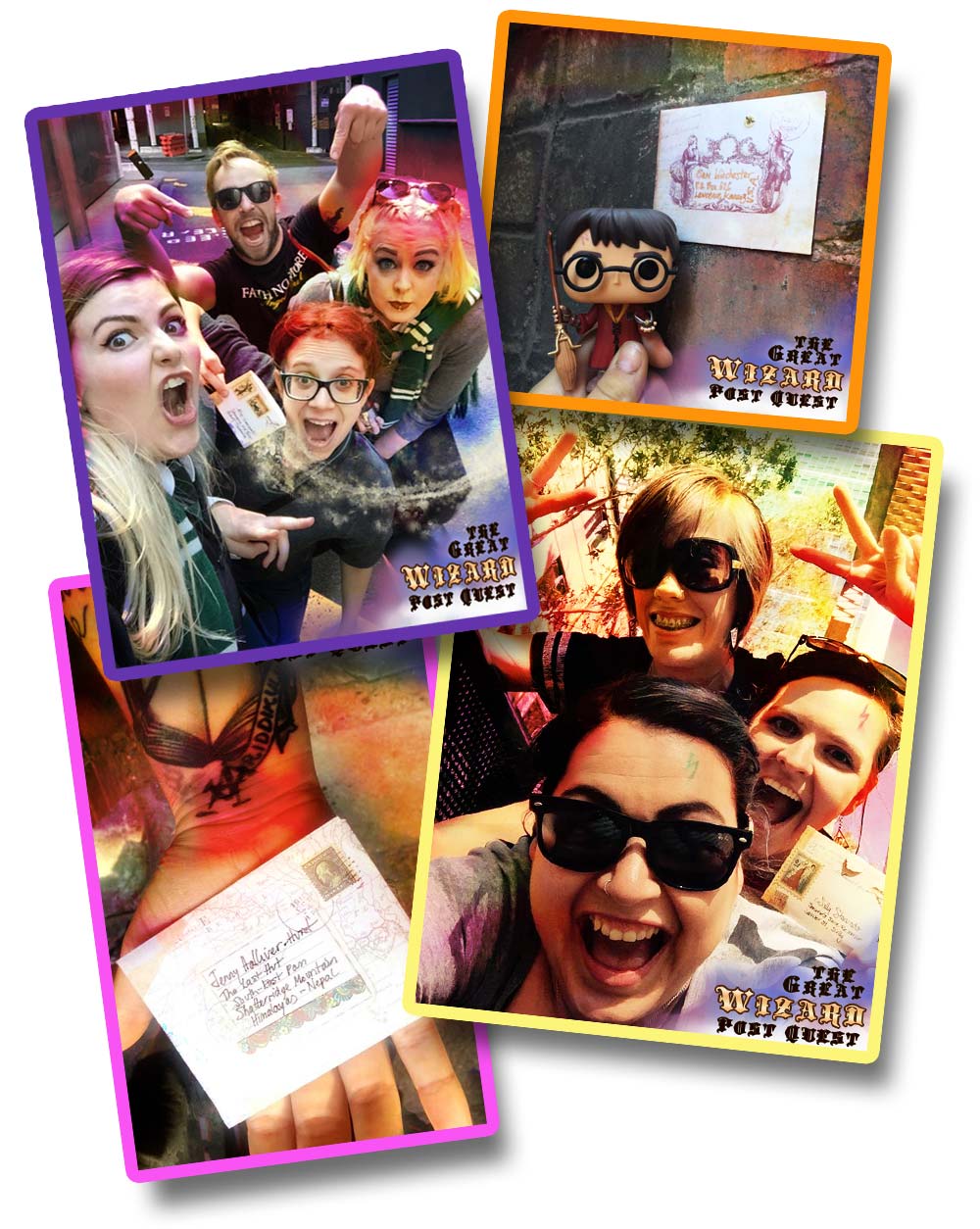 WHAT IS A QUEST?
This is an exciting outdoor competition for those who like treasure hunts, exploring the interesting nooks and hidden spots of Melbourne and running about with friends!
So far Golden Owl Events has run "Pirate Quest", "Where In Melbourne Is Carmen Sandiego?", "The Chocolate Connoisseurs Easter Egg Hunt", "The Great Gryphon Feather Quest" and "Faery Quest". This is our second "Great Wizard Post Quest".
GAMEPLAY
You have 2 hours to find as many letters as possible. The will be hidden across a secret location area that shall be revealed on the day.
The game is designed to be completed within about an hour at a brisk walk. 2 hours are given for slower players. After 2 hours has elapsed the game will end and all the magical components will be swept away!
All of the letters are accessible on foot. Some may be 'off the beaten path'.




TEAMS
This game is designed to be played in teams. A team of 3 - 4 is ideal.
You can also play in Pairs or Solo if you wish.
This game is made for adults to enjoy, but kids can play too.
Recommended for players 10 and up.
Younger kids must have at least one adult player on their team.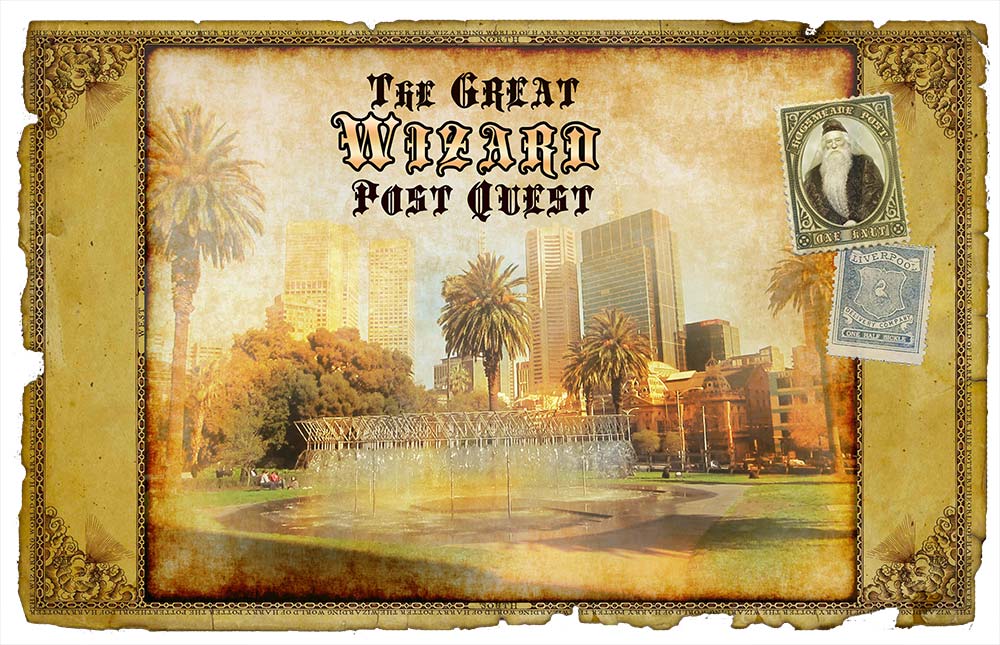 LOCATION
START: Marshalling Area: Parliament Gardens, Corner Albert St and Nicholson St, Melbourne CBD
Game Area: Nearby to Parliament Gardens (revealed on the day)
ABOUT THE PRIZES
Quills and Magnet Prizes will be awarded on the day. These prizes will be handed to Teams as they complete the game and 'cross the finish line' at the final checkpoint location.
BEST PHOTO COMPETITION
Win $100!
Take Team Selfies and upload them on the Facebook Page!
The winning photo will be chosen by the Golden Owl Events judges, from the shortlisted 'Popular Vote' photos that have the most 'Likes / Reacts'.
Judges will be looking for energy, excitement, fun, colour, expressive faces, and a good shot that shows the players in action during the game, either hunting for or finding envelopes, or working on solving clues together.
Players can use any camera and any method to take photos, e.g. selfies, ask someone to take a group shot of you, etc.
Participants will have 3 days to upload and vote for photos.
The Winning Photo will be chosen and announced on WEDNESDAY 30th MAY 8pm on the Facebook Event Page.
Prize Money will be sent via bank transfer after email arrangements with the Team Captain of the winning team's photo, who can then distribute the Prize Money to their teammates as they see fit.
TO ENTER: Post your photo on the Great Wizard Post Quest 2018 Facebook Event Page.
Make sure you include Competition Header Info on each of your Top 3 Photos:
1) Title: "Photo Competition Entry"
2) Hashtag: #GoldenOwlEvents
3) Team Name
4) Player Tags (Tag your Team Captain or some of your players if possible)
Selected submitted photos may be displayed on our Golden Owl Events website and social media pages after the competition.
Teams may enter a MAXIMUM 3 PHOTOS to the competition. You can flag your top 3 photos for consideration, delete photos and add better ones later in the game if you like. Example: You might submit 4 photos at the beginning of the game that you think are pretty good, then you end up taking 2 more really great ones when you solve the game. Add the title "Photo Competition Entry" to your best 3 photos at the end of the event day and these will be the ones considered for the competition. Remember to remove the Competition Header Info from any photos that aren't your top 3 so voters know not to vote for those ones
Likes, Facebook reactions and comments will be taken into the consideration by the Judges when choosing the winner. Popular votes will be used to shortlist the finalists.
TO VOTE: Like any photos you think deserve to be shortlisted. You can like / emoji as many photos you wish, including your own team's photos.
You can also invite friends or non-players to vote for your photos on the Facebook Event page here:
www.facebook.com/events/1458697200926407
TICKETS
ON THE DAY TICKETS (cash only)
$25 per player
(exact change much appreciated!)
EARLY BIRD SPECIALS on EVENTBRITE

Team Ticket: $80
A Team can be:
4 adult players
or
2 adults + 3 kids
or
3 adults + 2 kids
Pair Ticket: $45



Kids aged 7 and under are free.


EARLY BIRD BOOKINGS on Eventbrite will CLOSE FRIDAY 25 MAY at midnight.




WHAT WILL I NEED TO PLAY?




We recommend you have:

A smart phone with good internet access to the Facebook event page
A notebook or something to record clues and makes notes on
Comfortable walking shoes
Water / Drink Bottle
Umbrella / Raincoat in case of wet weather
There are a few water bubblers / drinking fountains around the gameplay area, and cafes nearby for mid-game snacks / drinks.
Public Toilets are available close by.


HOW DO I REGISTER MY TEAM?

1. Choose your Team Captain - the person responsible for coordinating your team members and entering your team
2. Choose a Team Name
3. Book your Team and purchase your tickets via Eventbrite

ONLINE TEAM REGISTRATIONS WILL CLOSE FRIDAY 25 MAY at Midnight.
If you are buying your tickets on the day you also Register Your Team on the day, whether group, pair or solo.
WHAT DO I DO ON THE DAY?

1. Arrive at the Marshalling Area and make sure all your team members are signed in before the game starts
2. Listen to the Game Instructions Speech
3. Play!
4. Go to the End Point to complete the Quest, hang out with the other players, have a coffee and some food, and find out which teams were the fastest!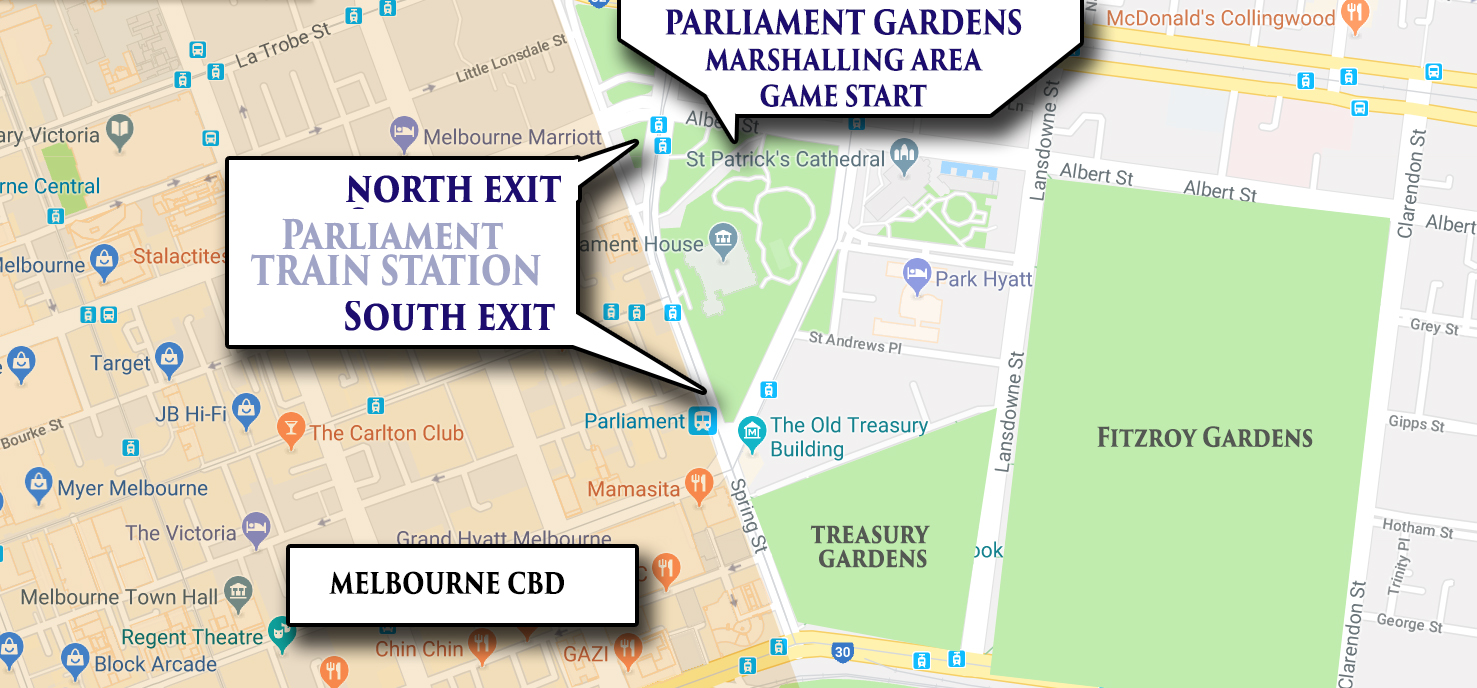 HOW TO GET THERE
Public Transport is recommended. Parliament Gardens is right next to Parliament Station (north exit).
Several trams also stop very close by.
Use Journey Planner: www.ptv.vic.gov.au/journey
to see your transport options from your house to Parliament Gardens.
PARKING
There's lots of street parking nearby. Some areas are free or unlimited time on Sundays, some are 2 hour ticketed parking.
Parking Stations are also nearby with $10 - $16 Flat Rate Sundays, depending where you go.
Please allow plenty of time to find a parking spot and get to the Parliament Gardens as there may be roadworks or public events on that will slow down your travel times on the day.


MOBILITY ISSUES
This game requires players to be reasonably active and mobile. It involves a lot of walking (or running if you're really keen) and takes a certain amount of stamina. The game is played entirely on foot. Players will experience varying terrain during the Quest, including staircases, gravel paths, rocky areas, slopes, grassy areas and narrow dirt paths. There may also be large puddles and mud if there's been recent rain.
NOT RECOMMENDED
Small children
People pushing trolleys, prams or anything on wheels
People unable to climb stairs, cross varied terrain or walk for 2 hours.
Small children are not recommended to play as they pretty much never have the endurance to last the whole length of a Quest, in our experience.

FINDING ENVELOPES
If a letter comes unstuck from the wall as you are handling it make sure you stick it back to the wall after you've collected the information you need. If you can't stick it back up for some reason, e.g. the wall is wet, just leave it on the ground where you found it and our Game Guardians will attend to it.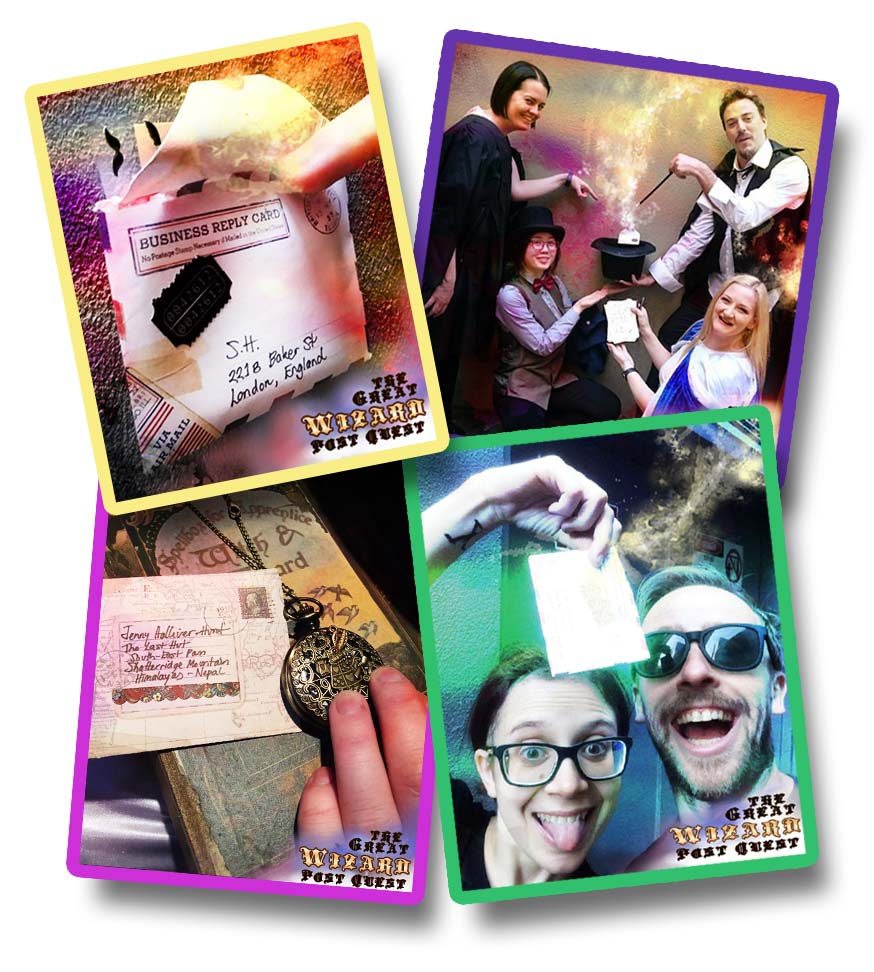 FAQs

Q: I'm a Muggle, will I still be able to play?

A: Absolutely. This game is easy to play for everyone, regardless of previous experience or magical skill.


Q: When do Early Bird Tickets end?

A: Online ticket sales and pre-bookings will close at Friday 25 May 2018 at midnight. Tickets will still be available to purchase on the day.


Q: My team doesn't have a camera / a phone with internet, can we still play?

A: Yes certainly. It just means you won't be able to enter the photo competition or gain clues about the other envelope locations via online photos.


Q: I already booked my team with an Early Bird Team Ticket, but now I have more members who want to join me. What tickets do I get?

A: If you have more than 4 members then the extra players will need to buy their tickets separately, either online for $45 for a pair or on the day for $25 each. You will need to sign in your new members on the day along with your booked team members. Also, see below:


Q: I have more than 4 team members. Is this ok?

A: The game works best with a small group of players. The more people you have the harder it can be to move your team around the gameplay area at high speed. If you have lots more friends wanting to join, we recommend that they split off into their own group. If you have 5 or 6 team members that's pretty much the limit, any more than that and it would be better to divide your group into 2 teams. Also, see above.


Q: Is the Team Ticket special available on the day?

A: Nay. Team Ticket specials can only be purchased online on Eventbrite. All on-the-day tickets are $25 each.


Q: What happens if it rains?

A: If it is light, manageable rain, the game will continue as normal, coz we're Melbournians!
Just bring a strong umbrella and puddle-proof shoes. Game on!
If it's really storming down and totally miserable then the event will be postponed to the following Sunday at the same time.


Q: Can I get a refund for any tickets I didn't use?
A: There are no refunds for unused tickets, but the tickets are transferable. You are very welcome to give your tickets to friends, or if you need to, make arrangements for other players to take over your group booking. If they don't want to keep your team name they can change it to something else at the sign-up on the day.



Q: If the game is wet-weather postponed to another day and I can't attend the new date, can I get a refund?
A: Yes. Go back into your Eventbrite purchase and find the "Request a Refund" button to get the ball rolling. Your transaction will be reversed and you will be refunded in full.

Q: Can my team and I dress up for this event?

A: Oh my sparkly stratosphere, YES! Please do!
Q: Is this is the same game as the 2016 Great Wizard Quest?
A: Nope! New gameplay area, new story, new puzzles.

CONTACTS
Website: www.GoldenOwlEvents.com
Email: goldenowlevents@gmail.com
Instagram: @GoldenOwlEvents
Facebook Page: Facebook.com/GoldenOwlEvents
Facebook Group: Facebook.com/groups/goldenowlevents
Facebook Event: www.facebook.com/events/1458697200926407
We look forward to seeing you there!