Women Can International Inc are hosting their Girlfriend Club event for November 2021, a Scavenger Hunt of unlimited fun proportions!
About this event
ABOUT THE EVENT
Join the girls from the Girlfriend Club for a super fun, super exciting scavenger hunt of outlandish proportions focused around the Perth CBD and surrounding suburbs. This event will challenge your creativity, resourcefulness and brain power whilst charging up your friendship love tank!
A list of things to find...some clues to help you on your way. Form a team, decide on a theme for your team (colour or other), register your team and away you go. Meet us a the Botanical Cafe in Kings Park - you won't be able to miss us!
Fab prizes to be won whilst having the experience of a lifetime.
Car pooling opportunities for those who don't have a team but want to participate are available. Just email womencanteam@gmail.com and let us know you need a team.
ABOUT THE GIRLFRIEND CLUB
The Girlfriend Club is a free program of Women Can International Inc. It is built on the premise that women often have other women that they love from all the different worlds they inhabit - family, friends, neighbours, work associates, old school friends etc but struggle to keep up with their girlfriends. The Girlfriend Club is an opportunity to bring the women from your many worlds together at one time to have some fun and connect.
We are all busy women. Taking the time to spend with all of our girlfriends from the many different worlds is complicated and exhausting. But what if the women we love, were to meet each other. Maybe they would form some friendships as well and maybe our worlds would be more integrated and free flowing.
We have seen time and time again the magic that happens when you connect people across your many different social circles. So, we want to present an opportunity for you to do this. And while you are doing it, our members will also be doing it, so there is unlimited possibilities for forming new and vibrant connections within a positive-focused environment.
Please note: A donation for each car entering would be appreciated to offset the cost of the prizes. A collection point will be available onsite for donations.
You can fimd out more about this program on our website, http://womencaninternational.com/the-girlfriend-club/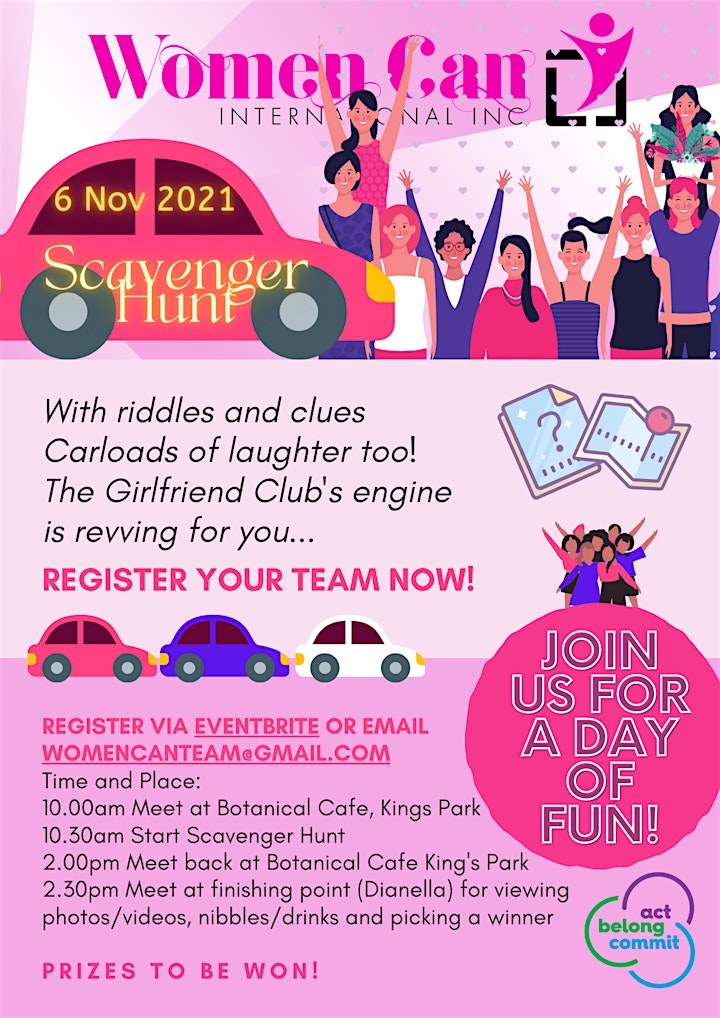 Organizer of The Girlfriend Club Scavenger Hunt