The Future Of Work: How To Create Content For Change

Thursday, 31 March 2016 from 12:15 pm to 1:30 pm (AEDT)
Event Details
Please join Aquent, Firebrand Talent, and Vitamin T at our free, lunchtime Digitalks event on Thursday 31st of March.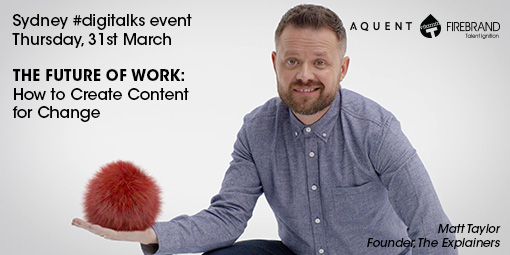 Topic:
The Future of Work: How to Create Content for Change
Frey and Osborne predicted in 2013 that 47% of US jobs were susceptible to automation by 2050. As our lives become more "multichannel" and our attention spans more fragmented, planning active content channels to discuss change clearly, both internally and externally, is more vital than ever.
In this 45 minute presentation, Founder of The Explainers, Matt Taylor will cover:
Content Marketing: State of play and where it's going

Quality Content: Investing across internal and external communications

Persuasion: At the heart of every great campaign is still, and always will be, a great idea

Automation: What part will communication and content play in our changing workforce

He'll also show case studies of successful content campaigns across financial services, technology, innovation and government.
About our presenter: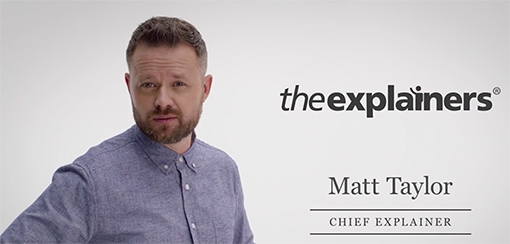 Matt Taylor is the founder and director of digital communications company The Explainers. The Explainers work with a broad range of clients translating innovation and complex messaging to both internal and external audiences. Over the years Matt and The Explainers have won many awards in animation, good design and communication whilst also speaking and curating events in Australia and the US including Pause Fest, Vivid Ideas, Ad:tech, Content Strategy Innovation Summit, iMedia and AIMIA. More info: www.theexplainers.com
Seating is limited, so please book ASAP.

Date: 
Thursday, 31st March

Venue:
Westpac
Level 23, The Forum
275 Kent Street, Sydney
Agenda:
12.15pm: Networking and light lunch served
12.30pm: Presentation commences
1.15pm: Q&A
1.30pm: Concludes

We hope to see you there!
When & Where

Westpac
Level 23, The Forum
275 Kent Street
Sydney, NSW 2000
Australia

Thursday, 31 March 2016 from 12:15 pm to 1:30 pm (AEDT)
Add to my calendar
Organiser
About Aquent:
Aquent delivers corporate companies the expert temporary digital, marketing and creative talent they need to thrive. Our exceptional talent can immediately lend their expertise to any digital, marketing or creative project.
Aquent is a global recruitment company and has offices in Melbourne and Sydney.
Visit aquent.com.au for more info.


About Firebrand Talent:
An award-winning recruitment agency specialising in permanent recruitment, Firebrand Talent ignites the careers of Digital, Marketing and Creative specialists by matching outstanding Talent with great companies.
The Talent we represent are enemies of average. People who kindle passion for what they do and want to be part of something they believe in. Firebrand, is the permanent recruitment division of Aquent and has offices in Melbourne and Sydney.
Visit firebrandtalent.com.au for more info.
About Vitamin T:
Vitamin T connects amazing freelance digital creative talent with awesome agencies. Since we're massively nerdy fans of creative, this sort of thing comes naturally to us, which means as a client, you get hand-picked talent perfectly suited to your job, and as talent, you get freelance work that doesn't make you want to wash your eyes out with hand sanitiser. Win-win!
We are a division of Aquent and have offices in Melbourne and Sydney.
Visit vitamintalent.com.au for more info.