Description
A Panel Discussion - Marketing talks with 4 Masterminds - 4 Amazing Andrews from 4 Marketing Agencies
Collective economy, digital and technology has disrupted every aspect of marketing: communications, distribution, retail, media, content, and the role of the consumer. We know that the changes will never slow down.
What does marketing look like in the future in this ever-changing world? How will it affect your job & business?

What is your strategy to survive in an environment where disruption and changes are constant?

What does the future hold for marketing, and marketing agencies when everyone is and can be a self-proclaimed marketer?

What does it even mean to be a marketer in this constantly evolving digital world? Is social media really working?
If these are the questions buzzed in your head, join us on October 6th, as we have the Fantastic Four "Andrews" from four successful marketing agencies in one room to discuss all things marketing, what's exciting, affirming, infuriating and inspiring in the field of marketing in general and marketing agency in particular today.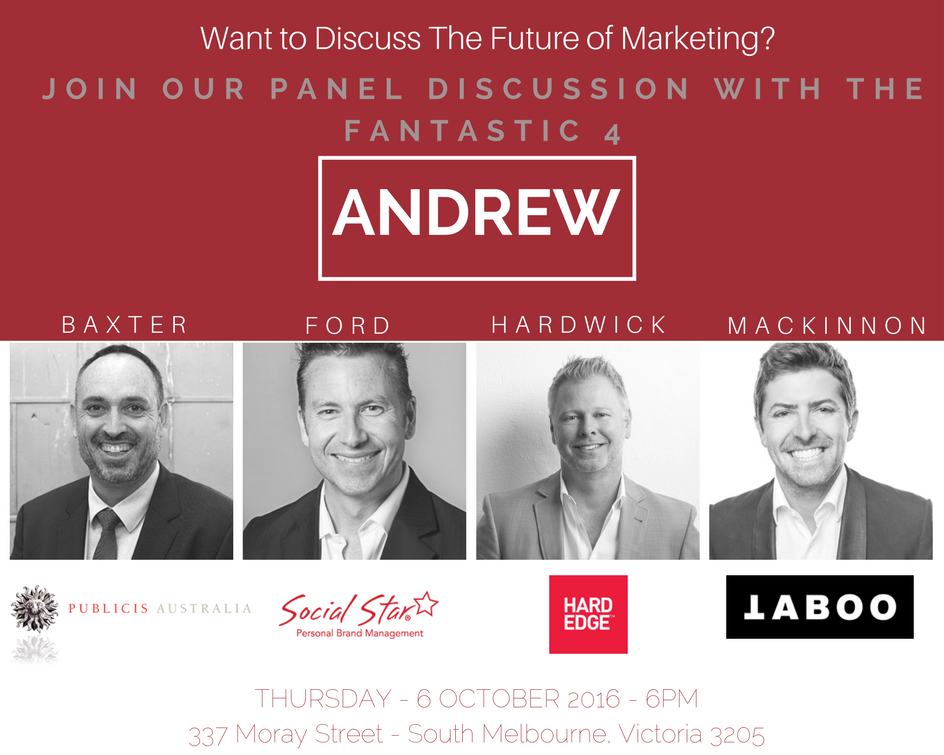 Who should attend?
Graduates or people wanting to enter marketing & advertising industry
Marketing professionals & Business owners looking for new ideas & insight for their marketing & advertising strategies
Business-minded people wanting to network & get a better grasp of the marketing landscape.
What to expect?

An exciting night discovering the unknowns of marketing
Opportunities to have questions & conversations with the experts
Lots of mingling with drinks and finger food.
Our panelists will cover:
Change and innovations in marketing, branding and media and their implication for your career and business.
Traditional vs digital marketing
The role of marketing agency
What still matters?
And does your name need to be "Andrew" to be successful in marketing? - We'll find out ;)
Learn more about the our Panelists
Date: Thursday, 6 October
Time: 5:30pm for 6pm start
Location: 337 Moray Street, South Melbourne, VIC 3205.
* Free entry for Social Star Alumni members.
* A change in personal circumstances does not entitle a ticket holder to return or exchange a ticket.