Description
The sales leadership challenge to be explored
Being successful in sales requires continuous innovation, as all products and services go through an accelerated life-cycle. In an era where buyer behaviour continues to evolve rapidly, sales organisations and their people must adapt to provide buyers with the experience that they now expect and demand.
Interruptive push selling no longer works, and salespeople must be equipped with a range of new skills in order to become digitally driven, socially connected, mobile and highly specialised.
Why it will be valuable for you to attend
The seminar will provide the very latest thinking around what buyers now expect from B2B salespeople. You will be shown proven strategies and techniques that will ensure salespeople become specialists - meaning that your customers will actually want to engage with them.
Poor time management and sales activities has always been the number#1 reason for insufficient pipeline. This session will shine a light on the where salespeople should be allocating their time, and how to get the best results with today's digital and social buyers. You will be presented with a framework on how to adapt sales activities to the new buyer journey. You will learn how to map the buyer journey to ensure that your sales activities align for maximum results across each stage of the buying process.
These are just some of the steps that salespeople now need to take in order become A-Grade salespeople.
View short video promo by the presenter
---
This is the fourth in the 2017 series of bi-monthly B2B sales thought leadership breakfast seminar forums hosted by Sales Masterminds APAC in conjunction with the Strategic Selling Group and our principal sponsor, Salesforce.com.
A light continental breakfast will be served from 7.30am. Presentation and workshop 8.00 to 9.30 am.
Register now for early bird discount; places strictly limited. Our previous events sold out quickly.
---
About our presenter
With more than twenty-eight years of business experience in executive B2B sales and sales leadership roles, Graham has extensive experience in developing, mentoring and leading highly successful sales teams while driving multi-channel sales engagement strategies that dovetail with the new Age of the Customer.
Graham is the author of two books on professional selling – Sales Transformation, and The Future of the Sales Profession.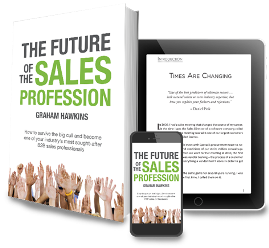 Graham is the Founder & CEO of SalesTribe, and has worked in the UK, Australia and across Asia Pacific as a representative of some of the world's most innovative IT, telecommunications, finance and media organisations.
Graham has an MBA (Exec) (Distinction) from RMIT and is a member of Golden Key International Honour Society for high-performing business students. Graham is also a part-time lecturer and student mentor in the RMIT Executive MBA Program.
---

---