Description
On behalf of the Economic Development Board of South Australia ('EDB'), we wish to invite you to attend The Future of Ageing Well – an Open State event focussing solely on the future of ageing well and the exciting products and services that are being created to benefit an ever-growing older population.
Led by a panel including futurist Richard Watson, members of the Economic Development Board of SA and other personalities, it will explore the products, services and opportunities that could exist as this transition to an older and more engaged population demographic shapes our society.
We are looking for engaged South Australians who are then willing to trial and test ONE of the innovations below and most importantly provide feedback and advice to direct to the entrepreneur to help to shape / design the products and services of tomorrow.
Come along and meet the entrepreneurs who are developing products and services in this space, and share with them your feedback based on your perspectives after trialling ONE of the products or services below.
The four products and services being showcased are:
Positive Ageing Education Modules

By drawing on the rich and varied experience, knowledge and competencies of older South Australians, Torrens University seeks to co-create a series of education modules and resources promoting the ideal of positive ageing and wellbeing.
Register if you are:
- aged over 75,
- currently living in a community dwelling (can include residents of retirement villages),
- or are a carer of the someone who is aged 75+ and living in a community dwelling, and
- interested in making an impact on the future curriculum.
iBoll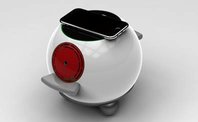 The creators of the iBoll have developed a new device that makes interacting with and using things easier for people with limited hand and finger control and coordination.
Register if you are:
- aged over 65,
- wanting to know of a new way to interact with the home and engage in your favourite hobbies,
- experiencing limited hand function (such as arthritis) or a hand impairment – not essential, and
- interested in making an impact on an innovative assistive living device.
CareApp

CareApp is a phone app that brings all the people and communication together in one place, strengthening the relationships in an individual's care network.
Register if you:
- have a loved one receiving aged care,
- live in a residential or community setting, or
- are a paid or unpaid carer, or community care worker.
Bike Bus

Bike Bus enables an ageing population the ability to get connected and join together for riding bicycles. Bike Bus will offer a unique platform where users can find motivation for exercise through riding but also be able to have a routine or spontaneous social interaction through a common interest of a bicycle.
Register if you are:
- aged over 60,
- an active bike rider or have a desire to be an active bike rider, or are
- interested in using a bike service such as this or recommending Bike Bus.
If you would like to participate please note that you may register for ONE INNOVATION ONLY.

We look forward to seeing you there!