Get hot and funky for THE FUNK KLUB's winter return to The Baroque Room, Carrington Hotel, Katoomba on Saturday 24th July 2021.
About this event
Despite appearances to the contrary, The Funk Klub's members don't dress up to perform. They actually dress down. You should see them really dressed up, like when they're walking their beloved funk-terrier, Bootsée. Then they're more outrageous than a Clive Palmer conspiracy theory. Of course they don't wear clothes for sex (unlike Barnaby Joyce, who still wears his hat), and they are proudly nude when relaxing over their usual 3pm breakfast of bourbon, cocaine and Fruit Loops.
The Funksters – singers Buddy McFunk and Doris Darque, guitar-slinger Brother Funk, keyboard wizard Professor Steamfunk, dangerous bassist El Funquero and fervidly amoral drummer Dr Funkenstein (recently struck off by the AMA) – maintain with religious zeal that the Holy Spirits of fun, funk, nudity and sex are one and the same. So even those Funkwits (as the band's fans are known) who don't usually dress up should wear something silly to The Funk Klub's Funky Fancy Dress Party – even if it's just to have something to take off, later. Oh, and there's a prize for the best dressed Funkwit on the night.
(The band vehemently denies rumours that Buddy McFunk is really Andy McDowall, Doris Darque is Jill Day, Brother Funk is Craig Reardon, Professor Steamfunk is Nigel Glassey, El Funquero is Albert Van Gestal and Dr Funkenstein is John Shand. They insist the likenesses are entirely coincidental.)
The Funk Klub's Funky Fancy Dress Party: The Baroque Room, Saturday July 24, 8pm. Tickets: https://www.eventbrite.com.au/e/the-funk-klubs-fancy-funky-dress-party-the-carringtons-baroque-room-tickets-157918483435; Velvet Fog, 1/76 Bathurst Road, 4782 5277; at the door (if not sold out). $25.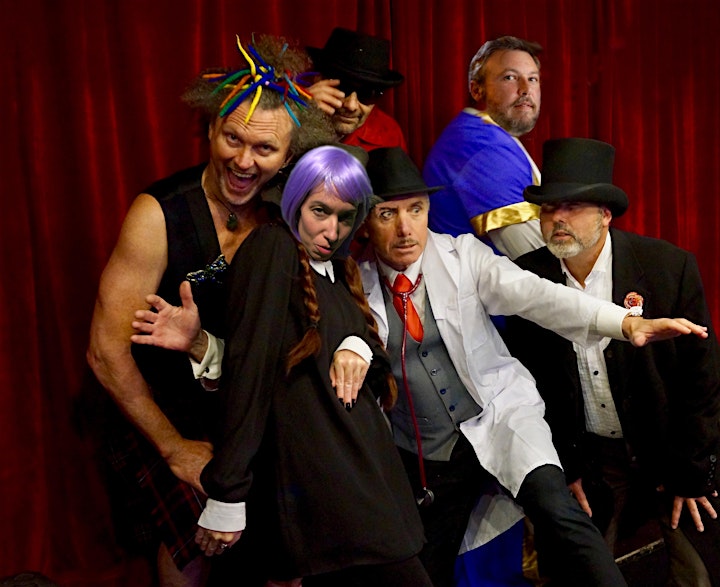 Organiser of THE FUNK KLUB's Fancy Funky Dress Party @ The Carrington's BAROQUE ROOM