Event Information
Refund Policy
Refunds up to 7 days before event
Description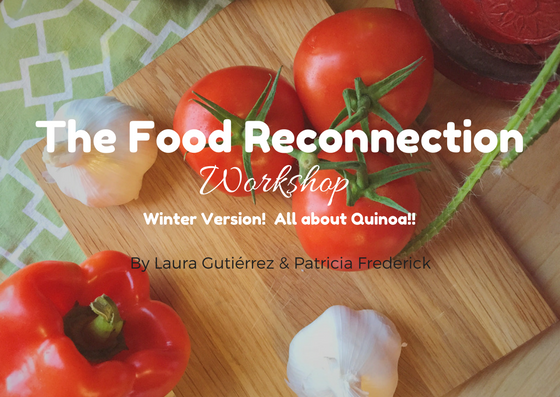 What if you could cook and nourish yourself in a more holistic way?
What if fruits, vegetables, nuts & seeds actually had a message for you? And what would happen if you listen to that message?
What if renewing your connection with what you eat can take your wellbeing to a new place? i.e. Feeling happier, livelier and healthier?
We are Laura & Patricia and this is
The Food Reconnection Workshop: Where mindfulness meets nutrition! WINTER VERSION! All about Quinoa!!
We believe that food is much more than simply... FOOD. We believe that at the core of what we eat there is a purpose and a relationship that wants to be stablished with our bodies, minds and souls.
We have designed this workshop to help you renew that relationship. It has always been there, all it needs is a boost to get you on the path of concious eating, mindful cooking and of holistic wellbeing! Yay!
Note: This workshop has a spiritual component, we will be doing some meditation & breathing to enhance our connection to food!
-Enhance our connection to wholefoods,
-Experience the energetics of food
-Learn how to prepare 'nouricious'* meals*, this time it will be all about Quinoa and Bulk Cooking at home!
-Understand the wisdom and purpose of plant food sources for our own wellbeing, plus much more!
*Made up word: nourishing and delicious ;)
*Gluten free, dairy free, sugar free, non processed
During the three hours we will share together, you will be able to experience & re-stablish the connection to the Spirit of Food through meditation and mindful eating exercises created especially for this workshop. This will be blended with cooking demos in which you will learn to make nuorishing and delicious meals in an easy and convient way that will suit your lifestyle! You will also taste the different dishes that we will prepare that day and apply the mindful techniques you just've learnt!
You will also learn about the history and origin of certain foods, as well as about the purpose of them, but most importantly, you will know what particular foods want to communicate with you and what purpose they serve for your own health!
This is an empowering workshop where you are the one who creates a more fulfilling relationship to what you eat and cook, for you and for your loved ones. We move a bit away from theory and step more into experiencing it, because, guess what, food is all about your experience with it!!
Every attendee receieves a manual, food samples, fresh herbal teas and a goodie bag.
When: Thursday, 3rd August 2017
Where: Heirloom Espresso, 81 Avenue Road, Mosman, NSW, 2088
Investment: Early bird $55 until 31st July, Full Price $66
Whole food chef & Certified Health Coach
Patricia is healthy foodie who has always been a keen cook from a young age. In 2001 she left a corporate career to pursue her foodie passions and completed the Cordon Bleu Grand Diploma as a qualified chef. After working in restaurants and hotels, Patricia started managing Commercial Kitchens within Sydney Boarding Schools. Working with students diets fired her passion for healthy diets and lead to more work in nutrition and creating healthier food for children aged from 12 to 18. Based on what Patricia was learning she wanted to expand her knowledge and started working as a Whole food Chef and started her own personal chef meal delivery service.
Patricia continued to build on her strong nutrition foundation to add to her ongoing work with food, and started studying nutrition. Patricia holds a certificate from Nature Care College in Sydney and is also a certified Health Coach; having gained her credentials from the Institute for Integrative Nutrition based in New York (US). Patricia is passionate about healthy food and is on a lifelong mission to help others eat the healthiest food possible, ensuring what we eat nourishes our bodies and not disease.
Energy Healing Practitioner & Certified Health Coach
Laura is a dreamer, an optimist and a caring being who laughs a lot (sometimes a bit too loud!). She believes in love, in kindness and in having good intentions behind her actions and her desires. Still a marvelous work in progress, she has found that awareness, an open heart and a healthy lifestyle are the secrets to a miraculous life.
Laura's life changed drastically after having suffered from anxiety and debilitating panic attacks due to many years of stress and untreated emotions. Her physical health was also affected, and since then she has been committed to heal herself and to finding ways of helping and supporting others to do so by learning to love themselves again, to eat better & healthier, and to take responsibility for their lives.
Laura is a Certified Integrative Nutrition Health Coach, a Certified Crystal Light Healing®, Essence of Angels®, Reiki, Akashic Records and Sound Healing Practioner. She also holds a Bachelor in Journalism & Social Communication from Bogotá, Colombia, and LOVES to teach and to bring mindful practices to our day to day lives!
Laura sees clients at her home practice for both Energy Healing and Health Coaching on a daily basis. She is here to support you while walking the path of love to the amazing you who is waiting to be awakened!!
www.theloveapproachproject.com
Date and Time
Location
Refund Policy
Refunds up to 7 days before event