The Flower District Town Team's inaugural Progressive Dinner. A culinary experience through West Leederville!
About this event
Join the Flower District Town Team on May 23rd for our Inaugural Progressive Dinner!
The Flower District exists to bring the West Leederville community together, celebrate local culture and promote independent business. Progressive Dinner guests will explore some of West Leederville's gems, dine on delicious, locally made food and support the Flower District's Town Team's plans to activate our area.
Tickets are $80 and places are limited to 50 guests.
This evening has been generously sponsored by Mary Street Bakery, ESA Auto Stable, Besk and Myrtle Ivy with support from Iluma Fine Foods, Kinima Physio, ZAVALA and Profresh. All funds raised from this evening will go toward the creation of a mural on Northwood street and the Flower District Street Festival planned for October 16th 2021.
Menu
6pm ESA Automotive Stable (18-20 Northwood St)
Welcome Drink and Grazing Platters while admiring one of Perth's best private vintage car collections.
7pm Besk*
Mains
Whole roasted eggplant, sesame dukkah, whipped macadamia, crispy chickpeas, fennel, szechuan
12hr Lamb shoulder with Salsa Verde and lamb sauce
Heirloom tomatoes, shallot, pickled garlic, bay oil
Garlic confit flat bread
Choice of either a glass of wine or beer
8.15pm Myrtle Ivy
Dessert
Cake and Iluma Chocolate, Coffees/ Affogatos,
*Please note that one of the venue locations involves a flight of stairs and thus may not be appropriate for those with certain accessibility requirements. Please contact the Town Team if this affects you so we can accommodate you in future events.
To celebrate The Flower District, a $100 Besk voucher to will be awarded to the most floral/best dressed guest!
Raffle**
Raffle tickets can be purchased as an 'additional ticket' via eventbrite or on the night. Tickets are $5 and funds raised will go toward the Flower District Festival (planned for October 16th).
First prize includes a chauffeured ride in a vintage Bentley (a priceless experience!), $100 voucher to Tiny's and $20 voucher for Myrtle Ivy!
Second prize includes a 45 minute massage from Kinima Physio, $100 voucher for Besk and $20 voucher to Myrtle Ivy!
Third prize a $100 voucher for Tiny's!
**If you missed out on a ticket to the progressive dinner, you're welcome to support the Flower District Town Team initiative by buying raffle tickets. **
How do I find out more about the Flower District Town Team?
If you'd like to learn more about the Flower District Town Team you can follow us on Facebook, Instragram, or join our mailing list to keep up to date and be the first to know about future events.
Please note this dinner will go ahead in rain, hail or shine, but in the event of a COVID lockdown, this event will be postponed.
We look forward to seeing you there!
Thank you to our key sponsors for this event: ESA Auto Stable, Mary Street Bakery, Besk and Myrtle Ivy.
And to our event supporters Iluma Fine Foods, Kinima Physio, ProFresh and ZAVALA.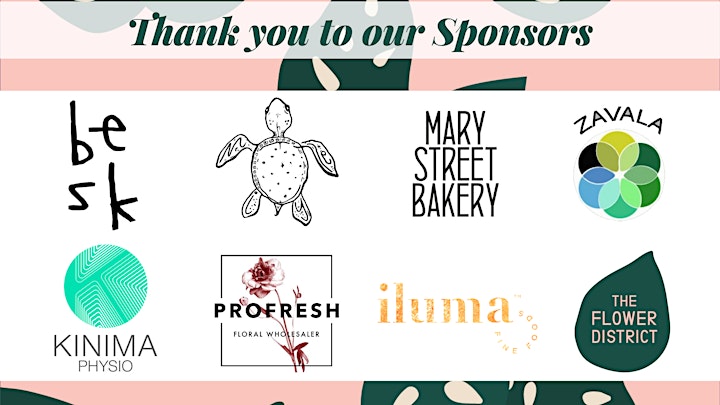 First prize includes a chauffeured ride in this vintage Bentley around The Flower District and beyond !