Description
The Feminine Way a Sacred space for women.
Three circles over two weeks Wednesday 20th & 27th February and 6th March 2019arrive at 6.15 pm for a
6.30 pm start, completed by 8,30pm.
Yes, I said the "S" word, not in a traditional sense, instead as a declaration of respect and acknowledgment for the nature of the feminine.
The feminine way is a sacred space for women to dive inward, dump the burdens, take off the mask and discover the woman within.
It's for the women who want to claim all of her glory not in a rational cognitive thinking way, but instead a genuine experience of what it is to be a complete woman.
Imagine nothing to do, nothing to prove, no competency to achieve and no-one to look after.
This space calls for women that are thirsty for genuine connection, clarity, purpose, enthusiasm, fulfillment, inspiration, success, abundance and self-empowered living.
The space calls for women like you, women ready to say "Yes to me"
It doesn't matter if you are new to this type self-discovery and empowerment or you are well experienced, taking your place in a circle with women is a nurturing, supportive, eye-opening and natural experience.
One of the common phrases I hear from the women is "it is like coming home to self"
Wednesday 20th, 27th February and 6th March 2019 - The series requires a commitment to attend all three circles.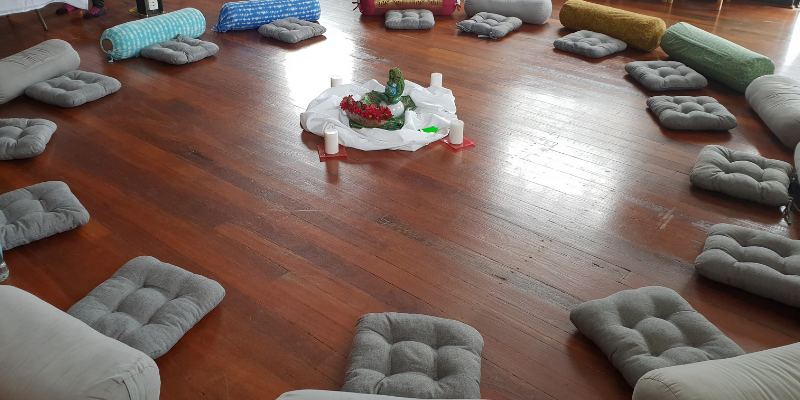 Unfortunately, many women have had no alternative but to hide and deny their deepest desires, wants and dreams to fulfill the many demands they face in everyday life and in doing so she sacrifices, without knowing it, her ability to feel genuinely woman, worthy, alive, vital, happy and feminine.
When you compromise your authentic woman, you are left with feeling...

Unworthy Contained Powerless Insecure
Skeptical Doubtful Judged Insignificant
Voiceless Discontent Lost Disconnected
The Feminine Way is a journey back to the authentic women, the woman who stands in her authority willing to own all of her qualities, the bits she likes about herself and the bits she doesn't with love and respect.
This is what Claire had to say.
"What sitting in a circle with other amazing ladies means to me is so hard to describe. It is one of the only places I can go where I feel true, validated and heard, and no one "fixes" me! It's a place I go to listen and accept others while feeling the meaning in my body. I'm learning to tap back into my feminine nature and embrace my true self. I'm truly grateful to Vida for creating this space; it's changed the way I travel life and my life feels fuller and richer for it."
The Feminine Way has been around for a very long time for women have been gathering in sacred circle for eons, they come together to share their joys and sorrows and make sense of their jumbled experiences. The Feminine way is a place to take risks and allow your deepest desires to take root and blossom.
so, what happens
We all meet as equals in a sacred, safe and welcoming space that can hold the varied nature of the feminine. Love, pain, yearning, heartache, fear, dreams, joy, despair, compassion, creativity, denial, frustration, truth, betrayal, intuition, power, vulnerability, selflessness, inspiration.
Once a week for over three weeks, the same women gather in a sacred circle. Each circle has a different theme, ritual, and soul.
about the circle
The circle has particular guidelines that contain the mystery and safety of the space. I will share these with you at the first circle however to support your understanding I have listed some below.
• We all sit as equals with no hierarchy, corners, podiums.
• One woman speaks at a time, and the other women practice open listening
• We use "I" language, and in doing so, we take ownership of our own experiences, rather than hiding behind
we, they, it.
• When we speak, we share honestly and authentically about how we feel. Talking in this way is both powerful and courageous can take some getting used too.
• You are your own authority and only share if you choose to do so.
• This space is free of advice giving, fixing, therapy, comments, and feedback.
• Judgments are left outside of the space.
• The sacredness of the circle is dependent on maintaining confidentiality and treating each other with the utmost care and respect.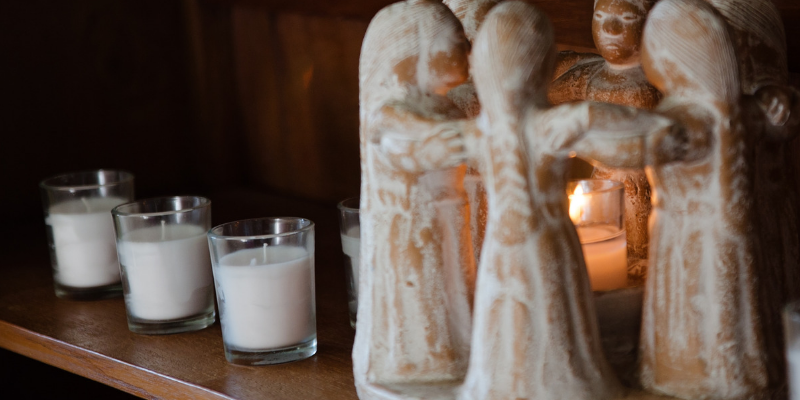 Helpful tips
Wear comfortable clothes, bring a water bottle, a wrap to keep warm, favourite cushion, anything that makes you feel comfortable or use our bolsters.
Arrive from 6.15pm for a timely 6.30pm start, completing at 8.30pm.
Feeling the pull or want to know more? Then give me a call 1300 307 274 or drop me a line info@inspirationsource.com.au
This is what women say

Keita Burrell
"I have felt more support and relief from attending The Feminine Way women's circles than from seeing a psychologist for anxiety and depression, and it is much cheaper. I feel it is a space without judgement or agenda and where I can truly be myself with the knowledge that all that I say is kept in confidence and I won't get any unwanted advice. To be deeply witnessed and to deeply witness others is such a valuable and uplifting experience for me. I feel comforted and connected with other women to know I am not alone, that other women are going through similar things in their lives. I would highly recommend attending a womens circle to every woman. There is nothing to lose and everything to gain.
Lyn Hawkins
I was originally drawn to The Feminine Way series because I felt curious and wanted to experience something deeper. I knew that with Vida Carlino it would be a safe place, connecting with other women on a journey, seeking to awaken new possibilities. I highly recommend this for all women. It is a wonderful chance to be still and relax into something beyond every day. I love these experiences, and they give me clarity and grounding that is hard to put into words. It is wonderful to embrace intentions of joy, love, acceptance, connection and peace wrapping around me. It translates to a real sense of spiritual calm. Thanks, Vida. I am looking forward to more...
Louise Ratter
Vida holds space for the circle with experience and care, providing a safe environment for everyone to express whatever they need to. " Vida opens a gorgeous space of acceptance and invites us just 'to be'. I love her ceremonial introduction and the ambiance she so carefully creates to make us feel welcome. There is something so deeply earnest and wise about Vida, and the space she creates to make us feel comfortable is so relaxing. I felt at ease and able to be vulnerable and share and in turn it was beautiful to be able to sit, listen and be in the moment of other's sharing. Vida's circles encompass so much honoring, love and depth -she facilitates us all getting to know ourselves deeply.
Thank you so much, Vida!!