Description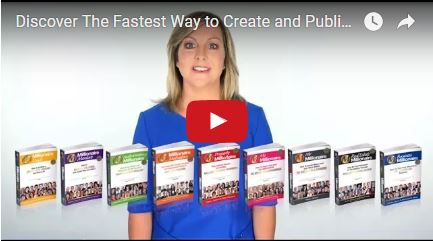 Share your message, Increase your credibility & Attract new clients
With Publishing Expert and Author of 9 Books, Fiona Jones
The Fastest Way to Create and Publish Your Book
Gold Coast | Mon July 24th | 3:30pm-5:30pm


Writing and publishing your book doesn't have to be hard.
Everyone has a book inside of them. You just need to know the right steps to let it out.
... you don't have to be a good writer
... you don't have to have a best-seller to have a successful book
... you don't have to be an expert either
You just need to have a message to share.
At this event, I will explain the steps to get started and an easy roadmap you can follow to produce a high quality printed book (not just an eBook).
You will also learn how to publish and promote your book (and not just on Amazon).
Who is this event for?
• Difference-makers - People that have a message they want to share to make a difference in the world
• Business owners - The best business card on the planet is a book because of the instant credibility and pre-qualified customers it attracts. To profit you need to publish.
• Writers - If you've been trying to publish your book for a while now, or just want to know the most effective way to do it, this evening is for you too
In 2.5 hours, you will learn
• 5 step system to go from inspiration to publication
• The MUST haves for your book's front cover
• How to start promoting your book even before you publish it – at no cost
• How to attract new clients and build a relationship with them while you sleep
• The lazy author methods you can use to publish fast
• The little known Amazon strategy to get leads to your business
• What smart and savvy authors are doing to ensure their book's success
About Your Facilitator, Fiona Jones
Fiona is the creator, founder & 9 times best-selling author of The Millionaire Book series, founder of The Millionaire School, founder of Author Express and publisher.
She has a love of reading and passion for helping people share their message.
Her mission is to inspire millions to Be Their Own Success Story by sharing inspiring success stories through her books, and those produced by her Author Express members.
Event Details:
Where?
Mantra on View Hotel
22 View Ave, Surfers Paradise
GOLD COAST QLD 4217
When?
Jul 24 (Mon), 2017
Time?
3:30pm - 5:30pm
*** RSVP your Tickets Now***