Description
Giving evidence in court? Learn from the expert.

If you're one of the increasing number of professionals whose expertise is called on for expert opinion in court, this learning opportunity is not to be missed.
Led by Professor George Hampel AM QC, former Justice of the Supreme Court of Victoria, this interactive workshop will equip you with the knowledge you need to give expert evidence with confidence.
With over 40 years' experience as a barrister, judge and expert witness educator, Professor Hampel draws upon a lifetime of real cases and legal experience to deliver an engaging learning experience.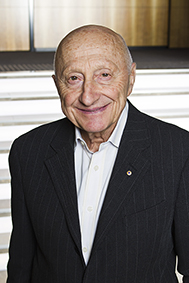 "Professor Hampel is a master of his subject with a distinguished career as judge and educator, and ensures the expert witness leaves the class with the knowledge, skills and confidence to be their very best in court." - Recent workshop participant
Become an expert at giving expert evidence.
As technology continues to develop rapidly, courts are becoming more reliant on expert evidence. Developments in forensic evidence have necessitated new rules and practices which must be observed.
This is where you come in.
By completing this interactive workshop you will gain knowledge in the following areas:
Examination and cross examination

Report writing

Conferencing

The way expert evidence is assessed by the courts

Current issues in expert evidence

The nature of expert evidence
This workshop will appeal to many professional groups who are often required to give expert evidence, including:

Medical practitioners

Psychologists

Engineers

Patent attorneys

Economists

Accountants

Geologists

Hydrologists

Auditors

IT professionals
Testimonials
"The workshop delivers a high standard of knowledge and skills acquisition taught by a distinguished practitioner and educator in the law, in keeping with one of Australia's leading universities and law schools." - Recent workshop participant
"This is a course that all professionals from any walk of life ought to attend. It was very useful and taught by a fascinating and highly knowledgeable presenter with real world experience." - Recent workshop participant

About Professor The Hon. George Hampel AM QC
Professor George Hampel is a former Justice of the Supreme Court of Victoria. Prior to his appointment to the Supreme Court, Professor Hampel worked for many years as a barrister.Professor Hampel is currently a professor of Trial Practice and Advocacy at Monash University and a consultant in advocacy for the Victorian Bar.