About this Event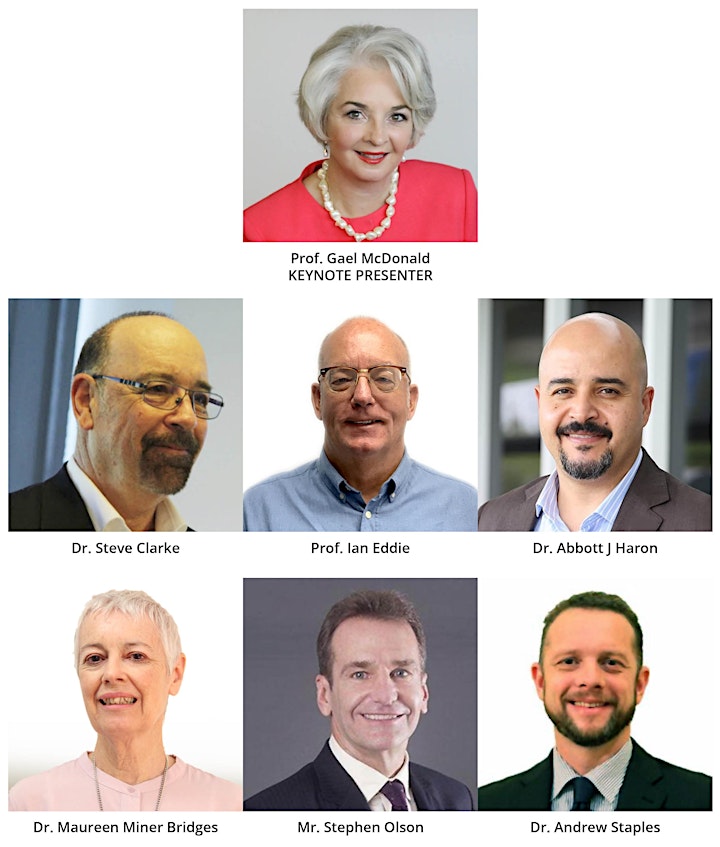 Since it's emergence, the COVID-19 pandemic has brought unprecedented challenges to the world. Knowledge sharing on the approaches and measures in dealing with the COVID-19 pandemic is critical for effective response and swift recovery from the crisis.
The Excelsia-Lumen Symposium Series is an open discussion that includes presentations from six experts in the fields of international trade, education, politics, technology, and culture within the main symposium topic of "THE WORLD AFTER COVID-19." The experts will postulate the many possible challenges humanity will face after the COVID-19 crises. Presenters include:
• Professor Gael McDonald - KEYNOTE PRESENTER
Topic: 'The Behavioural Implications of COVID-19"
Professor Gael McDonald has a Bachelor of Business (BBS) from Massey University, New Zealand, a Master of Business Administration (MBA) from the University of Western Australia, and her Doctorate (Ph.D.) was obtained from The London School of Economics and Political Science, United Kingdom.
Professor McDonald has 25 years' experience as a senior executive in the Higher Education sector. Prior to her retirement in 2020, she has worked in the roles of Dean of Business, Vice President International, Vice President Research, at Unitec in Auckland, New Zealand; Pro Vice Chancellor of Business and Law at Deakin University in Melbourne, Australia and President and General Director of RMIT Vietnam in Ho Chi Min City, Vietnam.
• Dr. Steve Clarke, Senior Program Manager RMIT Hinrich Foundation Master of Global Trade
Topic: 'Graduate Level Research Contributions to Current Events'
Dr. Steve Clarke has 40 years' experience in sport wholesale and retails in US, Thailand, China, as well as being the president and founder of a company export wine from China to US. He also has 10 years consulting experience in franchises, retail stores, banks and business groups in Asia and a PhD in Business Administration (Emphasis: International Business). On top of this, Dr. Clarke has 9 years teaching experience in International Business, Cross-Cultural Negotiations, Marketing, and Strategic Management and is the Senior Program Manager RMIT Hinrich Foundation Master of Global Trade.
• Prof. Ian Eddie, Excelsia Head, School of Business
Topic: 'Stranded Assets: Economic Valuation of Assets Post-COVID-19'
Prior to commencing at Excelsia College Professor Eddie was the VinaCapital Professor of Private Equity at RMIT International University Vietnam. Current research projects include modelling the fintech ecosystem; evaluating the quality of fintech startup enterprises; digital banking; the application of fintech and blockchain solutions to enhance business and government organizational innovation and efficiency; and fintech applications in venture capital and private equity funding.
• Dr. Maureen Miner Bridges, Excelsia Director of Research and Director, Lumen Research Institute
Topic: 'Spirituality and the Human Response to COVID-19'
Before joining Excelsia College Maureen held the positions of Lecturer and Senior Lecturer in the School of Psychology at Western Sydney University. She has lectured in Pastoral Counselling to theological students and continues to consult as a Clinical Psychologist. Her passion for research leadership led to her becoming a Founding Director of the Lumen Research Institute in 2016, an initiative of Excelsia College in Sydney and Indiana Wesleyan University in the USA.
• Dr. Abbott J Haron, Excelsia Deputy Director of Research
Topic: 'Major Technological Trends and Shifts Accelerated by the COVID-19 Crises'
Dr. Abbott Haron is the Deputy Director of Research at Excelsia College. With over 25 years of experience in Business Management, Technology & Innovation, Entrepreneurship, Hospitality, and Education. His research interests and expertise cover the areas of Operations Management, Business Strategy, Entrepreneurship, Technology & Innovations Management, Hospitality Management, Digital Marketing, and Human Resource Management.
• Mr. Stephen Olson, Research Fellow, The Hinrich Foundation
Topic: 'Will Trade Become More Sustainable in the Post-COVID-19 World?'
Mr. Olson began his career in Washington DC as an international trade negotiator and served on the US negotiating team for the NAFTA negotiations. He subsequently became president of the Hong Kong-based Pacific Basin Economic Council, and vice-chairman of Cairo-based ARTOC Group for investment and development. He is also a visiting scholar at the Hong Kong University of Science and Technology. He has a master's degree in international relations from the Johns Hopkins School of Advanced International Studies and a B.A. from the State University of New York.
• Dr. Andrew Staples, Director of Research, The Hinrich Foundation
Topic: 'Global re-set? Politics and Economics in the Wake of the Pandemic'
Andrew Staples is the Director of Research and Outreach at the Hinrich Foundation. He brings over 20 years of experience in international trade, business and investment research in Asia, with a focus on Japan, Southeast Asia and the Asia Pacific. Prior to joining the Hinrich Foundation, Dr. Staples was the global Editorial Director of The Economist Corporate Network (ECN), the Economist Intelligence Unit's briefing and advisory service. In this role he led a team of editorial directors across Africa, the Middle East and Asia. He was a frequent commentator on economic, trade and investment issues for media and C-suite forums.
Join our experts as they discuss a range of critical topics in this symposium.