The event people are raving about! Love Your Life -Your Time to Grow~PERTH
About this Event
100% of attendees would recommend Love Your Life Events to their friends! People are LOVING it!!!
An event like no other! Experience the magnificent strength of the mind, where the unconscious meets the conscious through powerful techniques of Conscious Hypnosis and impactful Coaching, combined to maximise your best potential to really 'Love your life!'
You will hear from our extraordinary guest speaker, Tanya Pavez, Founder and Managing Director of Magnetic People, to further motivate you to greater heights that will see you unleash your inner passion and desires to build on creating a more confident you, the you that will be motivated and inspired to step out with the confidence and courage to live your life with no regrets!
You will enjoy a fun, relaxed, motivating, inclusive, engaging night, that is designed for you to feel that new level of 'great'! To feel a greater connection with your inner self and those around you, with real tools to help you move forward in your life!
And girls and guys, apart from all this awesomeness (that you will love), it's a fantastic, fun night out that will have you stepping out in confidence and courage to live your best life, being your best you!
100% of attendees would recommend Love Your Life Events to their friends! They LOVED it!!!
Here's what some people are saying ........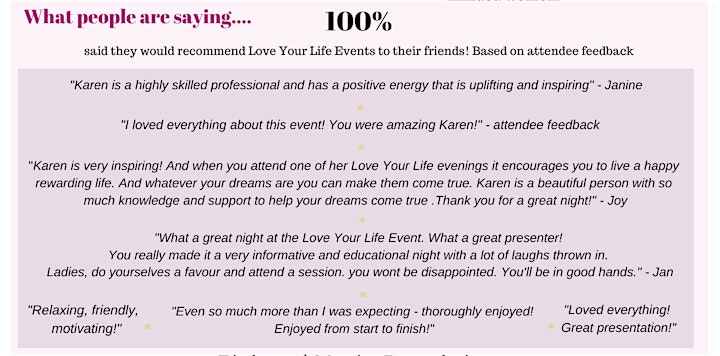 Come along for a great night of Inspiration, Motivation and Connection. Your Best You is an evening away! You are your own life leader, so make your move, grab your friends and come along to be part of a great night where your best future starts now!
"You have a whole lot of living to do, and one life to live it in! So let's make it the best life possible!" ~ KarenDavey
Rocking Your Ruby Shoes - 'Love Your Life' events are for women and men to realise that we are an awesome and unique group of individuals! 'Love Your Life' is a great night for those who want to laugh more, grow more, enjoy their 'now' and be inspired and motivated, taking home real learnings to help you move forward with renewed enthusiasm and focus. Making this world a better place, one person at a time!
A professional, but relaxed presentation-style event where you will enjoy feeling part of an inclusive, friendly and supportive environment with the opportunity to join in the conversation, or just sit back, take notes and complete your workbook. Whatever your preferred style, you can come to a 'Love Your Life' event knowing you are in a great, fun and supportive environment with friends.
WHO IS THIS EVENT FOR?
Women and men of all ages who want to be inspired and motivated to discover and reach for their own stars, big and small, personal and/or professional.
WHAT'S INCLUDED FOR YOU?
Hypnosis People often pay a LOT of money to experience this life-changing technique…
And it's clear why they do. This Conscious Hypnotherapy is a deep, total, and lasting transformation of your life, including health, wealth and love relationships. You will experience hypnosis that is focussed on self-esteem and confidence with some wonderful deep relaxation, designed to lower your stress levels and gain a wonderful appreciation of self .
Personal Growth & Life Clarity Workshop Session ~ This personal growth coaching session is a great way to step back, take stock and gain clarity as you examine the eight different areas of your life. You will be amazed at the power of this coaching diagnostic tool and the benfefits it brings to your life. (your results and workbook are private to you and do not have to be shared with the group)
Guest Speaker ~ Be inspired and motivated to follow your dreams and reach for your own stars as you hear from Tanya Pavez, Founder and Managing Director of Magnetic People.
Fearless Fun ~ Yes! Learning, personal development and life should be fun! At Love Your Life events, you may even catch yourself relaxing, laughing and enjoying everyone else's company, as we dive into some pretty fun stuff!
Beautiful Notebook & Pen ~To capture your favourite insights and learnings from the night.
Workbook ~ To accompany the workshop style segment, designed to help you gain clarity and help you THRIVE in your life!
Water station to keep you hydrated.
Lots of motivation, learning, fun and a really great sense of belonging & community with other like-minded women and men.
"When your inner Princess dances with your inner Warrior ... Magic Happens!" `
~ Karen Davey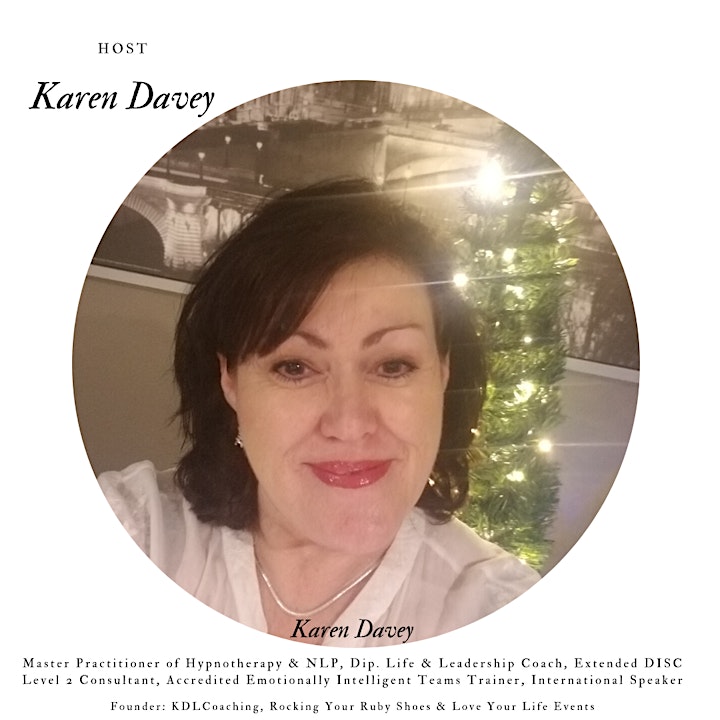 YOUR HOST
Karen Davey -is a Personal and Leadership Mindset Coach, Master Hypnotherapist, Behavioural Profiler, International Speaker and Event Host.
With over 30 years experience working as a coach, trainer, teacher, leader and running her own business , Karen is a high achiever, passionate about helping women realise and achieve their dreams and goals, both at a personal and professional level. Her ability to engage and work with people in supporting and motivating them to achieve success, led to an invitation by Avon Asia Pacific to be the motivational guest speaker at the corporate gala event in Hawaii, where she received a standing ovation. Karen has a genuine, warm, caring nature and dedication to her profession and those she works with. Karen is a qualified Life & Leadership Coach, Extended DISC Level 2 Accredited Consultant, Master Practitioner of Conscious Hypnosis & Master Practitioner NLP. Accredited Emotionally Intelligent Teams Trainer.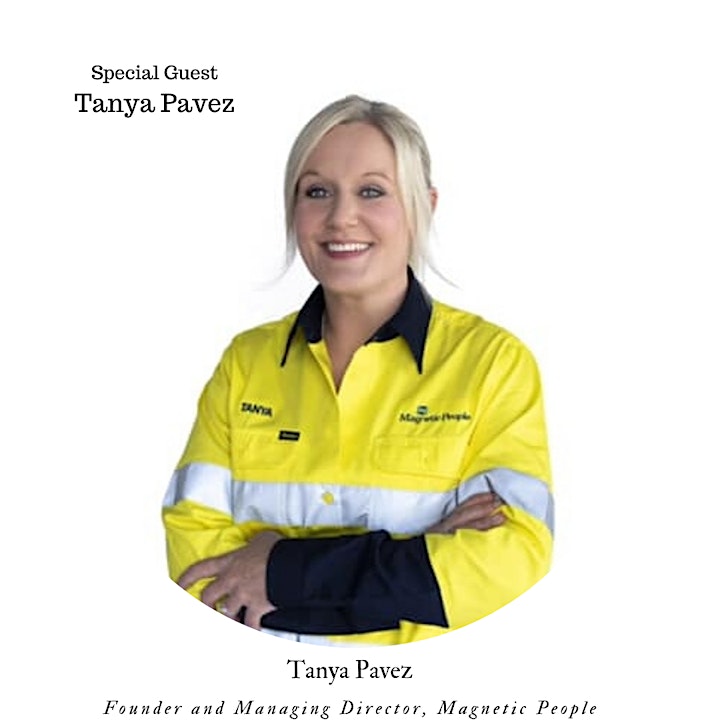 SPECIAL GUEST
Be inspired and motivated to follow your dreams and reach for your own stars as you hear from Tanya Pavez, Founder and Managing Director of Magnetic People.