| | |
| --- | --- |
| The Epidemic, by Octave Mirbeau | |
Event Details
A play in French with English subtitles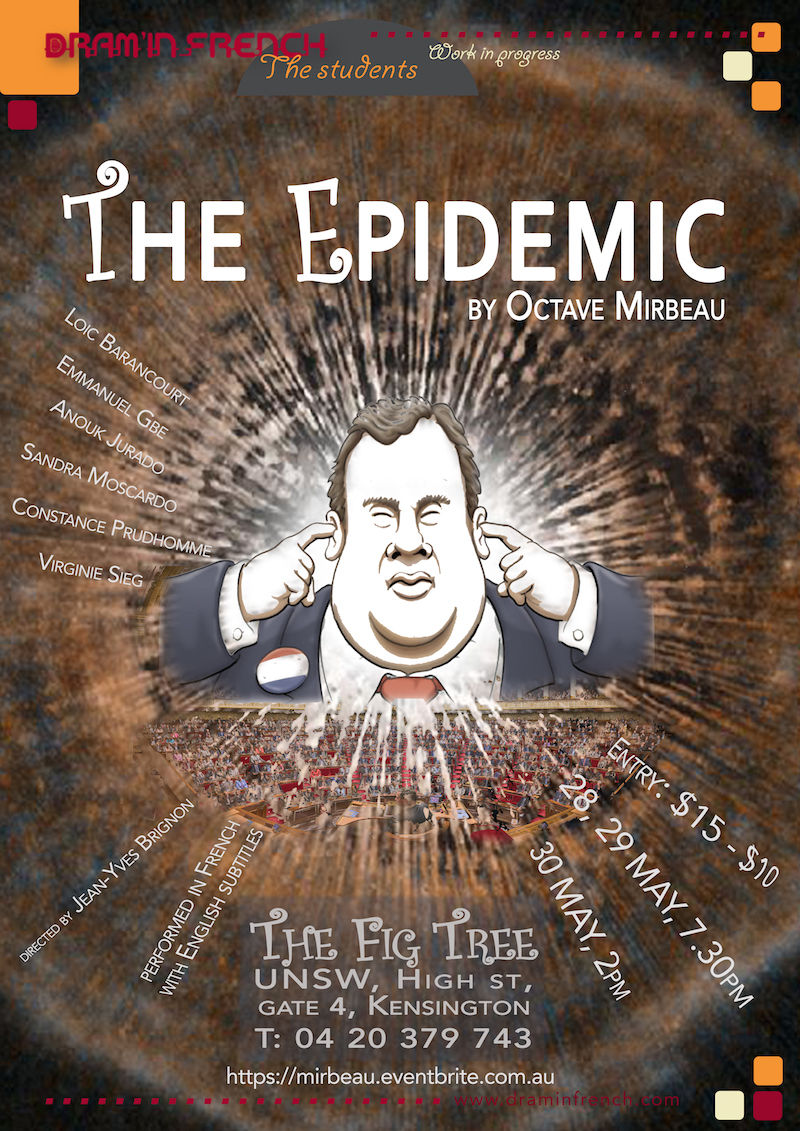 Directed by Jean-Yves Brignon
Cast: Loic Barancourt, Emmanuel Gbe, Anouk Jurado, Sandra Moscardo, Constance Prudhomme, Virginie Sieg
A town council meeting in a town where there is an outbreak of typhoid. As long as the disease doesn't affect the important people the counsellors refuse to agree to investment in the redevelopment of the infested areas. But when all of a sudden one of the bourgeois is taken ill, the elected counsel in panic agree to a 100 million euros to be invested in renewal projects for the old town from top to bottom.
The counsel and the shadow counsel are set against each other like Tweedledum and Tweedledee! Just as in: "Bouvard et Pécuchet", by Gustave Flaubert "politics are beautifully dirty".
---
Réunion d'un conseil municipal d'une ville de province où sévit une épidémie de fièvre typhoïde. Tant que la maladie ne menace pas de s'étendre aux notables, les conseillers refusent de voter les dépenses nécessaires à la reconstruction des lieux infestés. Mais quand, tout à coup, on apprend qu'un bourgeois a été frappé à son tour, les élus, pris de panique, accordent aussitôt un budget de cent millions pour rénover la ville de fond en comble.
La majorité et l'opposition sont renvoyées dos à dos : c'est bonnet blanc et blanc bonnet. Comme dans Bouvard et Pécuchet, de Gustave Flaubert : « La politique, une belle saleté ! »
When & Where

The Fig Tree Theatre
UNSW
High St, Gate 4
Kensington, NSW 2033
Australia

Organiser

Mission
Produce and direct performances and movies in French with English subtitles and bilingual plays.
Description
We offer worshops and Drama classes in French for kids, teenagers and adults. Learn, discover, practice and improve your acting.
The company Dram'in French was founded in 2010.
------------------------------------------------

La compagnie produit et dirige des spectacle en français sous-titrés en anglais et des pièces bilingues.
Apprenez, découvrez, pratiquez le théâtre. La compagnie propose des ateliers et cours de théâtre en français pour enfants, adolescents et adultes.

N'hésitez pas à publier toute information que vous pouvez connaitre dans le domaine du spectacle et du cinéma.

La compagnie Dram'in French a été créé en 2010