Description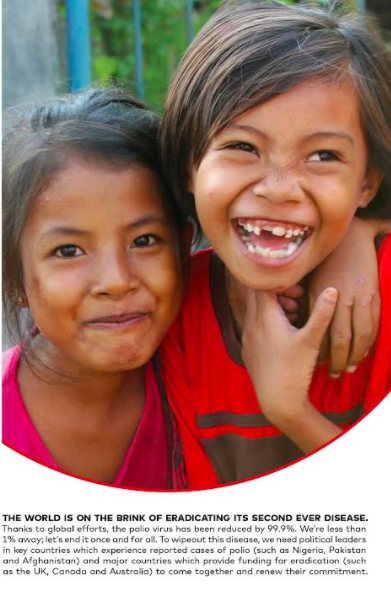 During World Immunisation Week 2017, join global health experts and campaigners to hear an update on work to date and what remains to be done in the fight to eliminate polio once and for all. Led by Global Citizen and RESULTS Australia, we are calling on the Australian Government to lead on this issue – with increased political and financial support for the Global Polio Eradication Initiative, we can interrupt the transmission of polio globally by the end of this year and completely eradicate the highly infectious viral disease by 2020.
TAKE ACTION NOW! Call on the 45th Parliament to End Polio Now here.
Panelists
Reza Hossaini is the Director of Polio Eradication, based in UNICEF Headquarters, New York. He is responsible for management of UNICEF'S work within the partnership of the Global Polio Eradication Initiative. Mr. Hossaini began his career with UNICEF in 1989 as Assistant Representative in his native country of Iran leaving for a few years to coordinate polio work for the World Health Organization in the Horn of Africa and South East Asia Region. Prior to his current appointment, Mr. Hossaini served as UNICEF Representative in Uzbekistan, Zimbabwe, Sri Lanka, and Turkey and Senior Programme Coordinator in Afghanistan.
Chris Maher has worked in the public health sector for the past three decades and specifically in polio eradication for 21 years. He joined the World Health Organization (WHO) in 1993 working on immunization. Maher spent the first eight years working in the Western Pacific Region, based in Manila, and his position had him covering over 30 countries. He has been involved in polio eradication at every level from organizing local vaccination campaigns, investigating cases of paralysis, through to running the technical elements of the global program.
Maree Nutt has been RESULTS Australia's CEO since 2007. She has held many positions within the organisation since first starting as a grassroots volunteer with RESULTS in 1989. She has represented RESULTS at international forums, spoken on radio, been quoted in various national newspapers and presented to Parliamentary and Department briefings. RESULTS is a grassroots advocacy organisation aiming to to generate the public and political will to end poverty. RESULTS passionately believes in citizen action to bring about this change – getting inspired, educated and empowered to become effective change-makers. RESULTS Australia is part of a non-partisan, international network of advocates and there are thousands of us worldwide.
Phil Whyte is a former District Governor from Rotary in Sydney. It was an Australian Rotarian, Sir Clem Renouf who, as President of Rotary International, initiated an immunisation project in 1979 which was a catalyst for the global polio eradication effort. 38 years later, and as Ian H.S. Riseley, the incoming and fifth ever Australian Rotary International President prepares to commence in the role, polio is on the brink of worldwide eradication.
Moderator
Michael Sheldrick is the Head of Global Policy and Advocacy with the Australian-grown Global Poverty Project based in New York. In this role, Michael has coordinated several international advocacy campaigns including The End of Polio campaign, which has helped mobilise more than $800 million in support of global polio eradication efforts. Serving as the organisation's main representative to the United Nations, Michael also oversees the policy direction of the Global Citizen Festival – a music advocacy event that sees 60,000 Global Citizens come together in support of ending extreme poverty by 2030. He has met and worked with world leaders and philanthropists from around the world including Ban Ki-moon, Bill Gates and Prime Minister Narendra Modi of India, and is currently working to mobilize the political public support for the UN's new proposed Sustainable Development Goals – a blueprint that seeks to end extreme poverty by 2030.
"Australia has been and, we hope will continue to be, a strong contributor in efforts to eliminate this terrible disease once and for all. Polio is on the brink of worldwide eradication but we can't afford to be complacent now. We are in a race against time. Even one case is a case too many and a case of polio anywhere is a threat everywhere. Additional Australian funding over the next three years is essential if we are to succeed in reaching every last child by interrupting the transmission of polio by the end of this year and maintaining this until 2020 for complete eradication."