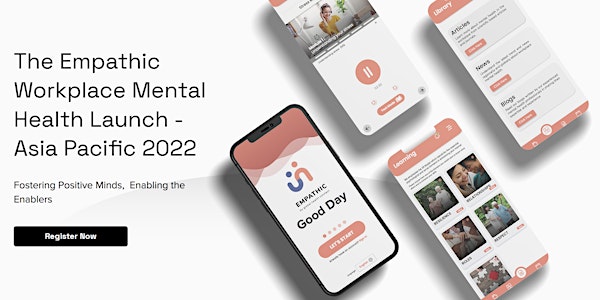 The Empathic Workplace Mental Health Launch - Asia Pacific 2022 (Session 1)
The Empathic Workplace Mental Health Launch - Asia Pacific 2022 ( Session 1)
About this event
Dear Colleagues and Friends,
We are pleased to announce that we will be launching our new workplace mental health program (Empathic) in Asia Pacific!
The theme for this virtual event is "Positive Minds, Thriving Employees". Fostering resilience in teams and workforces is critical to workforce productivity, efficiency, talent development, and employee retention. Join us at our virtual event with our expert panel of speakers - clinicians, scientists, leaders, and entrepreneurs - to learn more about how to translate science into corporate wellness practices, at scale.
This 1-day program will commence on Zoom from 9:00 AM – 10:30 AM, SGT (Session 1) and 5:00 PM - 6:30 PM, SGT (Session 2) on 19 May. Below you'll find our speaker bios and program updates HERE.
We look forward to seeing you at the Empathic Workplace Mental Health Virtual Launch 2022, "Positive Minds, Thriving Employees"!