Description
46% of workplaces want greater corporate diversity.
98% of Diversity Advocates want to be taken more seriously.
Actually those %s are our guestimate ... but they're consistent with the conversation we're having with our clients! If you're on the same page too, then you'll want to know about our upcoming event for The Diversity Collective.
The Diversity Collective is facilitating a conversation, so you can hear what IS working in other businesses. Not all business leaders you'll hear from are just like yours and the speakers aren't all in roles just like yours. Why?
Because you can't think outside the box if all your influences are inside the same box.
Your teams need Diversity of Thought for max, sustainable productivity and the same principle applies for you to reach greater inclusivity targets.
The Diversity Collective is 1-Day corporate leadership event centred on improving the diversity and the inclusivity of your teams, of your business. Apart from a few stubborn individuals who'd prefer everything be done THEIR WAY (know any of those?), most leaders we speak with do genuinely want to include the best ideas, the best of the talent available to them.
But there are blocks, right? Some D&I programs implemented can backfire. Some just don't gain traction. There are horror stories out of good intentions. The women's networking events that are known internally as 'mothers groups' or the inclusion programs that simply lead to more overt racism and fear.
That's why we're bringing together leaders from well-known but diverse businesses. We have a Male Champion of Change, heads of business, several agitators for change within their own businesses, as well as HR professionals and D&I specialists. They're going to share what's working, what hasn't and they'll answer your questions.
In our Think Tank you'll tackle some of the big obstacles, like unconscious bias and career-limiting-passion and managing the increase in conflict as the flow of ideas is less unanimous.
These are some of the brands represented: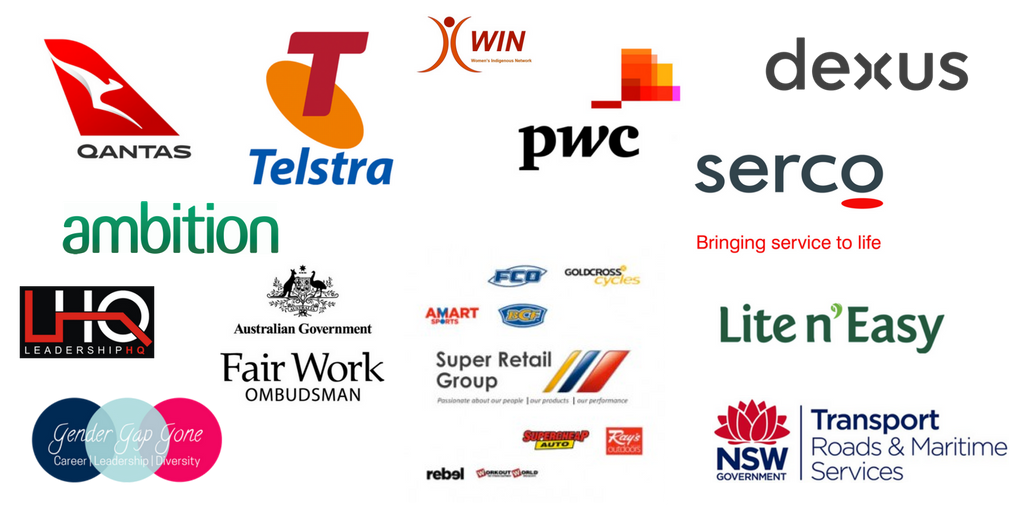 Here are some of the questions we'll be asking our speakers:
* How are you getting buy-in for the importance of D&I across the business?
* What are the best tools you've found for engagement and inclusion?
* How can we audit the inclusivity of our processes at all stages of the employee life cycle?
* Many of us have great policies for inclusivity, for flexibility and so one, but how are you ensuring that corporate policy is translating to lived reality for your employees?
* Do you gain more traction with the 'social good' angle, or is it productivity that gains buy-in for your teams, or is it larger talent pools, or reputation, retention or something else?
What questions will you add?
In an intimate setting at Sydney's Primus Hotel, speak with business leaders and D&I experts from some of Australia's best recognised brands as well as some of our least-resourced businesses.
Build your network, grow your knowledge. Join us in Sydney on the 23rd of May.
Our Key Note Speakers:
Peter Birtles, Managing Director and CEO at Super Retail Group and Male Champion of Change
Julie Morgan, Director of Insights, Roads and Maritime
Troy Roderick, GM Diversity and Inclusion, Telstra
Michael Clark, Executive Director, Fair Work Ombudsman
Lisa Rubinstein, Board President, Womens Indigenous Network
Sonia McDonald, CEO, Leadership HQ
Dan Cook, Head of People & Communities, DEXUS Property Group
Trudie Harriman, Head of Human Resources, Qantas
Jessica Wirawan, Manager Diversity & Inclusion, PwC
Diana Hewitson, Head of Diversity & Inclusion Services, Ambition Group
Peter Olsen, Managing Director Business Services, Serco
Mandy Fullette, Human Resources NSW, Lite n Easy
** For a TABLE OF 8 DISCOUNT, or to be kept in the loop on future events, please contact Suzana our Event Sales Manager at suzana@gapgone.com.au
If you would like a Downloadable Event Flyer with order form, please contact either Suzana or Cath directly.
We look forward to meeting you there.
Cath Nolan and The Diversity Collective team at Gender Gap Gone
cath@gapgone.com.au
www.gapgone.com.au

Organiser of The Diversity Collective Sydney 23.5.17
Career  |  Leadership  |  Diversity
Our Online programs Don't be ARSD and Brave Leadership help women to prioritise their careers and to carve out the career they really want to have. Our online programs are created by long-term Career and Exec Coaches and those coaches are also available for 1:1 support.
Having been involved in many Women's Leadership Events, we launched The Diversity Collective to facilitate a broader Inclusivity conversation. A series of events, The Diversity Collective brings together business leaders, HR professionals, male champions of change and Diversity & Inclusion specialists to learn from each others' experience.