Time for drinks! Let's catch up for the June Digital Social!
About this event
It's time for drinks ... again! Join us for the June Digital Social.
When: Thursday 17 June, 5.30pm to 8pm.
Where: Ivory Tusk. 633 Ann St, Fortitude Valley
Cost: Free. Always Free.
- - - - - - - - - - - - - - - -
We had a blast getting the gang back together at the February Digital Social ... so much fun in fact that we are ready to do it all over again.
Join us this June as we bring together Brisbane's digital community to connect, share stories, be inspired by our guest speaker and most importantly, have a alot of fun along the way.
As usual, free entry (register via Eventbrite). Free food. Buy your beer and wine at the bar. Bring your best chat!
- - - - - - - - - - - - - - - -
Featuring guest speaker: Michael Gillespie, Group Chief Digital and Technology Officer for Domino's Pizza Enterprises.
With more than 20 years' experience in online marketing and digital strategy, he is responsible for overseeing the Digital and Information Technology teams across DPE's nine markets – Australia, New Zealand, Belgium, France, The Netherlands, Japan, Germany, Luxemburg and Denmark.
Michael's vision and leadership has helped transform Domino's into one of the most sophisticated online and digital retailers in the world.
His team is committed to constant innovation and has achieved a number of world firsts including autonomous delivery vehicles, drone delivery, virtual assistants and online ordering with augmented reality, as well as working with operations to bring innovative technology solutions like DOM Pizza Checker to life in stores.
- - - - - - - - - - - - - - - -
Some notes on Covid-Safety
All Digital Social events will be run to an industry approved Covid-Safe plan.
This will include mandatory contact tracing and abiding by any other government restrictions in place at the time of the event.
We ask that you stay at home if you are unwell, have a cough, fever, sore throat, fatigue, shortness of breath, or have been in contact with a positive COVID-19 case.
In the lead up to the event, all registered attendees will receive communicating about restrictions they may need to comply with (masks, vertical consumption etc).
It goes without saying that you should always do what feels right for you. Feel better wearing a mask, do that. Want to maintain a bit of extra distance whilst chatting, that's okay too. We are all in this together and encourage you to embrace the awkward.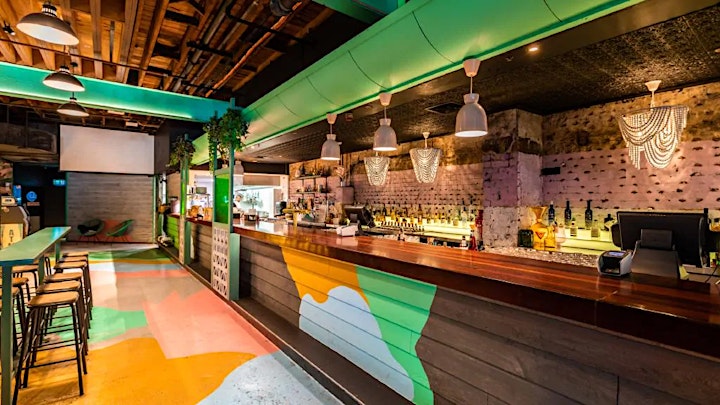 Organizer of The Digital Social: June 2021
It all started with… "We need to catch up for a beer."
A catch up was long overdue for Nathan and Chris. They are great mates, in the same city and loved hearing each other's digital war stories. That beer was always hard to line up. Next Friday it was happening. And hey, while we're doing it, why don't we invite our network to see who wants to join us? 6pm at a Milton brewery. Posted online. Event organised. 70 people turn up and the Digital Social is born.
We now host three events a year with awesome guest speakers. They are always free to attend – supported by our amazing partners.
The Digital Social is for you, the Brisbane digital community, to own. We're not professional event organisers and don't make any money from it. We want to connect the best minds. We want to share successful stories. We want to have some fun while we do it.