Description
A submarine is sent down to explore the depths of the ocean to gather information and intelligence on some strange sounds heard echoing from the deepest trenches. Something happens, there are sirens blaring, smoke billowing, and you fall unconscious for only a moment. When you open your eyes, half of the compartments are inaccessible and there are no signs of your colleagues. You are one of the submarine crew and it's your duty to do what it takes to survive.
While the location isn't incredibly claustrophobic, and you can leave to stretch your legs, much of it takes place in a series of small rooms partitioned off from the main hall.
AGE LIMIT: MA 15+ due to mature themes and mild gore effects.
SETTING: Earth in two hundred years. 3D printers are in every home, there's a lunar colony and people are really keenly into recycling because even a little bit of litter adds up when there's over 10 billion of you.
COSTUMING: You aren't required to come in naval uniforms, coveralls or workaday outfits but you are more than welcome to do so and many others will.

AFTERNOON TEA: There will be a light lunch or dinner available for both characters and players.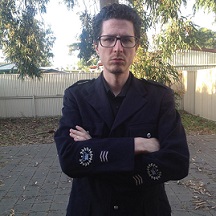 CHARACTER CREATION: All characters are written by the organisers. You can choose any character from the cast list that will be shown on the order form. Examples include:

Polite and Considerate Submarine Captain.
Sarcastic Prankster Telegraphist.
Lonely and Yearning Camera Operator.
Disgruntled and Famous within field Oceanographer and documentarian.
You will receive information on the character, several secrets and goals, and a culture packet to help define what this mysterious world is like.
GAME STYLE: This is a deadly game where one wrong move could spell death for everyone. Terrible things are afoot and you will need to manage the submarine, explore the surrounds, and piece together the clues to figure out what happened to the rest of the crew and what you need to do to survive. If you can survive.
What is a LARP: LARP is an acronym for a Live Action Role Playing game. You are not yourself at a LARP. You are portraying someone else. You go by a new name, present a new personality and have all new motivations while moving through a setting that has been designed by someone else. Perhaps you are a brave warrior in a fantasy town under siege, a medieval villager trying to cope with the plague or perhaps you are a grieving widow trying to identify your husband's murderer. You can learn more here: https://arc-adelaide.com.au/what-is-larp/.