Location
Belair Hotel
141 Main Road
Blackwood, SA 5051
Australia
CALLING CHRISTIAN WOMEN ENTREPRENEURS TO LIVE A BUSINESS LIFE OF PASSIONATE PURSUIT AND PURPOSE WRAPPED IN HIS PRESENCE.
About this event
IMPACTING NATIONS
GLOBAL ENTREPRENEURS
Awake O Deborah Awake (Judges 5)
The Deborah Conference is a global boutique conference founded in 2016 by Maree Cutler-Naroba Dream Nurturer, Business Strategist, Writer and Child Protection Advocate to inspire Christian Women Entrepreneurs to live a business life of passionate pursuit and purpose wrapped in His presence.
Mighty Deborah's 'IMPACTING NATIONS #GLOBALENTREPRENEURS is our 2023 Adelaide face-to-face Conference theme.
The Deborah Conference mission is to raise up a Global Generation of Mighty Deborahs, awakening Christian Women Entrepreneurs to shift the course of History via Christ-Centered Business Education.
COME JOIN US #MIGHTYDEBORAHS
Click HERE to view our #TDC23 Adelaide Speakers & Facilitators.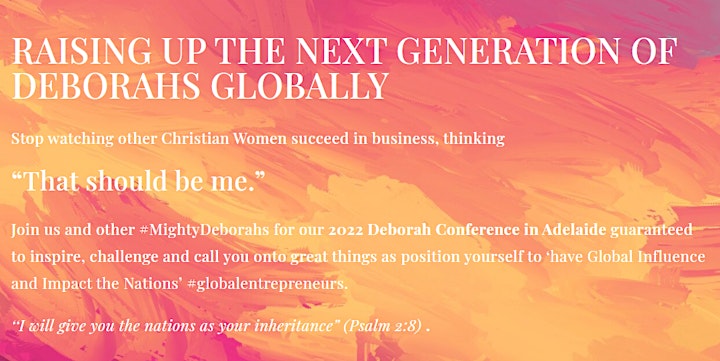 Mighty Deborahs,
The next TDC will be held in Adelaide on the 27th May 2023, 7th TDC in our 7th year. Perfect in God's hands!
We have a boutique team of 8 incredible speakers lined up for the conference, After each teaching segment from the speakers, there will be prayer and the prophetic and some practical planning activities that go with our teaching segment.
Our TDC23 scripture focus is Psalm 2:8 Lord we ask you for the nations. Challenging us as Mighty Deborahs to think about the global impact we can have as Christian Women in Business.
I would love for you Mighty Deborahs to be there!. The date will be Saturday 27th May in Adelaide, 9.30am to 4.00pm followed by an evening optional dinner and networking, 6.00pm to 7.30pm (with a Dinner speaker).
The conference will be capped at 50 tickets, to maintain the boutique nature which forms part of TDC's mandate.
The 2023 event is a Face to Face Conference, no online tickets will be available.
CONFERENCE SESSIONS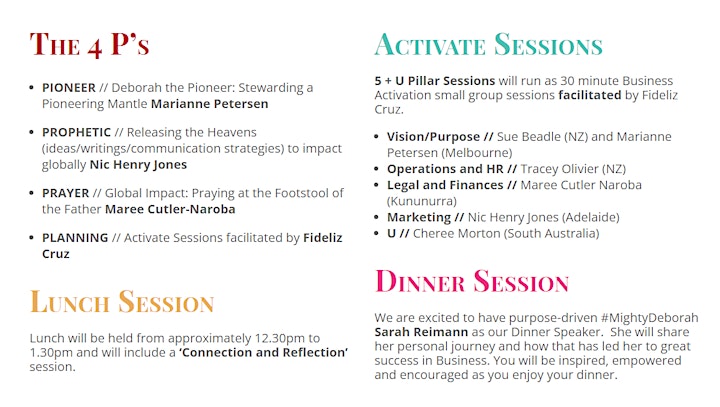 FAQs
What happens to my ticket if COVID requires the Conference to not go ahead on the 27th May 2023?
We are trusting that in God's grace we will be able to go ahead with this Conference in the advertised format, but should the conference not proceed because of COVID restrictions, a voucher will be issued to the attendee to use at a future conference or to purchase DBEH resources and merchandise.
How can I contact the organiser with any questions?
By email to mcnaroba@gmail.com or phone Maree Cutler-Naroba on +61 488 077 034.


Barnabas Legacy Children's Foundation
10% of the ticket price will be donated and contributes to the school fees for the children under the care of Barnabas Legacy Children's Dream Foundation (Katunda Village, Kampala, Uganda).