Galaxies are cannibals, with bigger galaxies eating smaller galaxies to become even bigger! Joins us with Prof. Geraint Lewis to learn more!
About this Event
Galaxies are cannibals. Big galaxies eat smaller galaxies to become even bigger!
Our Milky Way and the Andromeda galaxy – two giant galaxies in our local patch of the universe – are heading for an immense collision with each other in only a few billion years' time. So which will dominate in this intergalactic tussle?
Astronomers are scouring the skies to look for cannibals, and finding that our own Milky Way is also guilty of being a cannibal also!
Join us with University of Sydney's Professor Geraint Lewis to learn all this.
Suitable for aged 6-12+.
But if you're older and interested, join anyway!
Timezone: Canberra, Sydney, Melbourne [AEDT]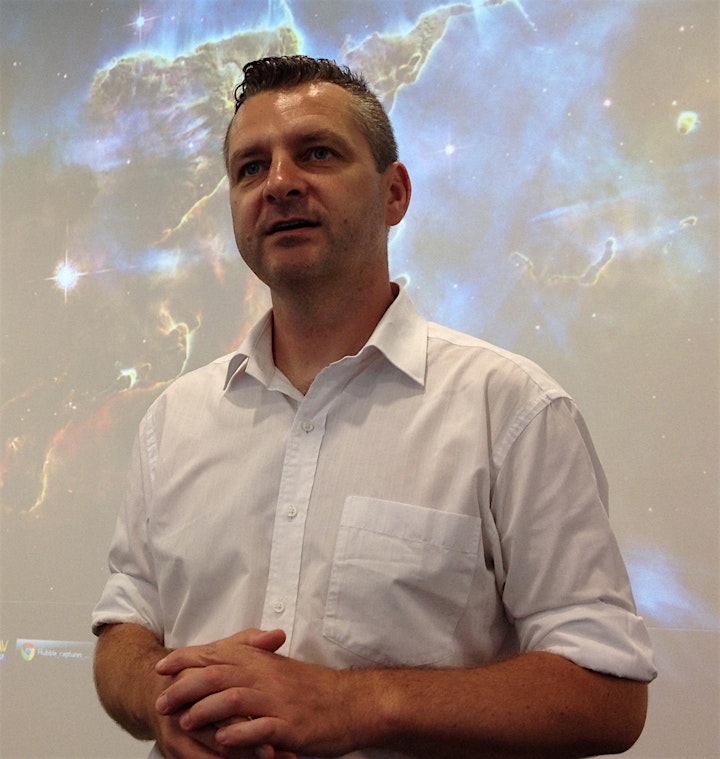 Professor Geraint Lewis undertakes a broad spectrum of research. On the largest scales, his program involves looking at the influence of dark energy and dark matter on the evolution and ultimate fate of the Universe.
Another aspect of his research uses the phenomenon of gravitational lensing to probe the nature and distribution of the pervasive dark matter, and employing individual stars to magnify the hearts of quasars, the most luminous objects in the Universe.
Closer to home, Geraint's research focuses upon Galactic cannibalism, where small dwarf galaxies are torn apart by the much more massive Milky Way and Andromeda Galaxy.
Using telescopes from around the world, including the 10-m Keck telescope in Hawaii, he has mapped the tell-tale signs of tidal disruption and destruction, providing important clues to how large galaxies have grown over time.
Check out some of his work on The Conversation.
Zoom Information
Zoom links will be sent via email to attendees on:
Wed, 27 Oct, 7 pm [AEDT]
Sat, 31 Oct, 10:15 am [AEDT]
Facebook Live
A parallel Facebook Live stream will also be shared on the Young Stars Facebook page, so if you miss out on registering in time, join us there.
Ticket sales will close on Fri, 30 Oct, 6 pm AEDT.