12 films made right before lockdown that will showcase the diverse voices of our local artists & filmmakers of the Fairfield LGA.
About this event
After a year long program of learning video presenting, filmmaking, acting and citizen journalism skills through interactive and structured workshops, the Cyber Connect Project worked with local digital artists and storytellers from diverse backgrounds connected to the Fairfield LGA to produce a series of thought provoking video content that aims to bring balance to the media landscape. Post-training, participants learnt the art of creative pitching and submit a concept that was made with the assistance of Phoenix Eye Films.
Below are the films which we are excited to launch:
"A Meal With My Mum"| Regina Lee
"Breaking Barriers" | Emily Bui
"Fairfield's Best Sharwarma" | Monikka Eliah
"Go With The Flow" | Cathy Pham
"Life's Too Short: Do What You Love" | Kim Dan
"Mental Health & You" | Kelly Lam
"Obsidian" | Takashi Hara
"Beyond The Lens" | Adam McPhilbin
"Poh Meets World" | Tinh Thai
"Milennial Story" | Matthew Taket
"Break: Falling in Love With Judo" | Nghi Huynh
"Centrestage!" | Therese Chen
Attend online and meet tha makers (and the officials Clr Sera Yilmaz & Clr Dai Le of Fairfield City Council) as they premiere their films on the night followed by a mini networking moment.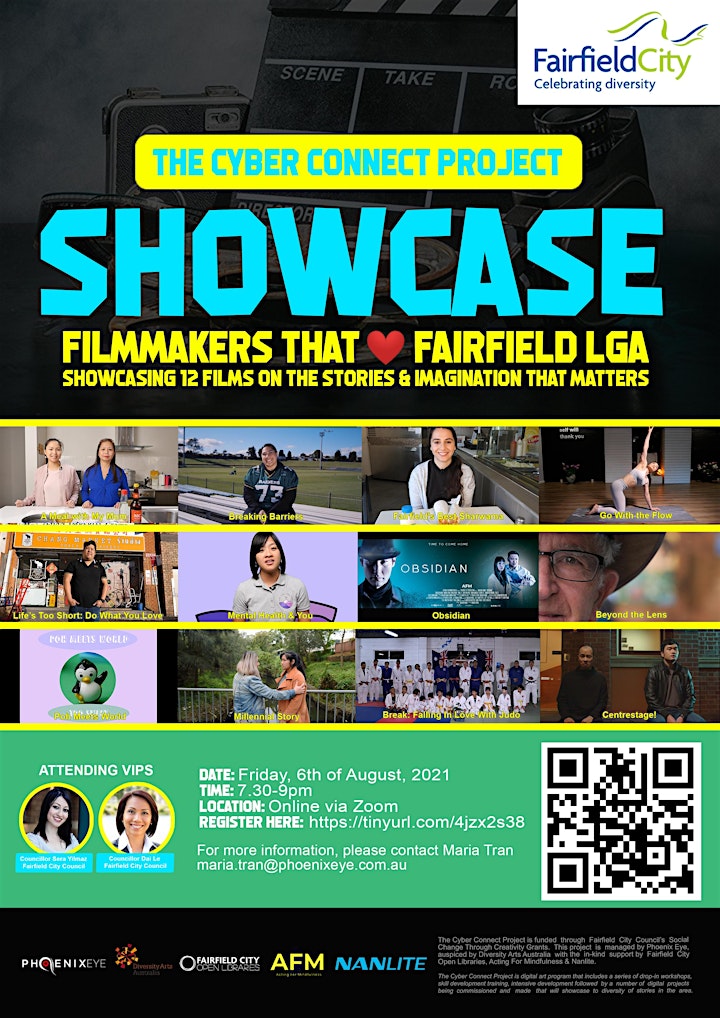 SPECIAL FEATURE SCREENING: OPERATION KUNG FLU
After the Cyber Connect Project wraps, we will have a special screening on the full length short film of Operation Kung Flu!
Time: 9.15-9.45pm (Australian Eastern Standard Time)
Location: Zoom
Registration here as well (just tune in @ 9.15pm on that night)