THE CRAWFORD FUND WA COMMITTEE INVITES YOU TO ATTEND A SPECIAL BROADCAST OF THE 2021 CRAWFORD FUND ANNUAL CONFERENCE
About this event
THE CRAWFORD FUND ANNUAL CONFERENCE
Food & Nutrition Security – The Biosecurity, Health, Trade Nexus
The Western Australian Crawford Fund Committee invites you to join them in watching the Crawford Fund Annual Conference online from 8.30am on Tuesday 14 December 2021 in the Members' Lounge at the Royal Agricultural Society Showground in Claremont, Perth.
Border closures have impacted the ability of those based in WA to attend this highly-regarded national event in Canberra. You can join the WA Committee and experience the event and local discussion with friends, colleagues and other like-minded attendees.
Please register by 5pm Wednesday 08 December, 2021 for catering purposes.
A special session for Early Career Researchers will be held during the morning break (10am-11am), facilitated by the Researchers in Agriculture for International Development (RAID) network.
During this session, ECRs and senior members of the Crawford Fund WA Committee will have the opportunity to discuss opportunities for the next round of funding for targeted training, including workshop attendance, short-term visits to other institutes, as well as areas of research, extension or governance/management training for individuals or small groups. COVID-19 is re-shaping the way we collaborate in international research and the Crawford Fund WA Committee wants to hear your fresh ideas about training and capacity building.
Join the event to have your say and meet Crawford Fund WA Committee Chair, Dr Mark Sweetingham (FAIA FAg Research Consultant & Former Deputy Director General, Department of Primary Industries and Regional Development, WA) and Em Professor Lyn Abbott (FAIA FSSA, UWA Institute of Agriculture).
The Crawford Fund's Annual Conference, is a highlight of Australia's agricultural development and food security calendar. For almost 30 years we have drawn significant focus to issues worthy of global and Australian attention.
Our hybrid conference will explore the specific risks to plant, animal, and human health, how these factors are putting global food and nutrition security in peril, and the emerging technological and management solutions to overcome these threats.
The full program is available here. Because of the time difference, those in WA will join the event from Session 3 as per below (adjusted with local time):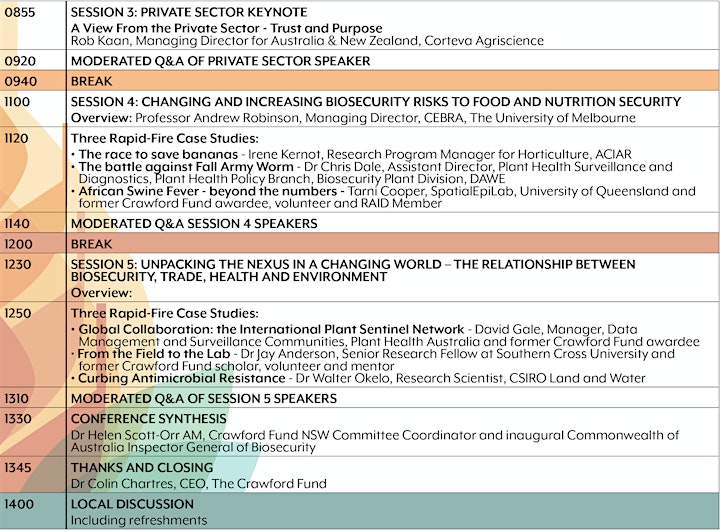 For further information:
Crawford Fund WA Coordinator - Emeritus Professor Lyn Abbott
Email: lyn.abbott@crawfordfund.org

Organiser of The Crawford Fund Annual Conference broadcast in WA
The Crawford Fund is a not-for-profit organisation that raises awareness of the benefits to Australia and developing countries from international agricultural research. We engage Australians in practical specialist training and mentoring activities for developing country agricultural scientists and farmers, and encourage and support the next generation in their careers, studies and volunteering in agriculture for development. Sign up for our e-newsletter.