Description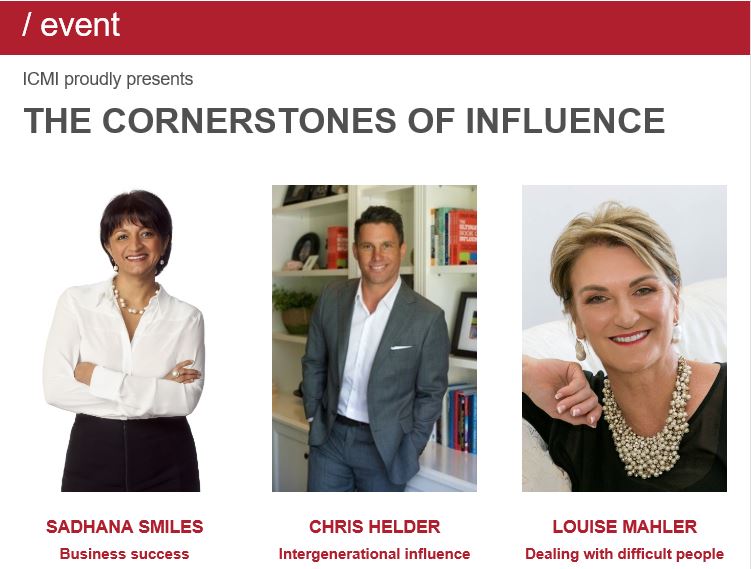 SADHANA SMILES
Business success
Author of People Power, did you have them @ hello and I want what she's having, Sadhana Smiles is the CEO of Harcourts Group Victoria, and one of only two female CEO's in her sector which is often referred to as the "Boys Club". She has taken the business to new levels of success including more than $3B in property sales last financial year and an increase in network growth of 20%. Under Sadhana's leadership, Harcourts is now the fastest growing franchise in Victoria. In 2013 she was awarded the Victorian Telstra Business Woman whilst in 2016 was named as one of 100 Women of Influence in Australia.

CHRIS HELDER
Intergenerational influence
Author of Useful Belief and The Ultimate Book of Influence, Chris Helder is Australia's leading speaker on the topic of Intergenerational Influence. He is a certified practitioner of Neuro-Linguistic Programming specialising in advanced communication and behavioural modelling. Over the years, Chris has wowed over 2,000 audiences throughout the USA, Asia, Australia and Europe. A dynamic speaker, Chris uses great energy and wit to show companies how to communicate better with clients. He has literally changed the way many companies now think.
LOUISE MAHLER
Dealing with difficult people
Author of Resonate, Louise Mahler is an expert in the psychology of face-to-face engagement and as a speaker, received the highest ever rating presenting to the CEO Institute. Louise talks about body language and how to handle difficult people. She gives her audiences a greater awareness of how to express themselves and how to exchange poor habitual patterns for new. Her impersonations and analysis of the most senior leaders in Australia, from federal politicians, corporate leaders and sports stars, will make you cry
DATE:
Thursday, 4 May 2017

TIME:
7:15am - 9:15am

VENUE:
Kooyong Lawn Tennis Club
489 Glenferrie Road
Kooyong, VIC

Complimentary breakfast served