Event Information
Refund policy
Contact the organiser to request a refund.
Eventbrite's fee is nonrefundable.
MELBOURNE'S BEST Regular Public Speaking Group for Women!
About this event
The Confident Speaker
LEARN and PRACTICE
This is where you gain unshakeable confidence that will go with you everywhere -- developing skills to become an authentically confident speaker.
You have the incredible opportunity of experiencing some of the life-altering strategies for generating authentic confidence.
LEARN Key distinctions for speaking in public - the fastest way to being confident.
PRACTICE Delivering a short talk that Fur Wale "The Breakthrough Coach" gets you prepared for.: This practice reinforces the learnings in a practical way through accessing the brains neuroplasticity creating lasting change that goes with you everywhere!!
These workshops are deigned so that every time you attend you get a transformation in what matters to you!!
Here's your opportunity to create a clear pathway to speaking confidently anywhere, anytime, with anyone and enjoy it!
This is for you if you are ready to become a powerful and successful communicator in all areas of your life.
IDEAL FOR having confidence when speaking to anyone, anytime and anywhere.
IDEAL FORN gaining the fundamentals and practice of authentic confidence and authentic presence to become a confident public speaker, confident guest speaker, confident virtual speaker, confident workshop facilitator .
How to speak your truth confidently without nerves, overwhelm, procrastination imposter syndrome or fear, so you can live your best future.
I coach multi-passionate women to overcome nerves and imposter syndrome through the power of public speaking and speaking in public mindset — so they can become the confident leaders they were born to be without anything stopping them.
2-hours of immersion to shift blocks and take your confidence to the next level for you!!
Learn how to shift nerves, fear, invalidation, doubt, overwhelm and imposter syndrome.
Shift one of your blocks during the workshop through an activity
Learn how to boost authentic confidence.
Learn public speaking mindset that allows you to be authentically confident
Practice sharing your messages confidently and authentically
Practice getting comfortable with the discomfort of speaking in public.
Practice public speaking mindset skills and public speaking skills.
FEEDBACK
"Fur is magnetic and she delivers powerful information that transforms you into the person you deep down hoped you could be. Since doing the SHE Talks The Confident Speaker workshops, I have gone on to speak confidently at organisation meetings and am now asked to deliver talks. I have continued with other SHE Talks workshops and every time Fur delivers them I am transported to a whole new level and a me that I never thought was possible! Don't hesitate, if you want to be more confident, credible and fully expressed - just do it! I can't thank Fur enough for where I am in my life now!" Melaine Robinson Vision Australia
DON'T MISS OUT on this immediate opportunity to get yourself to that next level for you!!
- Tap into your authentic confidence
- Shift what is holding you back
- Turn up the dial of your authenticity
- Breakthrough being reserved
- Become fully self-expressed
- Find your message and your story
- Create the mindset of a confident speaker
- Practice delivering a talk to a receptive audience
- Learn to share your message anytime in any situation
- Upgrade your soft skills
Get ready to take your confidence to another level
To become a more confident communicator or a captivating speaker, you need to start communicating and speaking. . . to go from good to great, you will need to practice!
By the end of this training, you will have the confidence to know exactly what to do to share your message with anyone in a captivating way.
Practice speaking in public, and have a breakthrough in being fully self-expressed!
No more hesitation​.
No more imposter syndrome.
No more lack of confidence!
Guided by Keynote Speaker Fur Wale. Nominated Top 1% Public Speaking/Leadership Coaches in Australia and creator of SHE Talks "Business of the Decade". Endorsed by #1 hall of Fame Speaker Tim Gard "I believe in what you do!."
THE PURPOSE OF PRACTICE
Practice is what allows us to get comfortable with the discomfort of speaking up and speaking in public, it frees us to express ourselves in a way that is authentic and this is one of the big factors in being seen as a credible speaker!!
Learn to minimise those nerves and deliver your message in a way that lands with your listener and your inner creator (potential) will take over, leaving your inner critic at the door.
The Results you Want Start Here!
Of the 3,900+ women that I have worked with, their biggest fear of speaking in public was that they would be judged.
One of the challenges faced by women speakers is being perceived as showing off or as being too opinionated or too bossy.
Other challenges they face are feeling too shy or anxious to make an impact.
​​And feeling like an imposter, not able to fully enjoy the experience and unable to take in the compliments.
Authentic Public Speaking and Delivery.
"Once you know how captivating you are when you're authentic to yourself, you will have discovered something more valuable than diamonds or gold." Fur Wale
Only $35 per workshop.
Register your attendance for a date that best suits you!
WHY 3-sessions are recommended?
Pay $97 and you receive 3 sessions, STARSHINE Membership and a complimentary strategy coaching session, because this is what works best!
SESSION 1. You are discovering your message.
SESSION 2. You have clarity around your message and how to deliver it.
SESSION 3. You feel you are prepared to really go for it.​
ONGOING SESSIONS
Pay for and attend as many more sessions as you need and want to!
THIS is what really goes into success!
It's Your Turn to be The Confident Speaker
If you are a woman who wants to practice speaking in public, and have a breakthrough in being fully self-expressed! This is for you!
Through the SHE Talks platform, you get to become a Confident, Credible, Captivating, Authentic Speaker in your Life!
I've got your back!
Here's to your bright and beautiful future!
Through the SHE Talks® Platform, you get to become a Confident, Credible, and Captivating, Authentic Speaker!
❣️ Limited numbers 12.
❣️ Customised Public Speaking for Women.
❣️ Interactive workshop for aspiring and active speakers.
❣️ Direct coaching from Fur Wale of SHE Talks®.
❣️ Improve confidence through distinctions plus practice.
❣️ The skill of communication delivery.
❣️ Professional and audience feedback.
❣️ Generating authentic confidence that captivates the listener.
❣️ Being an authentic communicator who gets her message to land.
TRAINING
This 2-hour online space is where you get to practice your public speaking, with Fur Wale as your Public Speaking Coach, taking you to that next level!!
You will find that this is a friendly, easy-going group, where you receive lots of value, resources, and ongoing support.
You will deliver a short talk that Fur gets you prepared for.
All of SHE Talks® training is founded in the knowledge of how the brain works biochemically and the psychology of thinking and behaviour, to cause lasting change: called transformation.
Fur Wale delivers the kind of learning + discovery that activates real, tangible results in your body, mind, and voice, that impacts your way of being in the world, and more!
SHE Talks powerfully prepares you to be Authentically present & Captivating, whether to an audience of 1 or 1,000.
Be among those who achieve their greatest potential.
With the guidance of a SHE Talks workshop, you will create your own success story.
Don't Miss Out!
- - - - - - >>
SHE TALKS® ENDORSED by
- Number1 Hall of Fame Speaker Tim Gard "I believe in what you do"
- Facebook & Twitters safety advisors Project Rockit "This is a business we can get behind!"
SHE TALKS® AWARDS
Business of the Decade - Australian Small Business
3,767 have accessed the SHE Talks platform to gain confidence & improve their communication.
FUR'S AWARDS
Top 1% Public Speaking Coaches in Australia 2021
Top 10% Public Speakers Melbourne 2021
'Outstanding Speaker' 2009-2020'
'Feminine Force of Success' 2016, 2015
- - - - - - - ->>
FEEDBACK FROM PARTICIPANTS
"I can't believe that in just 2 hours at SHE Talks that I completely overcame my fear of speaking in front of others! I can't thank you enough Fur Wale I've been to all the workshops out there and nothing comes close to what you are doing with women, bravo!" Alicia Francis
"SHE Talks changed my life. When I first started I wasn't sure how I'd go on stage. I no longer have any fear of speaking in public!" Charmaine Adam
VIDEO FEEDBACK BELOW!
- - - - - - - ->>
THIS is what really goes into success!
JOIN NOW!!
As a result of the work done through the powerful platform SHE Talks, women are able to radically transform all fear of public speaking & expertly take the stage and the pages of a book sharing their burning message with absolute authenticity, confidence & credibility!
This progressive training offers the unique opportunity for immersion in the principles and practices of authentic presence, the art of authentic confidence and being powerfully present for the listener whether that is one person or an audience of thousands of people.
SHE Talks TEAM xo
and Fur Wale
SHE Talks® SPEAK. HEAR. EMPOWER
'Authentically - Credibly - Expertly'
For Further Information CONTACT:
Info@outlook.com.au
M: 0406 417 463
WELCOME TO YOUR SUPERPOWER
You CAN walk through the doorway of your future right now!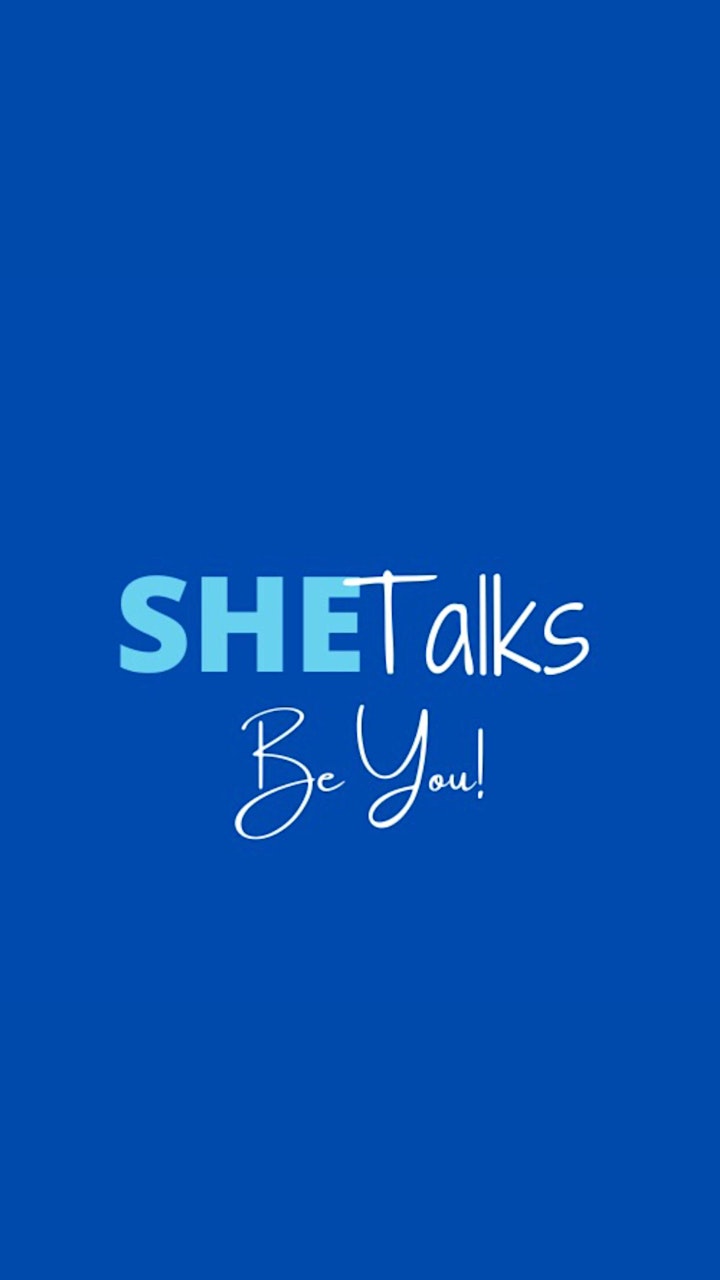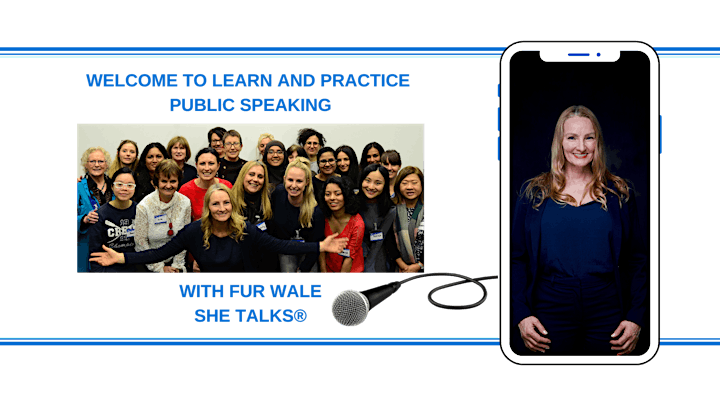 Location
Refund policy
Contact the organiser to request a refund.
Eventbrite's fee is nonrefundable.