A comprehensive online and interactive digital eCommerce training program, designed to accelerate your business in China.
About this event
Program Overview
The China Digital Economy Academy program is an online and interactive training program designed to develop the capabilities of Australian small and medium-sized enterprises, to understand and engage with China's digital eCommerce economy opportunities.
Deepen your understanding of China's rapidly evolving eCommerce platforms.
Learn how to navigate and stand out in this fast-paced digital landscape.
Build practical capability and gain expert tips to position your business for long-term success.
Gain exclusive access in the sessions to leading digital and eCommerce experts from Alibaba, Polaris Media, The Common Good Group, RedFern Digital + more.
Additional exclusive sessions on Intellectual Property in China, engaging with Key Opinion Leaders, setting up on Alibaba and understanding the digital marketing technologies available in China.
On Completion of the Program
On successful completion of The China Digital Economy Academy program, you will have the opportunity to explore additional support from our partners Austrade and Australia Post:
Austrade will support eligible organisations with:
Business matching opportunities in China.
Consultations with in-country experts.
Australia Post will support eligible organisations with:
Opportunity for a consultation with an Australia Post logistics expert to discuss the right shipping services for your needs.
Program Modules
China eCommerce modules (4 mandatory modules of 2 hours each):
Available timeslots listed below. Limited spots remain!
Note: Your timeslot selected remains consistent across all four modules.
Module 1: Understanding the Chinese digital and mobile consumers.
Module 2: Digital and social marketing in China.
Module 3: Doing business on China's eCommerce platforms.
Module 4: Planning for eCommerce success.
Building China Cultural Capability modules (3 optional modules):
Commencing from 28 September to 15 October 2021 there will be various timeslots to choose from during your registration process.
Module 5: Understanding the Chinese mindset.
Module 6: Doing business in China in a virtual environment - 6A and 6B (2 Parts) - ALL SESSIONS SOLD OUT
Module 7: Negotiation in a Chinese context - 7A and 7B (2 Parts) - ALL SESSIONS SOLD OUT
For more information about the modules visit our website.
________________________________________________________________________________________
IMPORTANT: To be eligible for the program, you must be a registered Australian business/ organisation currently doing business with China.
Please note that registration priority will be given to Australian SME exporters.
If you have any enquiries, please contact us via email - chinadigitaleconomy@asialinkbusiness.com.au or visit our website for more information.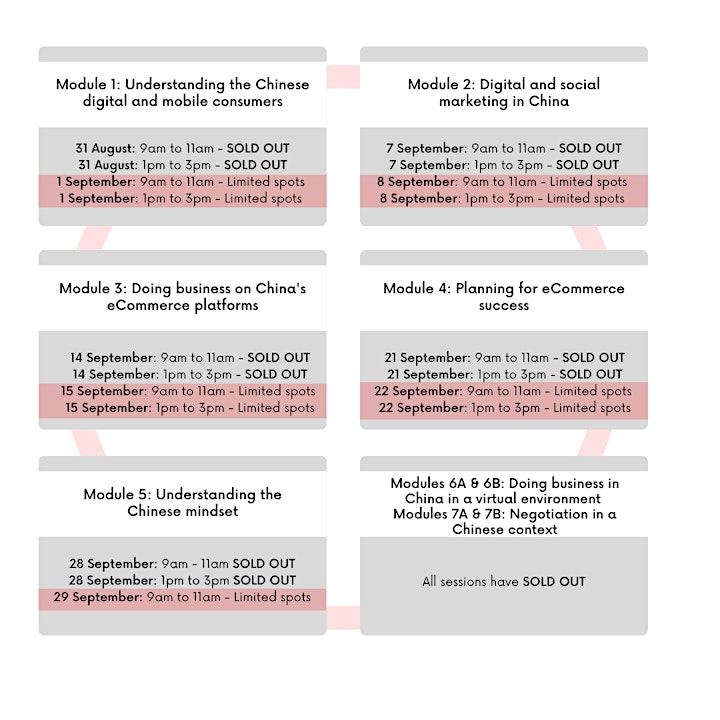 Organiser of The China Digital Economy Academy Program - Round 2
Asialink Business is Australia's national centre for building Asia capability. Through research, practical training programs and advocay, Asialink Business equips organisations in all sectors to becomes Asia ready by developing the critical skills, knowledge and networks needed to engage with the complexities of the region.