Description
The Brown Paper Bag Lunch Series are informal lunch events hosted by nLIVEn that provide opportunities for people to hear an interesting speaker whilst networking over a light lunch.
The events are conducted in the boardroom of nLIVEn.
Upcoming Events In 2019
See https://nliven.com.au/the-brown-paper-bag-lunch-series-2019/ for additional information.
The topic for the event on Wednesday 5th June is: Leading Fast Business Growth (The 7 Levers Canvas)
About The Presenter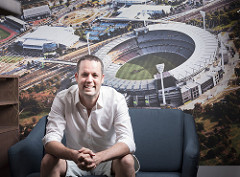 Pete Williams is an entrepreneur, advisor and marketer who Forbes recently called, "one entrepreneur today that every marketer should be modelling," while Inc. describes him as, "a savvy marketing strategist."
A Southern Region Finalist in the Ernst & Young Entrepreneur of the Year Program, a Small Business ICON (Best-in-Class) Recipient, and an Australian Business Award Winner for Marketing Excellence, he is the co-founder of numerous businesses across varying industries—from telecommunications services to e-commerce. (His most recent business hit the 2019 AFR Fast Starters List)
His most recent book, Cadence: a tale of fast business growth was the most awarded business book of 2018 including being named Business Book of the Year at both the International Business Awards and Independent Press Awards.
Pete's companies include Infiniti Telecommunications, SimplyHeadsets.com.au, SpringCom Telecommunications, and Preneur Group (www.PreneurGroup.com), an advisory-consulting firm that guides business owners through the process of increasing profits, margins and other key indicators by using the 7 Levers approach to business growth.
Registration Is Now Open For The Following Upcoming Events In This Series In 2019
30th October 2019: https://www.eventbrite.com.au/e/the-brown-paper-bag-lunch-series-wednesday-30th-october-2019-event-tickets-69392192917
See https://nliven.com.au/the-brown-paper-bag-lunch-series-2019/ for additional information.
Organiser of The Brown Paper Bag Lunch Series - Wednesday 28th August 2019 Event
nLIVEn provides individual and organizational development programs that measurably improve and sustain performance.
nLIVEn specialises in working with Chairpersons, CEOs, Division Managers & Managing Directors of small to medium private companies. Our clients also include public companies, not for profit organizations and community associations.
nLIVEn's unique programs blend personal and professional development, coaching, mentoring, training and consulting tailored to the individual developmental needs of each client.