Description
CHILD FRIENDLY EVENT!
Leonie will read The Broken Shell at the launch.
Meet Franklin the guide dog.
Signed copies of books, $15.00 each.
Children are very welcome. There is a playground in the courtyard next to Rocksalt Restaurant. You can watch your children play while you have a coffee.
The original watercolour paintings by Susan Hey from the The Broken Shell are for sale and on display at Rocksalt Restaurant, Hawker. Proceeds from sale of paintings and $3.00 from each book will be donated to Guide Dogs NSW/ACT.
Sighted people take seeing for granted. We don't usually think of the consequences of not being able to see. There are obstacles and hazards everywhere. Everything is more difficult and tasks take more time. Imagine writing a book when you cannot see the words on the computer screen! Although touch typing is easy and can be converted to audio, editing by listening is much more difficult because the author cannot see the layout.
Local children's author, Leonie Pye has risen above her blindness and written her second children's book, The Broken Shell, which will be launched o at 3:15pm, Wednesday afternoon, 28 February, at Rocksalt Restaurant in Hawker.
The Broken Shell is a heart-warming story that's enhanced by delightful watercolour illustrations from local artist Susan Hey. Leonie is donating 20% of book sales to Guide Dogs NSW/ACT and has already donated over $2,000 to Guide Dogs from sales of her first book, The Little Shell. Susan is donating proceeds from the sale of her paintings to Guide Dogs NSW/ACT.
The message in both books is that we are all unique, precious and beautiful and worthy of love and respect.
In The Broken Shell, a cheeky seagull causes an accident that shatters the shell. The events that follow provide an opportunity to show that tears help our hearts heal so memories can live for ever. Sadness and forgiveness can be difficult emotions, especially for children, especially when things are broken. Children learn that emotions are important and that we can fix things when they break. Parents and teachers can elaborate on the story, as the child's understanding develops, teaching about emotions, responsibility and acceptance.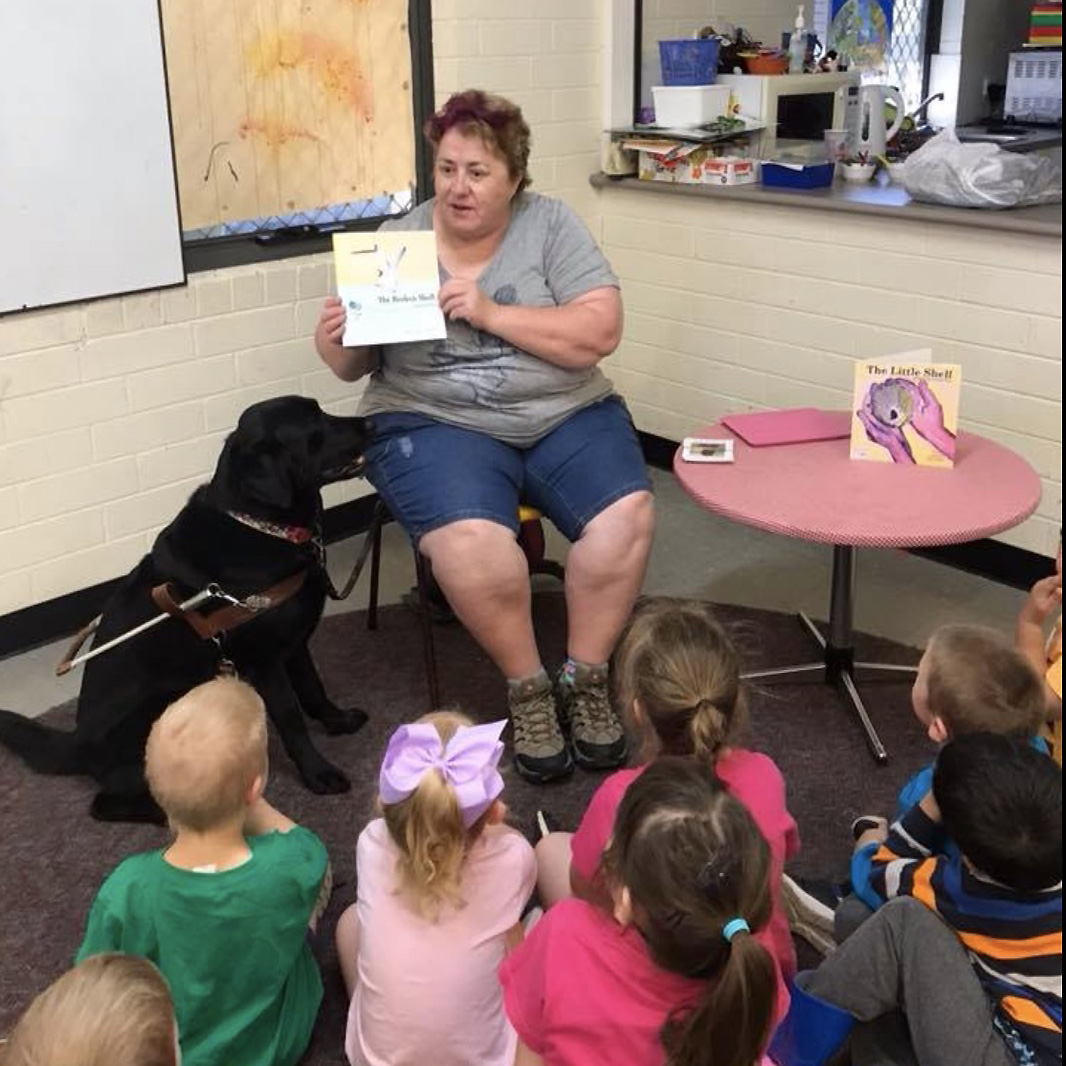 LEONIE VISITING PRE-SCHOOLS AND SCHOOLS
Leonie has used her natural rapport with children to visit many local preschools and primary schools in Canberra and Launceston. They have often been invited for repeat visits. Children as young as 3 years old quickly become engaged in her presentation. For some children, this would be the first time they have seen a blind person and how a guide dog can help. They all love her guide dog, Franklin. Contact Leonie, 0428 330 073, if you would like her to visit your pre-school or school.
A typical visit includes -
for 3 - 5 year olds; talking about how Franklin helps Leonie, reading of both of Leonie's books, 2 songs highlighting happy and sad. Allowing each child to pat Franklin without his harness on.
for grades K to year 6; talking about guide dogs and how Franklin helps Leonie, Q and A about Franklin and living with a vision disability. Read the two books, ask the children what lessons the little shell and the blind woman learn. Emphasise how we are all precious and beautiful and worthy of love and respect. Q and A about the books, being an author, writing etc.
Last year Leonie received a beautiful compliment from the teachers regarding how well I had kept the children engaged.
"Leonie has a full life reading her stories to pre-school and primary school children. The children love seeing Franklin, Leonie's guide dog. It's a great experience for them to see a guide dog in action."
Contact Leonie, 0428 330 073, if you would like her to visit your school or pre-school.