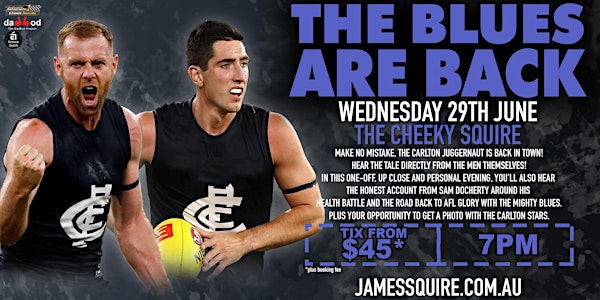 The Blues Are Back ft Docherty & Weitering LIVE at Cheeky Squire, Frankston
Location
Cheeky Squire
510 Nepean Highway
Frankston, VIC 3199
Australia
The Blues Are Back ft Docherty & Weitering LIVE at Cheeky Squire Weds 29th June!
About this event
SAM DOCHERTY & JACOB WEITERING
The Blues Are Back!
Make no mistake, the Carlton juggernaut is back in town! Hear the tale directly from the men themselves!
In this one-off, up close and personal evening, you'll also hear the honest account from Sam Docherty around his health battle and the road back to AFL glory with the mighty Blues.
Plus your opportunity to get a photo with the Carlton stars.
EARLY BIRD TICKETS just $35* each!
GENERAL ADMISSION TICKETS just - $45* each!
"Blues4Life" photo package - $125*
- Add a photo package! Up to 2 people meet & have a photo with Docherty and Weitering! *All guests MUST have a General Admission ticket before purchasing this pass (THIS PASS DOES NOT ADMIT THE TICKET HOLDER TO THE SHOW)
- 1 x photo frame (AFL Licensed, Approx 400mm x 300mm)
- 1 x Professional photo of YOU/ YOU & your plus one *Your photo can be downloaded in HIGH RESOLUTION from our Facebook page. This will be loaded within 72 hours after the event.
Cheeky Squire Hotel | 510 Nepean Highway, Frankston
Please see show Terms & Conditions below:
- This is a 15+ event due to coarse language and adult themes.
- This is STRICTLY a no-sign event (for personal items). Memorabilia will be available for purchase on the night for all show attendees who wish to take home a piece of signed football history.
- This event will be run in accordance with the latest Victorian Government guidelines and COVID safe practices. For further information relating to this please contact the event organiser Anthem Sport.
- When purchasing a ticket to this or any show there are strictly no refunds unless the show is canceled.
- Show is subject to change IF affected by Government regulations/ restrictions, a new date will be issued, but no refund requests will be accepted if a new date is to be made.
- Neat casual must be worn, dress to impress!